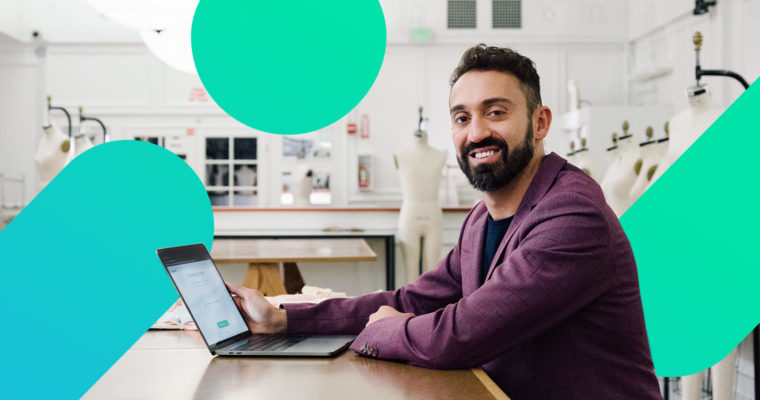 You've seen Stephan Rabimov's story in Grammarly's commercial spot, "Translating Fashion Into Story." (If you haven't seen it, watch it below!) Read on to learn more about Stephan's career in fashion, how he's teaching the next generation, and how he uses Grammarly to write his own future.
What steps did it take for you to become a published writer?
I founded my first magazine, DEPESHA, in 2007. During that time, social media wasn't as popular as it is today. Capitalizing on the market gap for a bilingual English and Russian fashion magazine, I launched it and produced most of the content online. After about a year, I was able to expand to print with a global network of talented contributors. However, it was my Master's program that nurtured my interest in emerging markets. Over the years I published a series of research papers, opinion pieces, and other expert reports on the topic of emerging markets, including its intersection with fashion. To date, my research consistently ranks in the top 10% of authors at the Social Science Research Network (SSRN).
Combining two of my passions together—fashion and international affairs—has helped me become one of the leading scholars and voices on the topic of 'Fashion Diplomacy'. Over the years, I was invited to become a contributing fashion editor for Forbes Life, Huffington Post, The New York Observer, Haute Living, FourTwoNine, and many other prominent international publications.
What role has Grammarly played in your experience as a writer and communicator?
I embrace all kinds of interesting technologies as they arise. I see opportunities in improving my work and lifestyle through innovative products. I added Grammarly as an essential new tool in the ever-evolving journalistic toolbox.
Over the months, my appreciation for Grammarly has continued to evolve as an indispensable writing companion. It has helped to speed up and improve my writing process overall. Although some critics argue against relying heavily on such tools and calling them an electronic crutch, the benefits greatly outweigh any risk of dependence. In fact, Grammarly nurtures my interest in learning new words and expanding my vocabulary.
When innovative new tech products emerge, offering some potential in supporting our work as fashion journalists, I'm always up for a test drive. I also encourage my students to follow suit. It's exactly why Grammarly and many other relevant professional journalistic tools are embedded across Academy of Art University's Fashion Journalism AA, BA, and MA courses.
How do you feel about the perception of journalists and writers being hesitant to use technology to improve their writing skills?
Frankly, it is a very old stereotype that doesn't apply to modern-day journalists. Technology is furthering and empowering journalism's visual storytelling capabilities and it significantly improves basic fact-checking speeds. As a professor, I can check with a click of a button if a student's story is plagiarized. With a different click, I can quickly amplify published stories across social media, thus expanding audience reach. Then there are the digital self-publishing tools, allowing our graduate students to create magazines for circulation within their own distribution networks.
In fashion journalism, one must systematically discover new tools and experiment with new content to stay ahead of the digital curve. In the age of technological evolution, ignoring such innovation is not only shortsighted, but it's also dangerous.
What are some of your favorite aspects of Grammarly's product that help your writing and messaging?
It is a fact that even leading editors and reporters make occasional gaffes; think of "it's vs its," "whom vs who," and other common mistakes that Grammarly easily detects.
As a seasoned journalist, I tend to over-correct my stories. Grammarly helps improve my writing to keep it concise and digestible.
Here's a tip: Want to make sure your writing always looks great? Grammarly can save you from misspellings, grammatical and punctuation mistakes, and other writing issues on all your favorite websites.
What is your advice for Grammarly blog readers who are passionate about pursuing writing opportunities?
To rephrase the famous quote, "I write, therefore I am," I feel reconnected with the world every time I publish a new story.
If you are a passionate storyteller, a good listener, and love fashion—then, combining these interests, along with the right training, can lead to exciting career opportunities.
Academy of Art University rises to the technological challenges of the future; the University and its leadership recognized the path of the future early on and established a one-of-a-kind Social Media Center (SMC) in 2015. Today the SMC features six unique courses that help educate and train our students to become social media specialists, ready for one of the fastest growing career paths.
We believe that strong reporting, social media fluency, cross-platform visual stories, immersive design, and, developing a creative eye, are some of the skills that are, and will be, required across print, digital, and mobile media of the leading fashion journalists of tomorrow.
More from Grammarly:
How Nikole Collins-Puri Empowers Girls in STEM
Meet 4 Grammarly Users Who Will Inspire You
How To Add New Words to Your Personal Dictionary
How To Learn New Words While Writing
How Do Grammarly's Products Work?
Why Concise Writing Gets More Readers
Why Hedging Language Undermines Your Writing
How to Select Your English Dialect
Splitting Paragraphs for Easier Reading
How We Use AI to Enhance Your Writing