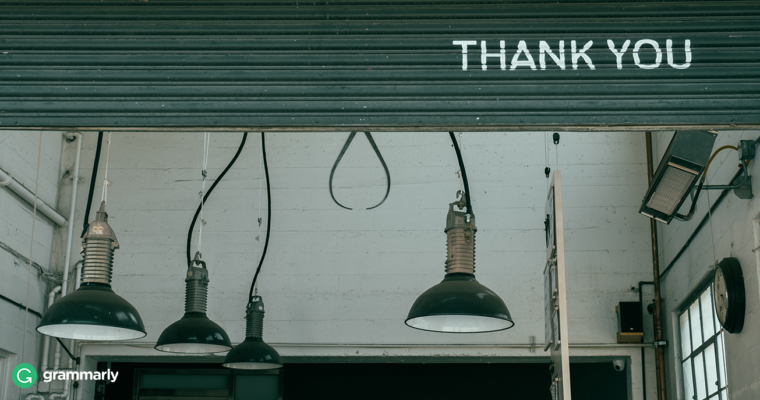 As published in Glamour magazine, a little thankfulness can make you more successful at work. How so? The article reports that a study by the email scheduling app Boomerang identified three email sign-offs that result in the best response rates—thanks in advance, thanks, and thank you. If a simple email signature has such a profound effect, just think of what you can achieve with a genuine act of appreciation! Here are eight ways to show your colleagues how grateful you really are.
Say It Aloud
Saying thank you will make your coworkers feel nice, but they aren't the only ones who will reap benefits from a kind word or two. A study from the John Templeton Foundation reported that almost all of the 2,000 participants reported that saying thank you to fellow workers made them feel a sense of happiness and fulfillment. Yes, saying thank you is as important as hearing it at work. The same study reported that only 40 percent of these same workers expressed gratitude at work more than once a year. Why don't you change the trend today? Reflect over the past few months. Who deserves a sincere thanks?
Friendship
What's the highest motivator to "go the extra mile" at work? According to Laura Troyani, an employee engagement expert, the majority of employees make an extra effort if they are friends with their colleagues. A Globoforce study suggests three benefits of workplace friendships—improved productivity, higher rates of employee retention, and happier workers. What can you do to encourage social interaction at your workplace? Why not host a social event? Whether it's a simple lunch out on the town or a company mixer, coworkers might enjoy getting to know each other if you can create a warm, relaxed atmosphere at your gathering.
Pay Increases
Almost everyone would agree that the economy has had its ups and downs. Even full-time workers sometimes complain about how hard it is to make ends meet. In a research study of what high-performing workers want at work, competitive compensation and bonuses topped the list of desirable rewards. Periodically, company leaders should compare how their salaries compare to their competitors. In high-profit quarters, they can consider sharing some of the bounty with the valuable people behind the scenes.
Flexibility
In the same study mentioned above, high achievers also ranked flexibility high on their wish list. To have the flexibility to take their vacation time when they want to is essential to some employees. Others would prefer flexibility in their work hours or in their work location. The only way to find out what appeals to your colleagues is to ask! And if you are an employee, don't hesitate to make your desires known to your boss. If you prove that it will increase your productivity, they just may be motivated to make all your dreams come true.
Create a Space for Recognition
If you desire to show or receive more recognition for your hard work, you can rest assured that you are not alone. One company gets together regularly for "hatitude." In a biannual ritual, workers take turns wearing a silly hat during a business dinner. The hat-wearer gets showered with thanks for all the great things they did in the last six months. All it takes is a bulletin board and a few post-it notes to encourage coworkers to acknowledge each other's strengths and successes. If you are short on space or work in a virtual environment, you can still use technology to spread the spirit of gratitude. A periodic email newsletter or a designated channel of your group's messaging tool can accomplish the same purpose.
Gifts
Nothing says "I appreciate you" like gifts. More than 75 percent of companies provide gifts for high-achieving team members via recognition programs, according to an article in Time magazine. What kinds of gifts are popular? Workers receive office supplies, watches, and even computer software through recognition programs. Some companies allow workers to select from a catalog of gifts while others offer gift cards redeemable at stores and restaurants. The same article quotes the Aberdeen Group: "Being able to track the effectiveness of engagement and recognition efforts can help organizations better align engagement with business objectives and improve performance." In other words, companies learn from following the proportionate increases in employee production and morale.
Time and a Listening Ear
Though it might be tempting to eat your sandwich at your desk or run out the door the minute the clock reaches closing time, staying a few extra moments is a way to express appreciation. How's that? Showing that you have time to listen to others indicates that you appreciate their opinion. Spending time with colleagues during free time demonstrates how much you value their company.
Food
Did someone help you out at work? A tasty lunch is a excellent way to express your thanks. To thank a large group, bake cookies, muffins, or a cake for the break room. If baking isn't your forte, you can easily pick up a box of donuts or a vegetable platter on your way to work. To avoid triggering allergies, display an index card with the ingredients for any homemade treats. Or better yet, send out an email with the recipe.
From email closings to ice cream socials, showing gratitude is an easy and beneficial thing to do. Not only will you make fellow workers feel appreciated, but also you will feel more positive yourself as you actively look for the good in others. How will you display your appreciation for your hard-working associates? You are only limited by your creativity.