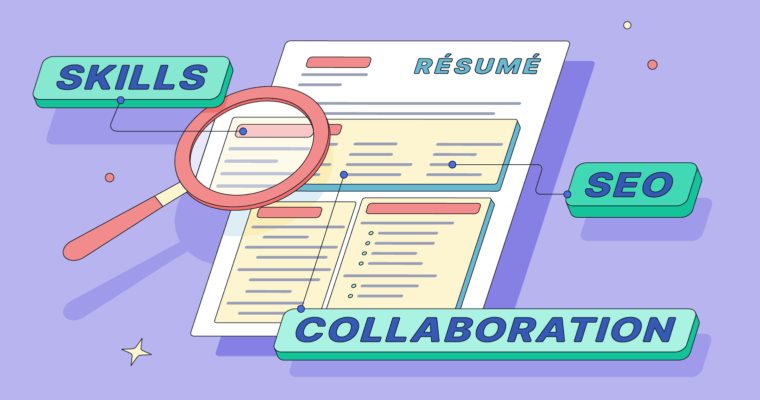 When you're looking for a job, your résumé tells hiring managers who you are and if you'd be a good fit. And while there's a lot of emphasis on the work experience section, the skills portion of your résumé is just as important. Combined with your work history, as well as your cover letter, it helps tell the story of who you are as a working professional. And, in the end, a job application is all about telling a great story.
Here's everything you need to know about the skills section, including how to create one that will stand out to hiring managers.
Your writing, at its best.
Grammarly helps you communicate confidently
What is the skills section of a résumé?
The skills section is an opportunity to add context to your résumé, like proficiency in certain areas, as well as highlight exactly why you're right for a job—even if your job history is unconventional or you have a gap on your résumé.
For instance, even though you may not have had the specific job title of Project Manager, having the experience of taking a project from idea to execution, even if that isn't the focus of your current role, is going to give you relevant skills for that job. That's why the skills section can be an extremely useful tool on a résumé. And because many companies use software that looks for specific keywords when going through résumés, it's a vital part of a strong résumé.
Often, you'll see a skills section listed at the bottom of a résumé. It's worth noting, however, that it can work better higher up if you're changing roles or industries and your work history isn't as strong as someone who's been in doing it for years. 
Regardless of where you place this section, it should be organized according to how important each skill is for the job (ranked from most important to least). And if you have several skills that fit into one category, like "design," you may want to group those together and then list out the individual skills or software to make it more reader-friendly.
A guide to the skills section
As with anything you put on a résumé, the skills section should be tailored to whatever job you're applying for while still accurately reflecting experience. So while you may have a ton of skills under your belt, you probably don't want to list "customer service" if you're applying for a management position that doesn't require that skill.
The key here isn't volume; it's specificity.
If you're making a résumé from scratch, figuring out what skills relate to the job or industry you're applying for is a great place to start. For example, you could look at résumés from relevant professionals. Frequently, the job posting itself will be a useful resource that can help inform which skills to include. Typically, this context can be found in the "knowledge and skills" section or listed under "key responsibilities." But you may need to do a bit of translating.
Here are some examples of what that process might look like:
"Ability to manage multiple projects at once" → Organizational skills; communication; multitasking
"Ability to meet deadlines" → Time management; problem-solving 
"Work alongside a growing team" → Interpersonal skills; flexibility; collaboration
Alternatively, you can review your LinkedIn profile as a starting point for the skills section, and it can even suggest skills to include on your profile. Another approach is looking at your job history, listing out the tasks and projects you worked on, and seeing which skills align with that experience. In that case, it can help to use a list of common work skills to jog your memory.
Résumé skills list
General 
Computer 

Interpersonal 

Language

Leadership

Management

Negotiation

Organizational

Technical

Time management
Customer support 
Empathy

Adaptability

Active listening

Conflict resolution

Ability to work under pressure

Chat support
Marketing professional
Social media

Campaign management

SEO

Audience building

Lead generation

CMS tools

Collaboration
Programmer
Computer software and applications

Efficiency

Sprints

Scrum

Collaboration

Multitasking
Teacher
Patience

Communication

Emotional intelligence

Problem-solving
Writer
Creativity

Critical thinking 

Attention to detail

Project management

Self-motivation
Résumé skills examples
Remember, the key to a solid skills section is tailoring it to the job posting. To help you understand what that can look like, here are three sample roles as well as corresponding ways to present the skills section:
1

HR specialist role for a company based in Germany
Skills:
Benefits and compensation management

Fluent in English and German

Interpersonal skills

Conflict resolution

Recruitment
2

Mid-career graphic design position at a startup
Skills:
Adobe Creative Suite 

Storyboarding 

Collaboration 

Marketing/branding

Ideation 

HTML/CSS 
3

Copywriter at a telehealth company
Skills:
Medical background and knowledge

: Earned a bachelor of science in nursing and worked as a travel nurse for 10+ years in skilled nursing facilities.

Conversational writing style

: Wrote articles for a medical magazine that used a casual writing style.

Collaboration

: Worked alongside editors to produce informative, jargon-free content. This included two rounds of edits for each assignment as well as a weekly editorial meeting.
Note: The above is an example of a functional résumé, which focuses on skills rather than previously held positions. This is typical when the work experience may be thinner or more sporadic, which is why the skills are more extensive than is typical.
Résumé skills FAQs
What is the skills section of the résumé?
The skills section of the résumé is where you include vital context about your skillset for hiring managers. Alongside everything else on your résumé, as well as your cover letter, it helps shape the story of who you are and your career.
How does the skills section work?
The skills section provides an opportunity to show hiring managers what kinds of skills you've acquired at a glance. It's OK to be redundant since it often covers some of the same information included in the work history section of a résumé.
What are the different kinds of skills I can include?
It's a judgment call, but in general, there are two types of skills you can include: Soft skills (like interpersonal skills and time management) and hard skills (like data analysis or knowing programming languages like Python or tools like Figma). Ideally, you should include both skill types to portray yourself as a well-rounded applicant.
When should you use a skills section on your résumé? 
You should always include a skills section on your résumé since it helps hiring managers understand your strengths.