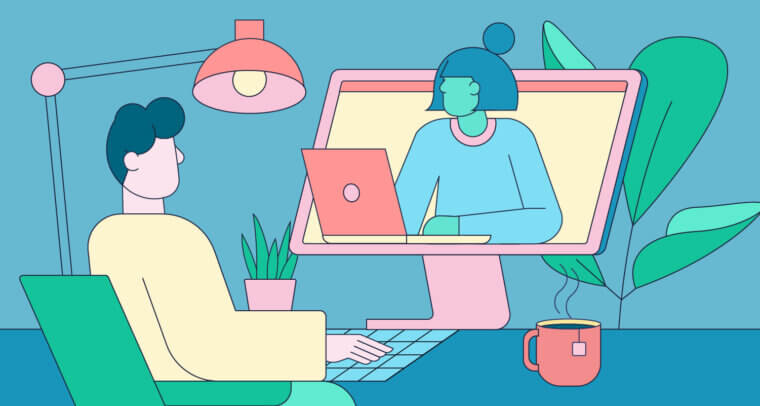 Zoom meetings. Slack messages. The hourly distraction of a cat walking across your keyboard. 
The pandemic changed many things about the way we work, and the necessity of remote work is just one of the ways its impact can be felt. While some people miss the energy of in-person collaboration, others appreciate the flexibility remote work allows. This perk has led some folks to seek out work-from-home or hybrid work options with prospective employers.
Communicate confidently
Be the best writer in the office.
If you're interested in remote or hybrid work, here are seven key questions to ask during an interview or after getting a job offer to help you weigh your options:
Can you work from any location, and, if not, what are the geographical restrictions?
For many, the idea of working from home sounds idyllic: You get to work independently from anywhere you want. But that isn't true across the board, and some employers may set restrictions—like requiring you to live only in certain states or in the US in general—that can limit your options. Knowing these restrictions ahead of time can help you gauge what your options really are with that company.
The company may also offer a mix of remote and in-person work to full-time employees, like Grammarly's new remote-first hybrid work plan. If that's the case, you'll want to ask about the work culture for both remote and in-office employees.
Does the company see remote work as a temporary situation, or is it committed to having a remote working option?
The pandemic forced the hand of many organizations when it comes to opening up remote work options. But that doesn't mean every company is committed to continuing that option once the pandemic has ended. Asking where the company stands on this issue during the interview process can help you understand if remote work is a long-term option or a short-term perk.
>>Read More: 7 Work Phrases That Don't Make Sense in a Remote World
What are the expectations for in-person collaboration compared to remote collaboration?
Working remotely often means living in a different time zone than your coworkers, so communication can be difficult if those folks don't take your work hours into consideration. You should also find out what the required work hours are for employees.
For example, the standard may be a regular nine-to-five, relative to the company's local time zone. In the case of a global or distributed team, it could mean setting a core number of business hours when team members work in common. Or it might be more flexible, allowing you to work when you want as long as you hit a required number of hours. And if your boss or coworkers will expect a response to their messages within the hour, or before the end of the day, that may shape your working experience as a remote worker, too.
It's always best to uncover those expectations before accepting the job.
>>Read More: The Dos and Don'ts of Remote Work Etiquette
Does the company require proof of vaccination for in-person collaboration?
Although you're interested in remote work, there may be occasions when you'll need to be in the office, so it's vital to ask about the company's safety protocols as well. That can also help you figure out if the company would be a safe place for you if you had to stop working remotely at some point or if your job requires you to visit the company's headquarters at a regular cadence. This is especially important if you have underlying health conditions that could make in-person working a riskier option for you.
Does the company offer stipends or other solutions for optimizing at-home work setups?
One of the perks of in-person work is that companies will often provide tech, like laptops and standing desks, to help you be more productive. That isn't always available to those who work from home, but it's worth asking about. For example, you may be able to get reimbursed for your cell phone bill if you use your phone for work calls. That kind of information should be considered when weighing job offers.
How does the organization, both company-wide and in smaller team settings, help foster connection?
Being part of a team can be difficult when you work remotely—especially in building relationships that go deeper than just transactional matters. Ideally, an organization would provide guidance to employees about best practices for remote work and find ways to include them in work functions, virtual or not. In addition, they would tell you about the communication tools they use to help foster communication and connection between remote and in-person workers. If no such support is provided, team members could end up feeling isolated. It can even make it more difficult to earn a promotion. These factors are therefore important to consider when looking for a new job.
Asking what percentage of the company works remotely and when they began to offer that option can also help you gauge what your experience might be like if you were to land the job. However, those aspects shouldn't be your only deciding factor.
Are there any particular benefits the company has recently added or is considering adding, in light of remote work?
Remote workers can't always take advantage of the same perks as in-person workers. For example, commuter subsidies, free lunches, and onsite fitness classes could not only be convenient but also help workers save money.
There are, of course, other useful perks to working from home, like not having to commute and being able to run errands during the workday. But the key difference comes down to money: Not all perks of working from home translate to money saved. And in that way, remote workers may feel left behind. If an employer is planning to add remote worker perks, that could not only signal that the company values their remote workers as much as in-office ones, but it could also indicate a more attractive compensation package.
As organizations and prospective employees navigate new work models, it stands to reason there will be new areas of interest to discuss. Being up-front with your questions shows you're engaged in the company's culture and work ethic. It also helps you uncover very useful information to make a more informed decision about your professional future.
Grammarly is hiring!
Shape the way millions of people communicate