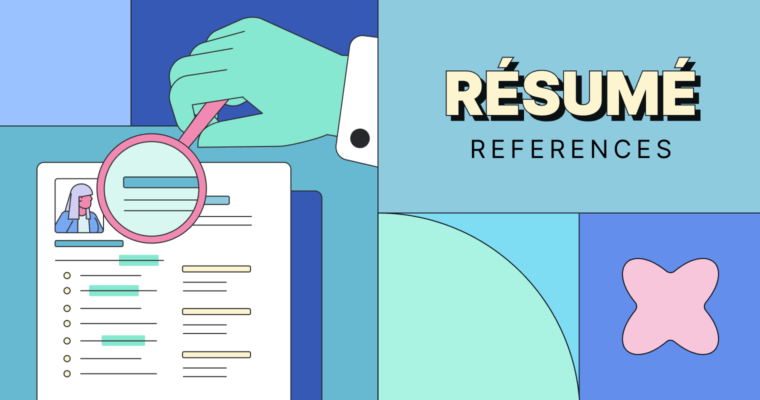 Résumé references are people who can vouch for you as an employee or colleague. Whether you're a recent graduate or an experienced professional, knowing how to choose and present the right references can impact your chances of landing your desired job. In this guide, we'll show you who to include as references, how to format your résumé reference sheet, and how to list references on a résumé.
Give your writing extra polish
Grammarly helps you communicate confidently
What is a résumé reference?
A résumé reference is a person who can provide information about your character, work ethic, skills, and qualifications to support your job application. Potential employers contact references to gather insights into your abilities and suitability for a particular role. References for a résumé are typically presented in a reference sheet, which includes three to five references and their contact information. These references aren't usually required to write a reference letter; they just affirm your skills over the phone.
When do you need to provide references?
Typically, you're asked to provide references toward the end of the job application process, after you've successfully completed initial screenings and interviews. Employers may request references when they're seriously considering you as a candidate and want to gather additional information to help make a final hiring decision.
Who should you list as references?
It's good practice to have a list of references ready when you're applying for a job. How many references should be included in your application? Three to five are usually sufficient. The following are examples of contacts who might make good references:
Former or current* manager or supervisor
Former colleagues or coworkers
Former direct report
Former client or customer
If this is an application for your first job, these examples might work better for you:
Professors or academic advisers
Mentors or professional contacts
Internship supervisors
*Use your best judgment when approaching a current manager; if you don't think they would support your application for another position, seek out a different person to be a reference.
Note, if someone is reluctant to be a reference, thank them and ask someone else. That person may not be comfortable giving you a reference or may not feel they know you well enough to attest to your skills.
Who should you avoid as a reference?
Don't approach people with whom you did not have a positive working relationship for references—it puts them in an awkward position and could result in a reference that doesn't highlight your best qualities. Steer clear of asking people you know through your job but you didn't work with directly; they don't have enough information about you as a co-worker to make a strong reference. Lastly, avoid personal friends or family members. They may be able to speak to your character, but they don't have any insights into who you are as an employee, co-worker, or manager. The following people would not make solid references:
Co-workers or managers you've had a difficult relationship with
Colleagues you didn't work with
Family members
Friends
What information should be included on a reference sheet?
Your résumé reference sheet should start with a header. In the header, include your full name, email address, and phone number. You don't need to include your address, but if you're applying for an in-person job, you may want to include the area where you're located.
For each reference, you should list the following information:
Name
Current position
Company
Phone number
Email address
Reference description or how they know you
Reference sheet example
Here's an example of a well-formatted reference sheet.
Amanda Appleby | 919-555-1234 | aappleby@gmail.com
References
_________________________________________________________________________
Steve Schmidt
Lead Product Engineer, Apple
530-555-1234 | sschmidt@apple.com
Former Supervisor
Leigha Sabounjian
Senior Product Development Engineer, SunTech
919-555-8765 | leigha@suntech.co
Mentor
Matthew Fleck
Product Engineer, Esri
508-555-1234 | matthew.fleck@esri.com
Former Colleague
Résumé reference FAQs
What is a résumé reference?
A résumé reference is someone you can list on your résumé who can vouch for your skills and qualities. They can help employers better understand who you are and why you'd be a great employee.
When do you need to provide references?
Usually you provide résumé references after you've submitted your résumé, completed interviews, and the employer is interested in hiring you.
Who should you list as your references?
Résumé references could be your previous bosses, professors, co-workers, mentors, or even someone you volunteered with.
What information should be included on a reference sheet?
A reference sheet should have a header with your name and contact information. Then list three to five references and include the following information for each one:
Name
Current position
Company
Phone number
Email address
Reference description