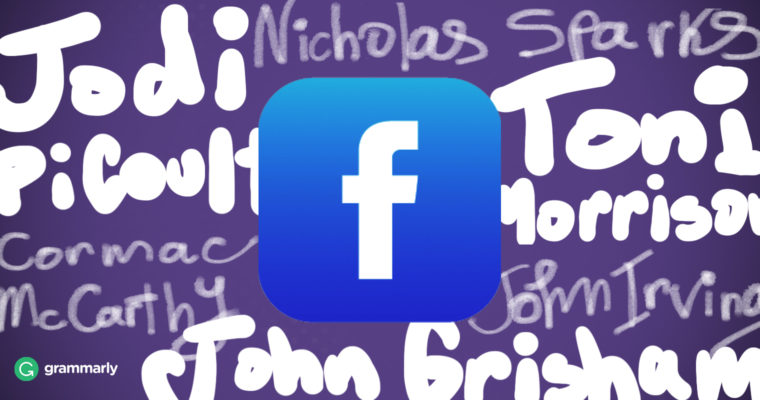 After a delightful meal, have you ever sent your compliments to the chef? Finishing a great novel can leave you with the same urge to congratulate the brilliant mind behind it. Did you know you can leave a message for your favorite author on Facebook? Besides messages, Facebook offers you the opportunity to discover a lot about your favorite writer. Let's look at the pages of thirteen professional writers!
Insider Information
You might already know that Afghani-American author Khaled Hosseini practiced medicine before writing his three bestsellers—The Kite Runner, A Thousand Splendid Suns, and The Mountains Echoed. But do you know which humanitarian organization he actively supports?
Why did Ishiguro take a ten-year pause from writing? Not only will you find the answer in a video post from the author, you'll also learn about the setting of The Buried Giant.
In reference to Moonglow, the New Yorker described Michael Chabon's writing as "a scale model of the broken world." His stories feature gender and race issues, and his Facebook page hosts some controversial comments from fans and non-fans. His page also features pictures from his early life, including an interesting one from 1978.
Join the Club!
Nicholas Sparks's novels, such as The Notebook and Dear John, transitioned perfectly to the silver screen. It's always fun to anticipate when his next novel or film will be released. Subscribe to his official mailing list via his Facebook page, and you will be among the first to get the news.
John Irving's assistant maintains his account, but promises "regular commentary from Mr. Irving himself." Do you have questions about The World According to Garp or praise for The Cider House Rules? If you express yourself on his wall, you just might get a reply!
Quotes
"If trouble comes when you least expect it, then maybe the thing to do is to always expect it." Do you agree with this quote from The Road by Cormac McCarthy? Compare your opinion with the rest of this Pulitzer Prize winner's fan community.
Reading Guides and Summaries
Talk about teachable moments! Nobel Prize winner Toni Morrison's Facebook offers summaries and reading guides for many of her thought-provoking novels. Whether you're teaching a class or trying to make the grade, this page is a must-see!
You're a capable nurse, but your patients don't want you treating their newborn because of the color of your skin. Later, the baby goes into cardiac distress. Do you perform CPR? In Small Great Things, you'll find out what the nurse decides. And on Picoult's Facebook page, you can access a reading guide guaranteed to spark plenty of discussion about this moral dilemma.
Collaborations and New Projects
George R.R. Martin is famous for the Song of Ice and Fire series, but don't think that he limits his creative process. Check out his latest posts about a project in collaboration with Nnedi Okorafor and HBO.
John Green, of The Fault in Our Stars fame, is releasing something new—Turtles All the Way Down. He plans to broadcast live shows on Facebook when he signs copies of his new book. You can pre-order a copy or catch a first glimpse of its cover on his page.
Beyond Their Books
The works of Chimamanda Ngozi Adichie (e.g., Purple Hibiscus, Half of a Yellow Sun) are available in thirty languages. She splits her time between the United States and her native Nigeria. Her page is a wealth of information on relations between Nigeria and other countries.
What does an esteemed author think of the writing of others? Joyce Carol Oates posts her published reviews of literary works, such as If Beale Street Could Talk by James Baldwin, as well as updates of her tour schedule.
John Grisham has written thirty novels, many of which are now motion pictures. Does he ever get a chance to read? Yes, he's "plowing his way through" the books of a certain author. Find out whose writing he says is "just as as difficult now as it was [when he was] in high school."
Do these Facebook author pages whet your appetite? Why not visit the page of your favorite writer today?