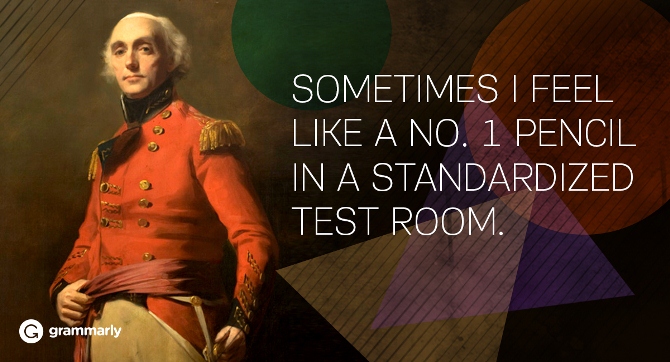 SAT does not stand for "scared and terrified," although some students feel that way on test day. How can they overcome their fear? Some unexpected but invaluable advice comes from a man outside the education world. His name is Éric Valli, and he is a French photographer known for venturing into harsh terrain to capture stunning wildlife photography. How does he summon the courage? Éric Valli posted this quote on his personal Facebook page: "Fear is a sign to prepare yourself, not to stop." Preparing for the writing portion of the SAT is something that you can begin doing today. Here's how.
Get familiar with the format.
As of March 2016, the SAT will reflect some significant changes. A detailed comparison of the new and old versions of the test is available on the College Board website. There are two major differences. The new test combines the former critical reading and writing sections into one unit called Evidence-Based Reading and Writing. The essay portion is optional. Each institution of higher learning will have the right to decide whether or not to require the essay for admission, so check the policies of each university to which you plan to apply. If you do take the essay portion, you will have fifty minutes to write an analysis of a given source text.
Do practice tests in advance.
If you see an SAT for the first time on test day, you will waste valuable time familiarizing yourself with the rules, format, and procedures. Instead, take advantage of the numerous practice tests available online. The College Board website offers printable tests that you can score manually. You can also download their free app, Daily Practice for the New SAT. Don't just practice the test; remember that there is a time element. If you time yourself, you will see exactly how long you have to spend on each section.
Get a tutor.
When Valli bravely journeyed into the jungle to document how the Gurung tribesmen of Nepal gathered honey from dangerous cliffs, he didn't go alone. He had reliable guides and the advice of the seasoned tribesmen practicing an ancient rite. You are not the first to take the SAT. Many tutors who have passed the exam can give you tips on making your experience go more smoothly. If you cannot find an SAT tutor, a writing coach can help you learn skills that will be valuable anytime you need to write.
Take a class.
Have you heard of Khan Academy? This virtual school offers free online courses, including one that features video lessons of the new SAT. You will receive personalized recommendations to improve your skills via short diagnostic quizzes. When you feel ready, you can take up to four full-length official practice tests. The class will also help keep you in the loop with alerts about important SAT news.
Set yourself up for success.
When you have the test in front of you on exam day, you might experience a twinge of nervousness no matter how well you have prepared. A good way to combat these feelings is to write a brief outline. If you lay out the structure of your essay before you start writing, you can organize your thoughts and make sure you've covered all the relevant details.
The SAT doesn't have to be scary and terrifying. By preparing well, you can change how you view the test. According to the creators of the SAT, the letters don't stand for anything. But that's another story. The good news is that you can assign your own meaning to the three letters. "Simple and Thrilling?" "Straightforward and Tame?" The meaning you decide on might depend on how well you prepare.