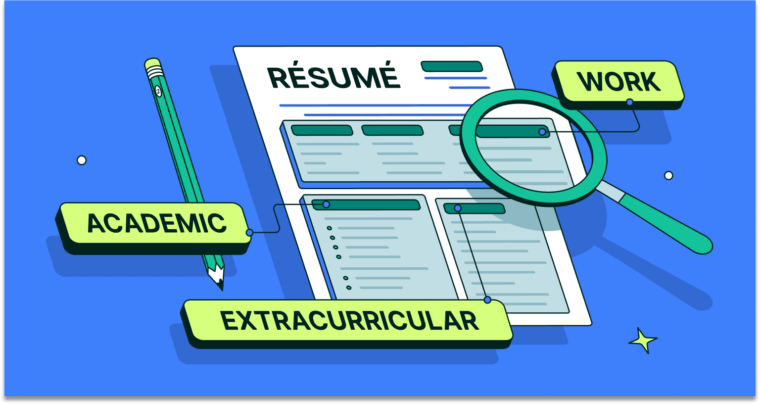 Do you consider yourself detail-oriented? Passionate? A hard worker? Whatever you do, don't tell that to the person reading your résumé. Why not? Because if they hear about one more of those, they're going to tear the résumé into itty-bitty shreds.
As attractive as those terms might seem, they've been on a few billion too many résumés to mean anything to hiring managers. When you're updating your résumé, make your accomplishments stand out by using résumé power words that are strong and descriptive rather than stale and clichéd.
Read on to get the nitty-gritty of how to use résumé power words, or jump straight to the suave synonyms that will make your résumé pop and let you ditch the duds like "dedicated," "leader," and "manage." Whether you're writing a technical résumé or a creative one, résumé power words will give you a boost.
Give your writing extra polish
Grammarly helps you communicate confidently
What are résumé power words?
Résumé power words are descriptive verbs and compelling adjectives used to effectively convey your skills, achievements, and responsibilities on a résumé. These words help create a clearer picture of your qualifications, making your résumé stand out to potential employers.
You can use power words in your résumé by tailoring your experience to the particular role, company, and industry you're applying to. Within the job description, you'll find keywords that you can incorporate into your résumé to make it through applicant tracking systems and catch the eye of hiring managers. Include your most relevant experience and accomplishments, and choose words related to the job you're applying to.
Power words work best in combination with statistics or the results of your work. If you lead a team, share how you optimized or transformed that team. Maybe you run a blog; how did you increase traffic or rank well for certain keywords? Perhaps you're a coder; how did you solve problems to push a project along?
25 examples of résumé power words
If you're feeling stumped, here are some examples of résumé power words you can use.
Résumé action verbs
1 Achieved
2 Collaborated
3 Created
4 Exceeded
5 Generated
6 Guided
7 Implemented
8 Improved
9 Led
10 Managed
11 Researched
12 Solved
Résumé adjectives
13 Adaptable
14 Analytical
15 Collaborative
16 Diligent
17 Disciplined
18 Eager
19 Innovative
20 Insightful
21 Meticulous
22 Organized
23 Proactive
24 Reliable
25 Resourceful
Tips for using powerful résumé words
Ready to try using power words on your résumé? Here are three résumé writing tips to make your résumé power words more impactful.
Don't repeat words
Our job experience can have redundant aspects. But résumé power words pack a stronger punch when you only use them once. Avoiding repetition of words on your résumé is important because it helps keep your document engaging, diverse, and informative. Try using synonyms or including adjectives to spice up your résumé instead.
Use a thesaurus
Use a thesaurus to find alternatives to buzzwords and power words that you used more than once. Even more convenient, try asking Grammarly to suggest a synonym for you!
Be specific
Don't use a power word just for the sake of catching someone's eye. Even if you found a power word in the job description, your résumé still has to make sense. Only use power words specific to your experience as well as the job description and industry. To make them more effective, provide quantifiable results whenever possible to demonstrate the impact you've made.
Start with power words
Begin each bullet point with powerful résumé words to immediately grab the reader's attention and set a positive tone. Use them to emphasize results, achievements, and skills that will matter most to the employer. Not sure how to include them? Try a résumé template.
Highlight transferable skills
If you're changing careers or industries, use résumé power words to emphasize transferable skills that align with the new role. Rather than just stating a trait or skill, use power words to show how you've demonstrated that trait in your previous roles. This amplifies your qualifications.
Résumé words to avoid
Here are 15 examples of power words and phrases you should avoid. These words either are overused or have become buzzwords that repel hiring managers.
1 Hardworking
2 Team player
3 Detail-oriented
4 Results-driven
5 Self-motivated
6 Excellent communication skills
7 Dynamic
8 Creative
9 Problem solver
10 Experienced
11 Strategic thinker
12 Passionate
13 Enthusiastic
14 Flexible
15 Expert
Résumé words FAQs
What are powerful résumé words?
Powerful résumé words are verbs and adjectives that effectively communicate your skills, accomplishments, and experiences in a compelling way. These words help your résumé stand out and make a stronger impression on potential employers.
Here are 10 examples of powerful résumé words:
1 Achieved
2 Generated
3 Directed
4 Revitalized
5 Innovated
6 Optimized
7 Implemented
8 Championed
9 Exceeded
10 Led
What is an action verb?
In résumés, an action verb expresses work performed by an applicant. Action verbs are used to make résumés more dynamic and engaging.
Why are résumé power words important?
Résumé power words make your résumé more impactful, engaging, and memorable to potential employers. These words capture a hiring manager's attention so they can scan your résumé quickly but still notice the way you convey your skills and achievements. Power words are designed to convey skills and achievements, showcase strengths, and demonstrate your impact.