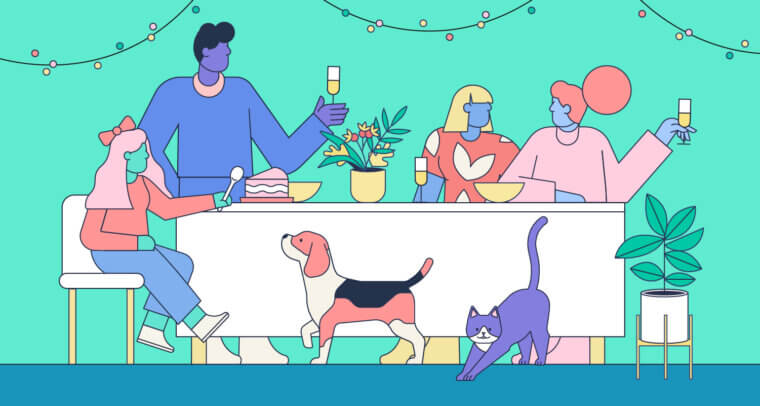 The holiday season is often a time for comfort and merriment, though it can also set the stage for strained family interactions. This is especially true amid an ongoing pandemic where many areas of the world have varying access to COVID-19 vaccinations and testing kits.
While 2020's social distancing made many holiday gatherings inadvisable, this year the landscape is a bit different. In regions where vaccinations are readily available, relatives and friends from multiple households are considering getting together, with some still taking advance steps like at-home testing. However, in groups with differing sentiments around the virus, variants, and safety precautions, anticipating this season's family celebrations might be more fraught. According to a Harris Poll study, 50% of vaccinated US adults said they were "extremely" or "considerably" hesitant about attending gatherings with unvaccinated family or friends. 
Strike the right tone
Grammarly helps you communicate the way you intend
When people's positions vary, an empathetic approach is to follow the lead of the most safety-conservative party. It can be difficult to set those boundaries and risk hurting others' feelings, but then again grinning and bearing a situation that makes you or someone else uncomfortable isn't ideal. If you anticipate delicate conversations with family or friends about safety practices at a holiday gathering, here are a few ways to considerately communicate your boundaries.
If you and a family member (or members) have different standards around COVID safety . . . 
Anticipating family conflict about the pandemic can feel stressful. If you're hosting the holiday gathering this year, communicate your comfort level regarding COVID-19 safety practices, including your stance on mask-wearing, social distancing, and/or proof of vaccination status.
What's more, share your feelings on the above early. Preemptively establishing your preferred conduct guidelines for the celebration gives guests time to assess their own comfort levels and plan accordingly.
How hosts can communicate with loved ones: Whether you're communicating via text, email, or over the phone, provide clear and consistent messaging about your household's safety rules. You won't be able to control how others react to your boundaries, but you can control how empathetically you communicate. If a family member or friend is unwilling to adhere to your request, one way to approach the conversation is by thanking them for their honesty and letting them know the invitation stands if they change their mind.  
How guests can communicate with loved ones: If you're attending a holiday gathering as a guest and know that other guests with differing COVID standards will be present, communicate your threshold to the host. Ultimately, you can't control what others say or do, but you can decide what you're comfortable with and how you behave accordingly. 
You might say, "I know that Cousin Dave is attending the festivities and has been vocal about not wearing a mask in the past. I'm looking forward to attending! If I feel uncomfortable at any point, I'll discreetly leave the party. Thanks for understanding!"
If you or a family member don't feel comfortable traveling far . . . 
Perhaps a cross-country holiday gathering doesn't feel right for you this year. If you'd prefer a local celebration with family members in your immediate area, communicate your plans with the broader members of your family unit. 
How to communicate with loved ones: Setting up this conversation might sound like, "We're not comfortable with extended travel quite yet, so we'll stay in town this year. We'd still love to see everyone's faces during the holiday—is anyone up for a video call the day of so we can all spend time together?"
>> Read More: 3 Ways to Connect Through Writing over the Holidays
If you'd prefer to gather outdoors . . .
If spending the holidays in an enclosed space causes you concern, particularly if certain family members or friends aren't willing to practice safety precautions, an outdoor celebration might be an alternative. 
This isn't always practical, depending on where the event is located. For example, families in areas with temperate climates can practice social distancing in a backyard to change up the tradition.
How to communicate with loved ones: You might say something like, "I was thinking of creative and safe ways for us to spend time together, and thought an outdoor holiday picnic could be a fun, memorable option." 
If you'd feel more comfortable keeping family gatherings intimate . . . 
Individuals who prefer a small gathering can plan for a celebration with loved ones in their household or proactively ask the party host about the number of people they've invited to the gathering so they can plan accordingly.
How to communicate with loved ones: "I'm curious to know how many guests are expected. I really want to celebrate the holidays with you, but I'm hesitant about a large gathering this year. Could you let me know how intimate the event will be?" 
If you're OK congregating in one location but want to avoid additional visits . . . 
Let's say you're comfortable visiting your parents in your childhood home, but aren't OK with extra social plans while you're in town. For example, you might want to opt out of visiting old neighbors, catching up with family friends, or participating in other community-based activities during your stay.
How to communicate with loved ones: "I'd rather not make pit stops to visit other people. I'd feel much safer sticking to one place and maximizing my time spent celebrating with you (the host)." 
"Having the talk" with your loved ones might feel uncomfortable. However, communicating your boundaries in a firm but kind and respectful way gives everyone involved time to make thoughtful choices about their holiday plans. Remind people that you have everyone's, not just your own, safety in mind.
>>Read More: 8 Creative Ways to Express Gratitude