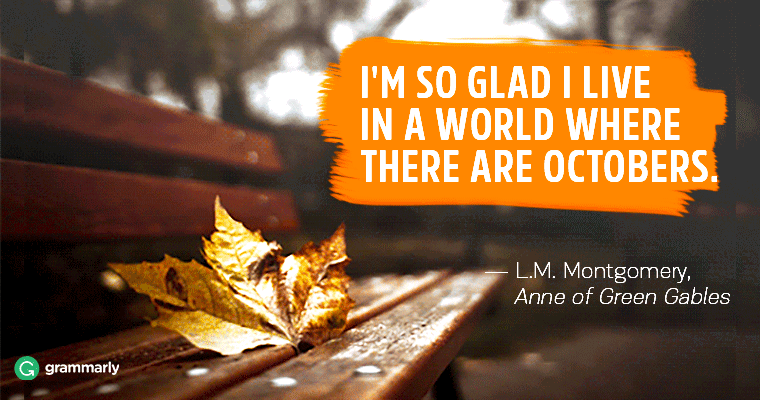 There is something magically introspective and peaceful about the changing of seasons—especially the transition from summer to autumn.
For those in the Northern Hemisphere, this shift is epitomized in October with the yellowing of the forest and the gradual chill that blows throughout the month. Simultaneously, we crawl into our warm and cozy clothes and start pulling out our spiced beverages and freshly baked pies. Perhaps intuitively, many people find this time of year a natural time for reflecting, savoring comfort, and enjoying our interior lives. We relax more. We read more. We think more.
For introverts or word nerds, these facts alone might be enough to make October special. However, there are specific reasons to love October if you're a bibliophile or language lover.
1 Warm beverages What goes better with a good book than a hot cup of __________ (fill in the blank)? During summer, the temperature outside prohibits copious consumption of said beverage. But, come October with the autumn cooldown, keep those mugs of liquid hugs coming!
2 Cozy things If there is anything better than a warm mug of joy and a book, it's a warm drink, a book, and something cozy—whether it be a blanket, amazing socks, or a fuzzy friend. Finally the weather has cooled enough to keep you at the perfect temperature despite the layers you pile on.
3 An excuse to read (or binge watch a great show) When the blustery, rainy days of October blow in, you have the perfect excuse to stay at home and read or cuddle up with a Netflix marathon—and stay in your pajamas.
4 Halloween You have a completely legitimate reason to dress up as your favorite book character or obscure punctuation mark.
All this culminates in a simple, widely shared sentiment from Anne of Green Gables:
I'm so glad I live in a world where there are Octobers.