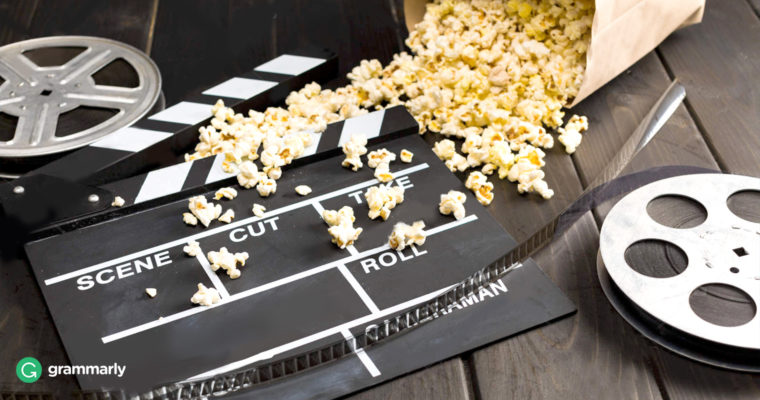 Creative work can be especially fun and rewarding, but after a long day of writing, designing, composing, crafting, coding, building, imagining . . . it's good to relax and recharge.
And what better way to kick back than with a movie or show that refuels your creative energy?
We've entered a golden age in US television, where creators are forging into new territory and bringing diverse ideas and voices to the forefront. Novel storytelling, daring visuals, and innovative formats are breathing new life into film and TV—and providing plenty of inspiration for us fellow creatives to tap into our own creative genius.
So take a break, and dive in with these eight exceptional movies and TV shows that will entertain, engage, and spark your creativity!
1

Master of None

You can try your best to not fall in love with Master of None, Aziz Ansari's brilliantly subversive Netflix rom-com, but be warned—you will probably want to binge-watch it in one sitting. This show is heartbreakingly poignant, hilarious, and insightful, and it relentlessly pushes the envelope.

Some of the most powerful and surprising episodes turn the camera's focus away from the lead character altogether, rocketing to the forefront the viewpoints of characters rarely seen or celebrated in pop culture.

Oh, and did we mention the editing and aesthetics are on-point? (Season 2 is basically a love letter to classic Italian films.) Explore some innovative storytelling by watching Seasons 1 and 2 on Netflix.
.@azizansari's #MasterOfNone is the Summer's top TV show by #Tomatometer! https://t.co/Dq4IEroVyk pic.twitter.com/k5cNYFqEQV

— Rotten Tomatoes (@RottenTomatoes) August 30, 2017
2

Sense8

Need to feed your imagination? Try soaking in the sumptuous, stunning visuals of Sense8.

This sprawling and ambitious work of art from the Wachowskis follows eight strangers around the globe as their senses become mysteriously linked, allowing them to share experiences, knowledge, and emotions—all while keeping one step ahead of the evil corporation that's hunting them.

With rich storytelling, exotic locations, and a talented and diverse cast, it's the perfect sci-fi adventure to get your creative wheels spinning again. Watch Seasons 1 and 2 on Netflix.
"I said hey, what's going on?" #Sense8 pic.twitter.com/eY9l3MRSq8

— Movie Graf (@MovieGrafTR) September 5, 2017
3

Crazy Ex-Girlfriend

Crazy Ex-Girlfriend is the dark rom-com musical you didn't know you needed until it twirled into your life belting "West Covinaaa!" on full blast. Relentlessly subversive, unbelievably zany, and at times painfully relatable, this show digs deep into the neuroses of obsession. Also, it has fantastical song and dance numbers that would make Flight of the Conchords proud. Watch Seasons 1 and 2 on Netflix.
My dad sent me a picture from West Covina last night just to set me up to text him #CrazyExGirlfriend lyrics. ? @Racheldoesstuff pic.twitter.com/xBEt4UvpC6

— Lex (@thelexlutz) August 24, 2017
4

Kubo and the Two Strings

This exquisite stop-motion fantasy has astounding visuals at every turn. The story is built around a hero's journey as our protagonist searches for identity, while also dealing with heavier themes of loss, grief, and healing. Stream it on Netflix.
Watched this tonight.. For me a piece of movie perfection.. Beautiful animation, with a big heart.. #KuboandtheTwoStrings pic.twitter.com/L5YLUjgU1n

— Paul Stringfellow (@techstringy) August 19, 2017
5

Insecure

Game of Thrones takes the prize for most popular HBO show this summer, but Season 2 of Insecure wins "Best in Show." Issa Rae's binge-worthy comedy-drama boasts razor sharp writing, a brilliant cast, and a bumping soundtrack that will have you clicking over to Spotify for more.

The show engages us with complicated (and deeply human) characters exploring love, relationships, infidelity, and the messy aftermath that ensues. But what's truly radical is how it portrays the Black experience in down-to-earth ways seldom seen on television. Insecure reveals the power that comes from staying true to your viewpoint and experiences. Stream Seasons 1 and 2 through HBO.
Kelli's one liners on #insecurehbo literally ALWAYS have me in tears ? pic.twitter.com/MY5wKJJOwn

— Joshua Hunt (@donthuntjosh) September 4, 2017
6

BoJack Horseman

What if we told you one of the most realistic and honest explorations of mental health in the media today is an animated show starring an anthropomorphic horse?

At first glance, Bojack Horseman may register as a silly sitcom satire, but as you travel down the rabbit hole, things gradually go from wacky to profound, to reveal a deeply existential show that stays with you even when you stop watching.

Designed by genius illustrator Lisa Hanawalt, the world of BoJack is a riot of pastel colors and hilarious background details—a deceptively cheerful setting for a hauntingly sad and sometimes dark story. Seasons 1-4 are on Netflix.
I just want to cry! This scene is so beautiful but full of sorrow.#BoJackHorseman pic.twitter.com/udLi65gdTr

— D8 (@dang8600) August 27, 2017
7

Moonrise Kingdom

Set on a quaint New England island, Moonrise Kingdom tells the tale of two twelve-year-old runaways and the all-star cast of adults searching to find them before an oncoming storm. It's a poignant depiction of young love, and though possibly the most stylized of Wes Anderson's films, it somehow turns out to be one of the most relatable and emotionally touching. The fairytale aesthetic—complete with breathtaking set pieces—perfectly complements the story itself. Stream it on Netflix.
A poetic movie by Anderson, balanced between realism and surrealism, with terrific character performance. 10/10. #MoonriseKingdom pic.twitter.com/lQCmv3cWUa

— Alessandro Capriolo (@CaprioloOrdnas) September 2, 2017
8

Abstract: The Art of Design

No matter what type of creative work you engage in, this Netflix docu-series is guaranteed to nourish your inner muse. Abstract profiles a diverse set of eight world-renowned designers, including Es Devlin (stage designer for the likes of Beyonce and U2), Ralph Gilles (head of design for Fiat Chrysler), and shoe designer Tinker Hatfield (of Air Jordan fame).

The series takes an intimate look at the life and career ascent of these creatives who are masters in their field. The insights and perspectives shared on the creative process are pure gold. Watch Season 1 on Netflix.
This an incredible, must-see series for those in the creative industries which recently aired: #abstractnetflix pic.twitter.com/LqDDAbkgHu

— Jamie Smith (@smithstock24) March 13, 2017