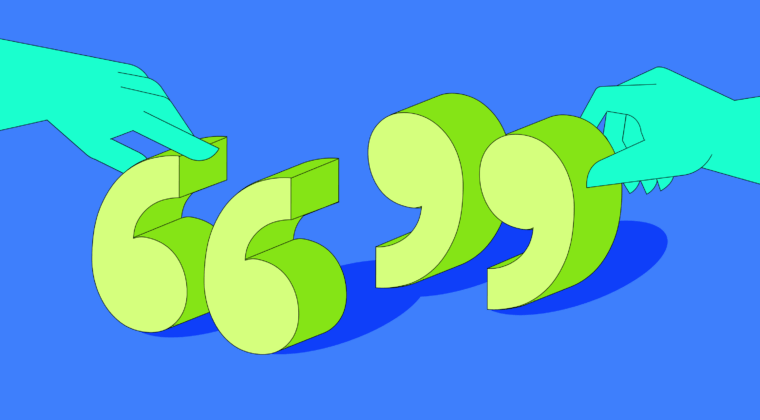 Developing a business idea, launching your business, and seeing it through has plenty of highs and lows. Sometimes, as you and the key players on your team take this whirlwind journey, you might get discouraged.
Motivational business quotes offer thought-provoking and uplifting guidance that can inspire you to move toward your business goal. Whether you're drafting a professional email or a casual note for Slack, a business quote can punctuate your overall message.
Start using GrammarlyGO today
Compose, rewrite, reply, and ideate with confidence
What is a business quote?
A business quote is a short sentence or longer paragraph that's crafted to inspire, educate, guide, advise, or offer insight to a reader. Popular business quotes about business growth, customers, and other areas of business have been spoken by influential entrepreneurs and business owners throughout history.
30 motivational business quotes
Professionals who are looking for advice or ideas to guide their work can use business quotes as a touchstone. Here's a collection of business-related quotes from influential figures across various industries.
On failure
1 "Think like a queen. A queen is not afraid to fail. Failure is another stepping stone to greatness." —Oprah Winfrey
2 "The most important thing to do if you find yourself in a hole is to stop digging." —Warren Buffett
3 "I have not failed. I've just found 10,000 ways that won't work." —Thomas Edison
4 "I don't like to lose—at anything—yet I've grown most not from victories, but setbacks." —Serena Williams
5 "People are generally forced to change. We don't want to change, and then something absolutely forces us to realize that what we are doing isn't working or that our picture of the world is wrong. We fail. So we change." —Ira Glass
On ideas
6 "Intellectual property has the shelf life of a banana." —Bill Gates
7 "Opportunity lies in the place where the complaints are." —Jack Ma
8 "If I asked the people what they wanted, they would have said faster horses." —Henry Ford
9 "Whatever you do, be different—that was the advice my mother gave me, and I can't think of better advice for an entrepreneur. If you're different, you will stand out." —Anita Roddick
On leadership
10 "Good leadership consists of choosing average people to do the work of superior people." —John D. Rockefeller
11 "A leader takes people where they want to go. A great leader takes people where they don't necessarily want to go, but ought to be." —Rosalynn Carter
12 "Management is doing things right. Leadership is doing the right things." —Peter Drucker
13 "If you don't drive your business, you will be driven out of business." —B. C. Forbes
On money and profit
14 "If you owe the bank $100 that's your problem. If you owe the bank $100 million, that's the bank's problem." —J. Paul Getty
15 "Good manners are cost effective. They not only increase the quality of life in the workplace, they contribute to employee morale, embellish the company image, and play a major role in generating profit." —Letitia Baldrige
16 "Profit in business comes from repeat customers, customers that boast about your project or service, and that bring friends with them." —W. Edwards Deming
17 "Chase the vision, not the money. The money will end up following you." —Tony Hsieh
18 "Profit is what happens when you do everything else right." —Yvon Chouinard
On success
19 "Success isn't about the end result, it's about what you learn along the way." —Vera Wang
20 "I do not like to repeat successes, I like to go on to other things." —Walt Disney
21 "Success is not final, failure is not fatal: it is the courage to continue that counts." —Winston Churchill
22 "If you're offered a seat on a rocket ship, don't ask what seat! Just get on." —Sheryl Sandberg
On strategy
23 "Don't ever make decisions based on fear. Make decisions based on hope and possibility. Make decisions based on what should happen, not what shouldn't." —Michelle Obama
24 "In the business world, the rearview mirror is always clearer than the windshield." —Warren Buffett
25 "I pick up the details that drive the organization insane. But sweating the details is more important than anything else." —Indra Nooyi
26 "Every day, my daddy told me the same thing. 'Once a task is just begun, never leave it till it's done. Be the labor great or small, do it well or not at all.'" —Quincy Jones
On teamwork
27 "Great things in business are never done by one person." —Steve Jobs
28 "It's important to have people who are absolutely willing to say you're wrong or who have a totally different perspective than you do on everything. Fresh ideas are hard to come by, and good ones are even harder." —Shonda Rimes
29 "Clients do not come first. Employees come first. If you take care of your employees, they will take care of the clients." —Richard Branson
30 "Everyone has an invisible sign hanging from their neck saying, 'Make me feel important.' Never forget this message when working with people." —Mary Kay Ash
Write professionally with confidence
Incorporating inspirational business quotes into your organization can go beyond your company's mission statement or internal code of conduct. Selecting short business quotes to include in your business correspondence, reports, business cases, and other assets can act as a regular reminder of what the entire organization strives for.
Like the confidence that a strong business quote can inspire, writing well cultivates confidence, too. Grammarly gives you the assurance that you will strike the meaning and tone you intended, without grammar or spelling mistakes. Learn how Grammarly can help.