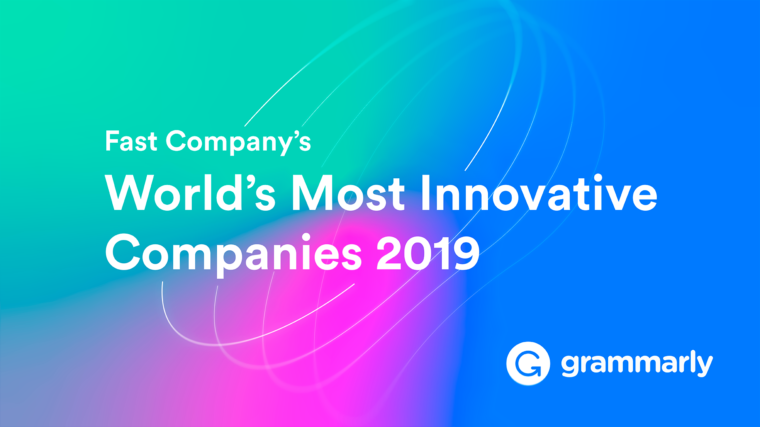 We're excited to share that Grammarly has been named to Fast Company's prestigious annual list of the World's Most Innovative Companies for 2019 as an honoree in the Artificial Intelligence sector. The list honors the businesses making the most profound impact on both industry and culture, showcasing a variety of ways to thrive in today's volatile world.
"It's an honor to be included in this list of exceptional companies," said Brad Hoover, Grammarly CEO. "Grammarly invests in innovative technology to improve the substance of communication, and this award is a testament to our achievements in helping people better understand each other."
In the past year alone, Grammarly has grown substantially and further bridged the gap between how people express themselves and how they are understood. We plan our products and updates with users in mind, and we knew that Google Docs is a place where a lot of collaborative work gets done. That's why, in September, we introduced our AI-powered writing assistant to Google Docs on Chrome.
Our team also rolled out a series of product updates that expanded our ability to assist with communication effectiveness. This involved improving our application of natural language processing and machine learning to further develop feedback on the clarity and effectiveness of one's writing. This means taking the context of a written message into consideration — its intent, audience, style, and emotion — and providing suggestions on advanced elements of communication, like conciseness and tone. With this new focus in mind, we revamped the Grammarly Editor, making it easier for users to understand and interact with these new dimensions of feedback that help writers improve beyond spelling and grammar.
This year, Fast Company's editors and writers sought out groundbreaking businesses across 35 industries and every region. They also judged nominations received through their application process.
The World's Most Innovative Companies is Fast Company's signature franchise and one of its most highly anticipated editorial efforts of the year. It provides both a snapshot and a road map for the future of innovation across the most dynamic sectors of the economy.
"Established players are showing the same kind of nimbleness that we've generally associated with startups," said Fast Company deputy editor David Lidsky, who oversaw the issue with senior editor Amy Farley.
Fast Company's Most Innovative Companies issue (March-April 2019) is now available online, as well as in app form via iTunes and on newsstands beginning February 27. The hashtag is #fcmostinnovative.