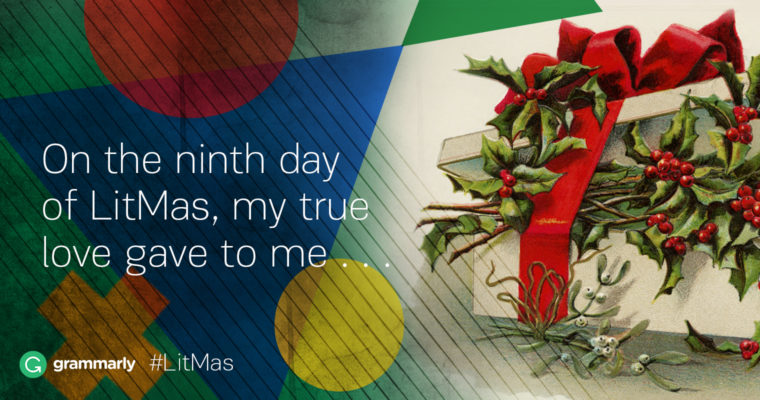 On the ninth day of LitMas . . .
. . . you get nine wonderful novellas!
Novellas tend to fly under the radar. Readers know what to expect from short stories, and they know what they're getting into with novels, but novellas fall into an ill-defined space somewhere between short story and novel. Some people think of them simply as very short novels—others have more specific criteria. Either way, here are nine novellas, novelettes, or long short stories for you to sink into when the weather won't let you go outside.
1 A Christmas Carol by Charles Dickens
'Tis the season, after all! A Christmas Carol became an instant classic when it was first published in 1843. You probably know the outline of the story even if you've never read it, but it's still worth reading. Who knows? Maybe you'll find yourself feeling sorry for old Ebenezer Scrooge.
2 Breakfast at Tiffany's by Truman Capote
Truman Capote, perhaps best known as the author of the true crime story In Cold Blood, also wrote Breakfast at Tiffany's. If you've only seen the movie, (or even if you've never seen it!) check out the original story of Holly Golightly and her mysterious, captivating, and sometimes melancholy life.
3 Three Blind Mice by Agatha Christie
Snowed in? Settle in with Three Blind Mice, a classic mystery by Agatha Christie. The guests at Monkswell Manor have been trapped by a ferocious blizzard, and unfortunately for everyone it seems that one of them is a murderer. If you can solve the mystery before the end, give yourself a pat on the back.
4 The Call of the Wild by Jack London
As Buck, the canine protagonist of The Call of the Wild discovers, life in the wild is cold, hard, and brutal. Read this one for dazzling descriptions of frozen wilderness and for the classic hero-adventure tale of Buck ultimately answering the call of the wild.
5 The Prime of Miss Jean Brodie by Muriel Spark
The Prime of Miss Jean Brodie is the story of six teenage girls and their teacher, Miss Brodie, who is a person overflowing with passion. Miss Brodie teaches her girls much about life and love, but as one of the novella's many flash-forwards reveals, she will be betrayed by one of her beloved students.
6 Binti by Nnedi Okorafor
Don't miss Binti, winner of the 2015 Nebula and Hugo awards for best novella. Binti is the first of her people to be offered the chance to study at the galaxy's most elite university, but the journey will be long and dangerous. Spoiling too much of this beautiful and thoughtful story would be a shame, so give it a chance, even if you don't normally gravitate toward science fiction.
7 The Housekeeper and the Professor by Yoko Ogawa
If you're in the mood for a sweet story about living in the present, The Housekeeper and the Professor might be the gem you're looking for. Set in Japan, this is the story of a unique friendship that blossoms between the brilliant Professor (whose long-term memory has been obliterated by an injury) and his Housekeeper, who has been hired to care for him and must reintroduce herself every morning.
8 True Grit by Charles Portis
True Grit is the right title for this story. Set in the American West of the 1870s, the story's central character, fourteen-year-old Mattie Ross sets out to avenge her father's death. Mattie, however, is no ordinary fourteen-year-old. Through grit and sheer force of will, she allies herself with the one-eyed U.S. Marshall Rooster Cogburn to see the mission through. Though the story is at times dark and frightening, it's also full of unexpected humor as well as an oddly affecting friendship.
9 The House on Mango Street by Sandra Cisneros
This coming-of-age novella is the story of Esperanza Cordero, a young Latina girl growing up in Chicago. Esperanza is determined to escape the poverty of her childhood, but is equally determined to return and help the people she has left behind. Beautifully lyrical yet widely accessible, The House on Mango Street is a must-read.