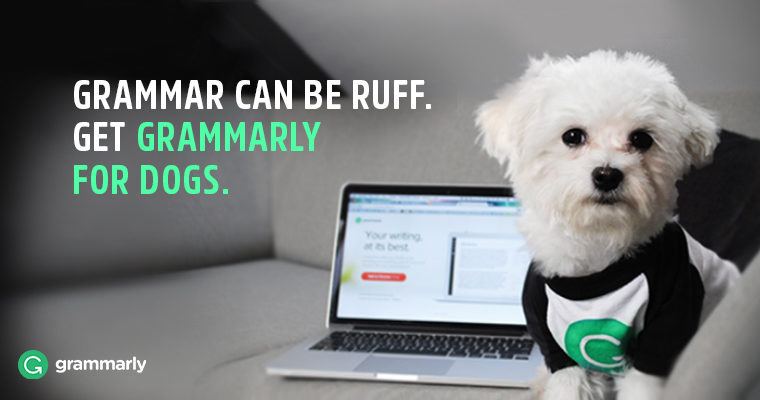 Does bad grammar have you in the dog house?
Grammarly, makers of the widely used writing companion for humans, is introducing the first grammar and writing app* for pooches!
Get Grammarly. It's Free.
Make your writing paws-itively accurate!
Grammarly works in the background almost everywhere you write online. Whenever you're typing on one of your favorite sites, Grammarly will alert you to mistakes in your writing before you post it. Grammarly's browser extension is compatible with Gmail, Facebook, Tumblr, LinkedIn, WordPress, Twitter, and millions of other destinations on the web.
---
How Does Grammarly for Dogs work?
Grammarly's state-of-the-art dictation function converts your pup's barking to text for analysis by our tool. Our powerful algrrithms then check for spelling mistakes, grammatical errors, and vocabulary issues. Pups will receive suggested corrections via Grammarly Cards, which offer straightforward explanations of mistakes. Each time your pooch makes a correction, she'll also learn how to avoid making the same mistake in the future. Dogs will see their language improve dramatically with Grammarly as their personal editor and grammar coach.
---
* April Fools'! Grammarly is only for humans. Try it today.