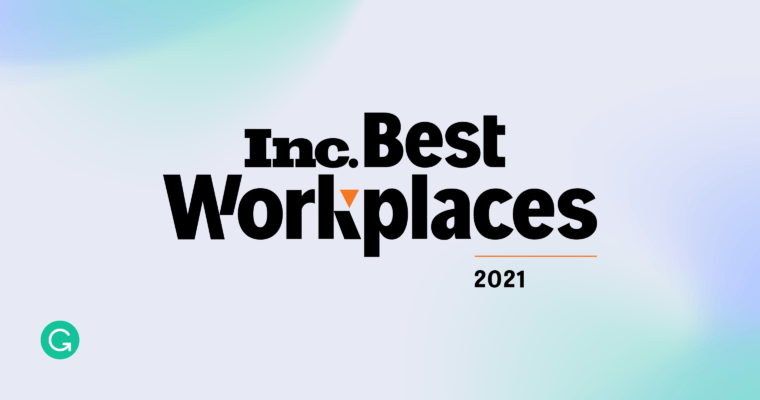 Grammarly team members come from all walks of life, but one thing keeps us connected: our values. I learned them when I joined Grammarly as Global Head of People in January, and now I know them by heart: EAGER (empathetic, adaptable, gritty, ethical, and remarkable). Those shared principles guide how we build our product and how we interact with one another. Our values are a big part of the reason we've been the industry leader in the writing assistance space for more than a decade. 
We're also a leader when it comes to team members' career satisfaction. I'm proud to announce that Grammarly was named one of Inc.'s Best Workplaces of 2021.  Recognition like this illustrates that Grammarly, one of the most well-known unicorn companies in the US, puts an emphasis on company culture and our team members' professional growth and success. 
Shape the way millions of people communicate!
Inc. surveyed thousands of companies' employees, and Grammarly stood out thanks to our dedication to finding, cultivating, and retaining talent. This honor spotlights companies where teams go above and beyond in their work, advocate for their organization, and intend to stay for a long time. In short, earning this recognition means people love working for Grammarly.
"I feel supported by my team, leadership, and managers and feel that I'm both given the room to grow and try new challenges, but also am supported along the way. I believe strongly in the organization's future success and am humbled and grateful to be a part of it."
When Inc. asked employees to choose a word that best describes their work environment, Grammarly respondents were most likely to say "collaborative." There's a reason we call each other team members—it's because we know that working together creates opportunities for professional and personal growth while moving the company forward at the same time. 
"I feel I have great career growth here. Additionally, my coworkers are kind, humble, friendly, and collaborative. I enjoy going to work!"
My job is to ensure team members have meaningful and rewarding career experiences. We want our team to love what they do—from design to engineering to linguistics to customer support—while serving our mission of improving lives by improving communication. Today we help 30 million people and 30,000 business teams wherever they write, through our integrated, intuitive interface. Still, we have further to go, and we'll get there through the efforts of our incredible team members. 
We have bold plans and encourage team members to take on big challenges that push them to learn on the go and develop as professionals. At Grammarly, we are excited about the future, and we're hiring—join our team!