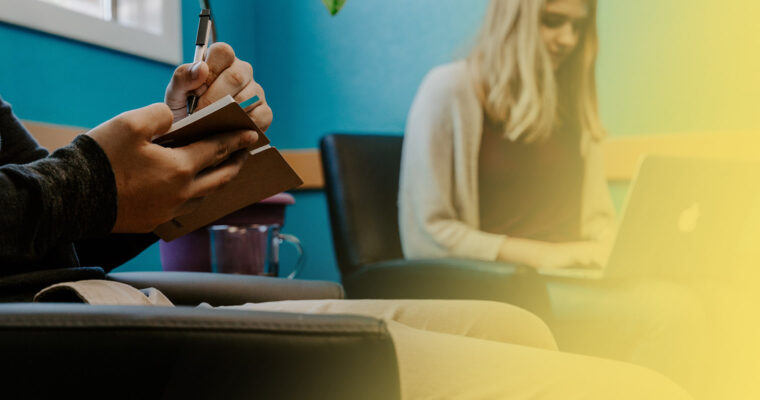 Instead of a quick, in-person debrief with your teammate about a missed meeting, more work-from-home professionals are performing meeting recaps and updates, digitally. And as companies continue with a fully remote workforce, chances are your team will rely on more frequent meetings to stay connected. 
Get your point across
Grammarly helps you write what you mean
An effective meeting recap shows that the allotted meeting time was used productively. It also helps with accountability, itemizing tasks that were accomplished, unexpected project challenges, and next steps that are needed.
It's this recap step—and subsequent follow-up communication—that keeps teams cohesive despite not being in the same room. Here's what makes a written recap and action item follow-up stellar.
Agenda items discussed
Every productive meeting has an established agenda of points to discuss, but sometimes agenda items might not get addressed, whether it's been tabled or meeting time ran tight.
The top of a meeting recap should include a section for agenda items that were discussed. To ensure that this correspondence is helpful rather than cumbersome, it's best to format the recap so it's easy to read and skimmable. For example, use bullet points, bold font, and concise language.
Ranchero commercial project: 
Contractors scheduled
Blueprints expected on November 11
Sarah awaiting approval from site manager
Decisions made
Based on the updates and conversations during the meeting, a resolution might have been made about a particular agenda item. This doesn't necessarily have to be its own section on the meeting recap, it could be an additional line under each agenda item or topic.
Regardless of how it's formatted, including decisions that were made in a meeting on a recap document keeps teams aligned and projects moving forward. 
Decisions made: Internal review for Sand Meadow project needs to be expedited. All auditing resources should be reallocated ASAP.
Action items 
As meeting updates and decisions are discussed, there will likely be action items for the team to complete after the meeting closes. This section is a crucial accountability tool for teams. 
When writing action items into a meeting recap, include what the next step is, who's responsible for executing it, and the date it's due.
Action items:
Maria – draft Ranchero landscape report; due November 15.
Dan – schedule a meeting with Rockdale client; due ASAP.
Jax – prepare monthly performance analysis for Jane; due November 30.
How to follow up on meeting action items
Meeting recaps are a useful tool for teams to get a holistic view of different moving pieces. Holding your teammates accountable—whether an action item deadline is approaching or is past-due—is also part of the post-meeting process.  
Sending a follow-up email that is empathetic, but still communicates urgency is key.  
You can achieve this balance in your message with these in mind:
Context.

A follow-up email can come off feeling like micromanagement. To avoid miscommunication, share context about why you're reaching out. Did the director

ask about the action item's status

? Does the action item need to be resolved before others can start their next steps? 
Tone.

Avoid language that carries an accusatory or judgmental tone.

Grammarly's tone detector

guides your writing so it sounds the way you intended.  
Question.

Ensure your message ends with a clear, concise ask—what do you specifically need from the recipient? Include specifics, as needed. 
Keep it short. A follow-up email should be concise while still being tactful. Writing a short follow-up message shows that you value the recipient's time by getting to the point.