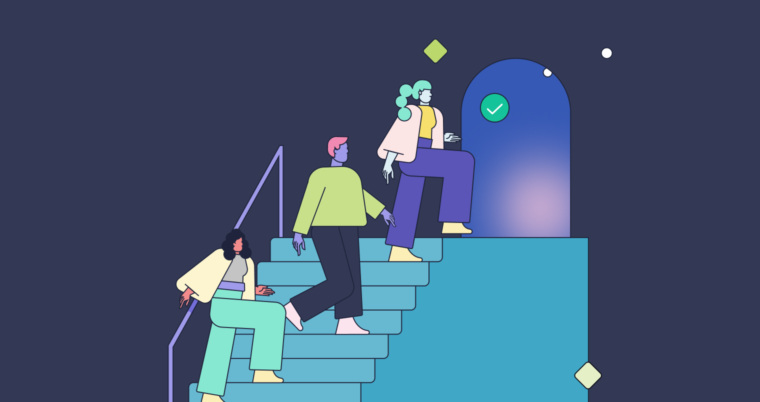 Running a small business or team can be immensely rewarding. You enjoy the flexibility and lack of bureaucracy and can make decisions independent of a large parent company. You can craft your product with care or personalize your services because you know that every customer counts. The tradeoff is small teams don't always have the time, people, or budget to oversee and improve every single aspect of the business—including communication. Style guides can help small teams deliver clear, consistent messages to their customers.  
Get your team on the same page
Deliver clear and professional communication with Grammarly Business
When well-executed, a style guide acts as a compass for companies to maintain a consistent presence internally and externally. Not sure where to start? Here's everything you need to know about style guides, and how you can create and implement one for your company.
What is a style guide?
A style guide is a document that contains rules and guidelines for a company's written communication. The guide encompasses several types of rules, including voice, tone, style, and so on. Say a member of your team wants to create and publish content. The style guide helps them achieve a consistent voice when communicating with anyone who engages with the business.
Why do you need a style guide for your business?
Think of a style guide as the north star your team can rely on for all customer-facing communications. 
A style guide helps your business stay consistent, which is key for several reasons. A well-structured style guide can help you stand out from the competition, and a unified voice can help customers feel like they know your business. When employees are consistent and aligned, customers know what to expect from your business every single time. 
Style guides are also useful for small teams that work with freelance talent or third-party agencies. The style guide helps freelancers and contractors get acquainted with your writing style to create seamless content, saving you valuable editing time. Learn how this team reduced editing time by up to 66 percent compared to its former peer-review process.
What elements should a style guide include?
Creating an effective style guide requires specific elements. Here are seven key components that every style guide needs to include to be successful.
1

Company-wide access
A common misconception is that a style guide is only for marketing or writing teams. Not quite—a style guide should be shared company-wide. On a small team, everyone plays a crucial role in the business, including communication with one another and with customers, so it's important that the whole team has access to and understands the rules and guidelines. Leaders should encourage their team to use the style guide, explain its importance, and share where to find the document (i.e., shared file drives, Google docs, etc.). Rally your team around a style guide as a tool to inspire confidence when writing for your business.
2

Grammar rules
Grammar is something even the most professional writers get wrong from time to time. Use very succinct paragraphs to direct writers to grammar rules that your business feels are extra important to get right. Whether you use The AP Stylebook or The Chicago Manual of Style, include three to four pages on the basics of your chosen manual. This can include the differences between commonly misused words like affect and effect, who and whom, bad and badly, too and to, and so on.
3

Punctuation 
Punctuation rules can vary as a matter of style. For instance, different companies may use compound words with or without hyphens, and the labeling of dates can be achieved in several correct ways. Different people and companies all have their own style, so a style guide is a great place to establish a standard. Make sure the style guide explains the Oxford comma, how to use quotes, and em dash and en dash use.
4

Voice and tone
Voice and tone are core tenets of professional communication. A consistent voice and tone in your communications can help you make a good impression on customers. Whether you are writing a landing page and creating a blog post, clearly outlined guidelines for voice and tone can bridge together different content pieces.  
A style guide helps teams explicitly state what tones are acceptable or preferred, and what language to steer clear from. In your style guide, define your ideal voice and tone. Maybe you want to appear friendly yet professional, or down-to-earth and informative. Even if you are just starting to build your team, it will benefit you, in the long run, to define early on how you want your business to sound and make others feel.
5

Channel guidelines
Depending on the channel you're writing content for, style and formatting varies. For instance, there are times where you can only write 280 characters, which may change whether or not you have room to spell out an organization's name or resort to using its acronym. If you have multiple social media channels, make sure your style guide gives distinct instructions for each one. Whether your company uses informal language and emojis or is always buttoned-up and professional online, it should be stated in your style guide.
6

Information on target customers
Small teams usually have some information on their target customer but may also be in a discovery phase, experimenting and refining their core audience. Defining your target audience or buyer—who they are, where they work, and what channels they use—helps to personalize communications to fit their needs. For example, some companies tend to use industry jargon in their communication with customers. Defining your audience can inform your style guide and urge you to avoid industry buzzwords when writing emails or social media posts. It can empower your writers and team members to understand the audience they are talking to. When teams understand their audience, they can create custom experiences to impress and attract new customers.
How to create a style guide for your team
Now that you understand the elements that go into a style guide, here's an overview of what to include when creating your style guide.
Mission and values:

Start by clearly defining your business's mission statement and what your values are.
Audience:

State your audience(s), who you're looking to engage with, and why. Consider your target customers.
Voice and tone:

Explain your company voice and tone and use it to define how you want to be perceived by your audience.
Differentiators:

Share what makes your business unique and why you are the best at what you do.
Competitors:

This can be a quick section. It's helpful to have a baseline understanding of your competition to maintain your unique value proposition.
General copy style:

Define which style manual you'd like to adhere to. Whether you're pulling from The Chicago Manual of Style (pro-Oxford comma) or The AP Stylebook (omits Oxford comma), a style manual helps teams navigate their word use, grammar, and punctuation.
How Grammarly Business can help 
As you can see, creating a style guide from scratch is not an easy task. It can be time-consuming to create and implement. So how can small teams develop a practical and scalable style guide when they are low on bandwidth? By leveraging a smart solution like Grammarly Business to eliminate the hassle and guesswork.
Grammarly Business offers small business leaders a dynamic style guide solution that empowers employees with suggestions in real-time. You can have peace of mind that your business will be represented professionally and consistently without overseeing every single piece of communication that goes out to customers or subscribers.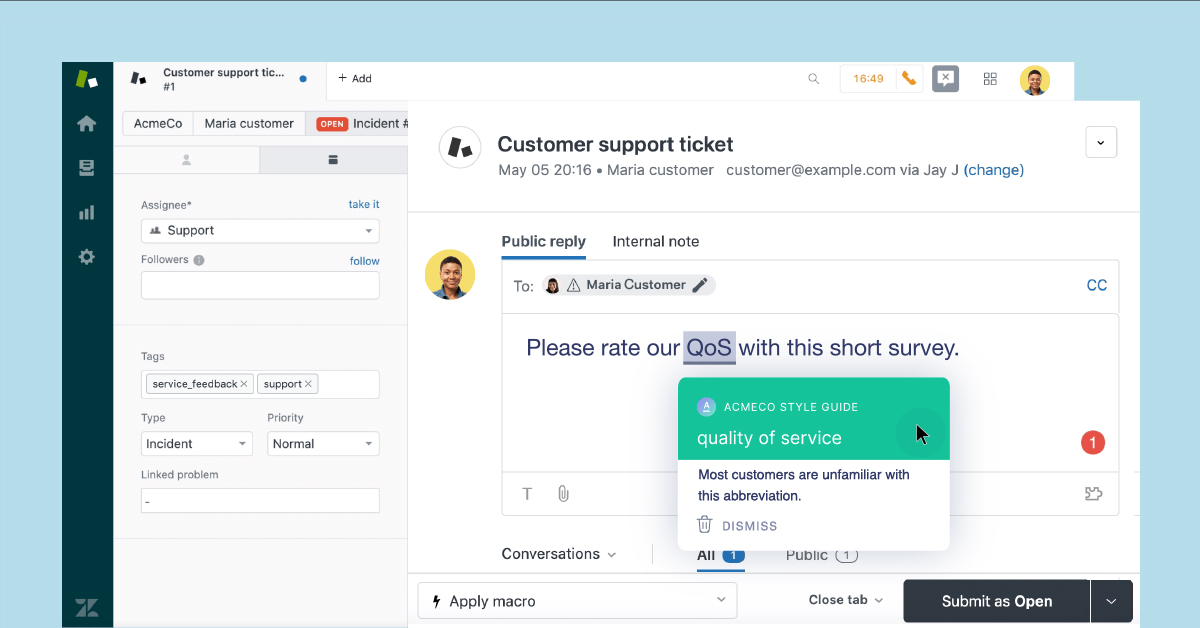 Customize the contents of your style guide within the Grammarly Business platform by adding specific word choices, names, trademarks, grammar specifications, and more. The style guide feature offers employees suggestions to maintain consistency while also improving clarity, correctness, engagement, and tone.
Save writing and editing time when managing communication from different contractors. With a style guide by Grammarly Business, your small team can streamline communication efforts, and you can focus on achieving business goals and reaching more customers.