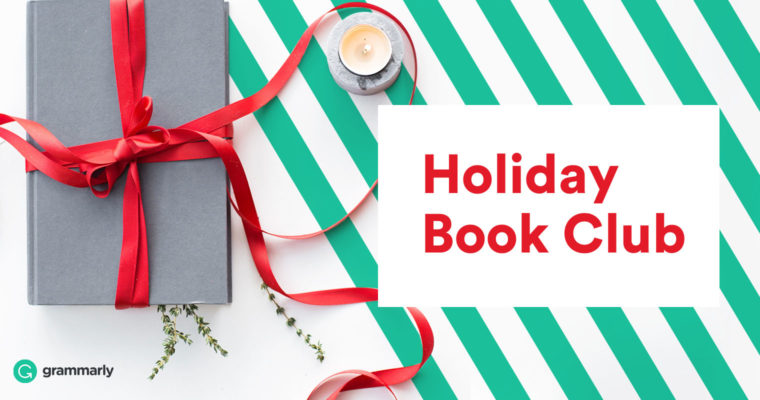 Grammarly blog readers love many things. Chief among them, grammar advice, writing tips, and of course, reading.
Book recommendations are always clutch, especially at this time of the year. So for those looking for last-minute stocking-stuffers or timely selections for your book clubs, we asked our Facebook audience, "What has been your favorite book of 2017?" Here are their picks for the  books they're loving right now along with reviews from Goodreads.
1. A Gentleman in Moscow by Amor Towles


This was the most common recommendation  from our Facebook crowd. 

"A Gentleman In Moscow and The Underground Railroad are two of my favorite books for 2017," Grammarly enthusiast Jackie Greenwalt wrote. "Two novels that tell the history of the times; both amazing in their own way."
"I really enjoyed A Gentleman in Moscow," added another member of our Facebook audience, Andrea McManus.
What Goodreads had to say: "A Gentleman in Moscow immerses us in another elegantly drawn era with the story of Count Alexander Rostov. When, in 1922, he is deemed an unrepentant aristocrat by a Bolshevik tribunal, the count is sentenced to house arrest in the Metropol, a grand hotel across the street from the Kremlin. Rostov, an indomitable man of erudition and wit, has never worked a day in his life, and must now live in an attic room while some of the most tumultuous decades in Russian history are unfolding outside the hotel's doors. Unexpectedly, his reduced circumstances provide him a doorway into a much larger world of emotional discovery."
2. The Signature of All Things by Elizabeth Gilbert
One of our most thoughtful recommendations came from Patricia George, who shared this note about her book choice: "It is so good, so encompassing, and it comprises elements of Tolstoy, Hugo, Dickens, Flaubert, and Balzac."
What Goodreads had to say: "Exquisitely researched and told at a galloping pace, The Signature of All Things soars across the globe—from London to Peru to Philadelphia to Tahiti to Amsterdam, and beyond. Along the way, the story is peopled with unforgettable characters: missionaries, abolitionists, adventurers, astronomers, sea captains, geniuses, and the quite mad. … Written in the bold, questing spirit of that singular time, Gilbert's wise, deep, and spellbinding tale is certain to capture the hearts and minds of readers."
3. 21st-Century Yokel by Tom Cox
A recent addition to bookshelves as of November of 2017, 21st-Century Yokel caught Grammarly enthusiast Sue Radford's attention as a must-have book.

What Goodreads had to say: "21st-Century Yokel explores the way we can be tied inescapably to landscape, whether we like it or not, often through our family and our past. It's not quite a nature book, not quite a humour book, not quite a family memoir, not quite folklore, not quite social history, not quite a collection of essays, but a bit of all six."
4. Killers of the Flower Moon by David Grann
If you enjoy books that become movies, Grammarly blog reader Vivian Guy's pick is one you'll appreciate. "Leo DiCaprio has the movie rights," Guy wrote in her Facebook post. "Read it before you see it."
What Goodreads had to say: "In the 1920s, the richest people per capita in the world were members of the Osage Indian Nation in Oklahoma. After oil was discovered beneath their land, the Osage rode in chauffeured automobiles, built mansions, and sent their children to study in Europe. Then, one by one, they began to be killed off. One Osage woman, Mollie Burkhart, watched as her family was murdered. Her older sister was shot. Her mother was then slowly poisoned. And it was just the beginning, as more Osage began to die under mysterious circumstances."
5. All The Light We Cannot See by Anthony Doerr
Thanks to Facebook follower Simon Falk, we received the heads up about Doerr's latest offering.
What Goodreads had to say: "From the highly acclaimed, multiple award-winning Anthony Doerr, a stunningly ambitious and beautiful novel about a blind French girl and a German boy whose paths collide in occupied France as both try to survive the devastation of World War II."
6. La Belle Sauvage by Philip Pullman
Another Grammarly Facebook supporter, Gill Heaslip, pulled this 2017 Pullman book on our list!
What Goodreads had to say: "Eleven-year-old Malcolm Polstead and his dæmon, Asta, live with his parents at the Trout Inn near Oxford. Across the River Thames (which Malcolm navigates often using his beloved canoe, a boat by the name of La Belle Sauvage) is the Godstow Priory where the nuns live. Malcolm learns they have a guest with them, a baby by the name of Lyra Belacqua."
7. Leonardo da Vinci by Walter Isaacson


Brush up on an important historical figure with this recommendation from reader Judy Cooper, who said mid-book that she "will be sorry when it's finished." The New York Times has listed Isaacson's book on its best-seller list for seven weeks.
What Goodreads had to say: "Based on thousands of pages from Leonardo's astonishing notebooks and new discoveries about his life and work, Walter Isaacson weaves a narrative that connects his art to his science. He shows how Leonardo's genius was based on skills we can improve in ourselves, such as passionate curiosity, careful observation, and an imagination so playful that it flirted with fantasy."
Facebook subscriber Lisa Butler recommended this book by a writer with her namesake. A coincidence? Perhaps.
What Goodreads had to say:  "From settling in the newly founded colonies in the 17th century through the pinnacle of the Civil War, The Cedar is an adventurous tale of the trials and triumphs of human endeavor, a broad canvas of emotion, and an epic tale of struggle and strength. A story that is at times heartwarming, at others heartbreaking, we are introduced to generations of the Bodes family and those close to them as they struggle against enemies, the challenges of the new world, and personal conflict."
9. Don't Sweat the Small Stuff … and it's all small stuff: Simple Ways to Keep the Little Things from Taking Over Your Life by Richard Carlson
The longest book title recommended this December is from a 20-year old book and comes courtesy of another Facebook supporter, Mayur Jungi.
What Goodreads had to say: "Don't Sweat the Small Stuff… and it's all small stuff is a book that shows you how to keep from letting the little things in life drive you crazy. In thoughtful and insightful language, author Richard Carlson reveals ways to calm down in the midst of your incredibly hurried, stress-filled life. You can learn to put things in perspective by making the small daily changes he suggests,including advice such as "Think of your problems as potential teachers"; "Remember that when you die, your 'In' box won't be empty"; and "Do one thing at a time." You should also try to live in the present moment, let others have the glory at times, and lower your tolerance to stress."
10. The Magic Strings of Frankie Presto by Mitch Albom
Grammarly blog supporter Christina Reilley shared a book from 2015 with an important qualifier for why it should make our list. "I read it this year, so it counts," Reilley wrote. "It's amazing." We're sold.
What Goodreads had to say: "Frankie, born in a burning church, abandoned as an infant, and raised by a music teacher in a small Spanish town, until war rips his life apart. At nine years old, he is sent to America in the bottom of a boat. His only possession is an old guitar and six precious strings. His amazing journey weaves him through the musical landscape of the 1940s, '50s and '60s, with his stunning playing and singing talent affecting numerous stars (Duke Ellington, Hank Williams, Elvis Presley) until, as if predestined, he becomes a pop star himself.
Other book recommendations to consider from Grammarly's Facebook audience:

Sing, Unburied, Sing by Jesmyn Ward via Judi Grant
Thinking, Fast and Slow by Daniel Kahneman via Karen Davis
Tribe by Sebastian Junger via Nicole Emm
November 9 by Colleen Hoover via Monalisa Chowdhurry
Let's Kill Uncle by Rohan O'Grady via Chris Easley
A Column of Fire by Ken Follett via Lesly Livengood
The Handmaid's Tale by Margaret Atwood via Olga Da Polga