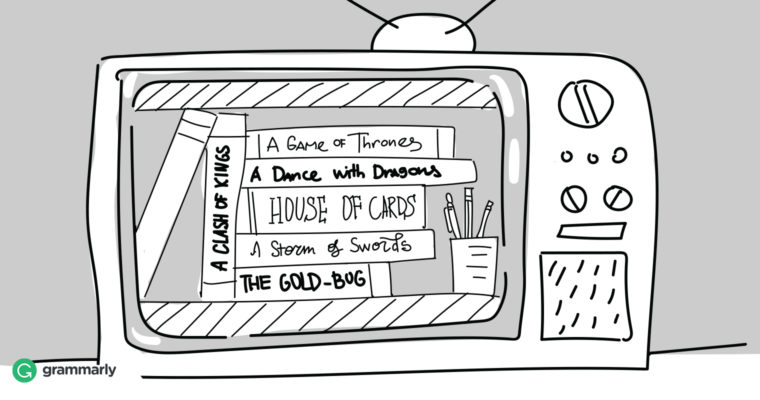 Do books inspire you? Apparently, books inspire a lot of people, including screenwriters, directors, and producers! Here is an introduction to some of the Emmy-nominated television series derived from your favorite novels.
Game of Thrones
According to BBC News, Game of Thrones "dominated this year's creative Emmy Awards with nine prizes for technical achievement." The series is based on George R.R. Martin's A Song of Ice and Fire series. Influential family clans battle to control the Seven Kingdoms of the imaginary continent of Westeros. The release date for the much-anticipated sixth volume of the book series, The Winds of Winter, has not yet been announced.
House of Cards
This political drama derives from House of Cards, the first novel of a trilogy written by Michael Dobbs, a British politician. The story is set in Washington, D.C. After failing to secure a position as Secretary of State, Frank Underwood embarks on a new campaign to attain political power. An editorial review from the Daily Express describes it as a "blood-and-thunder tale" with "marvellous inside track knowledge of government."
The Night Manager
In the novel The Night Manager by John le Carré, a former British military operative enters the world of espionage after being recruited to get insider information on secret international arms deals. He has to get close to the arms dealers and gain their trust. To adapt the miniseries to modern times, director David Farr updated some elements.
Roots
Roots shares its name with its inspiration, a 1976 novel by Alex Haley about an enslaved African named Kunta Kinte. The author grew up hearing stories about this ancestor and wondered if he could trace his origins back to Kunta Kinte's homeland in Africa. The book is fiction, but some elements derive from oral history and genealogical records. Four two-hour segments compose The History Channel's adaptation of this important novel.
The Abominable Bride
The roots of this special episode of Sherlock run deep. Sherlock Holmes, a fictional character created by Arthur Conan Doyle, quotes from another short story, "The Adventure of the Musgrave Ritual," that Doyle published in Strand Magazine in 1893. That short story, in turn, is said to have elements similar to "The Cask of Amontillado" and "The Gold-Bug" by Edgar Allan Poe. Talk about paying it forward! Unlike the mystery at the center of this episode, the line of inspiration from story to screen is not a real case of whodunnit.
People always say that the book is better than the film. Now you have a chance to see if the same holds true for television series! Why not read some of the novels behind your favorite Emmy winners. Who knows how you will be inspired if you do!