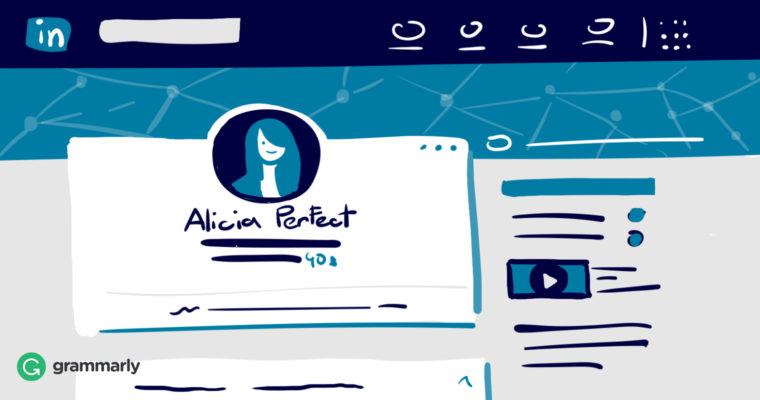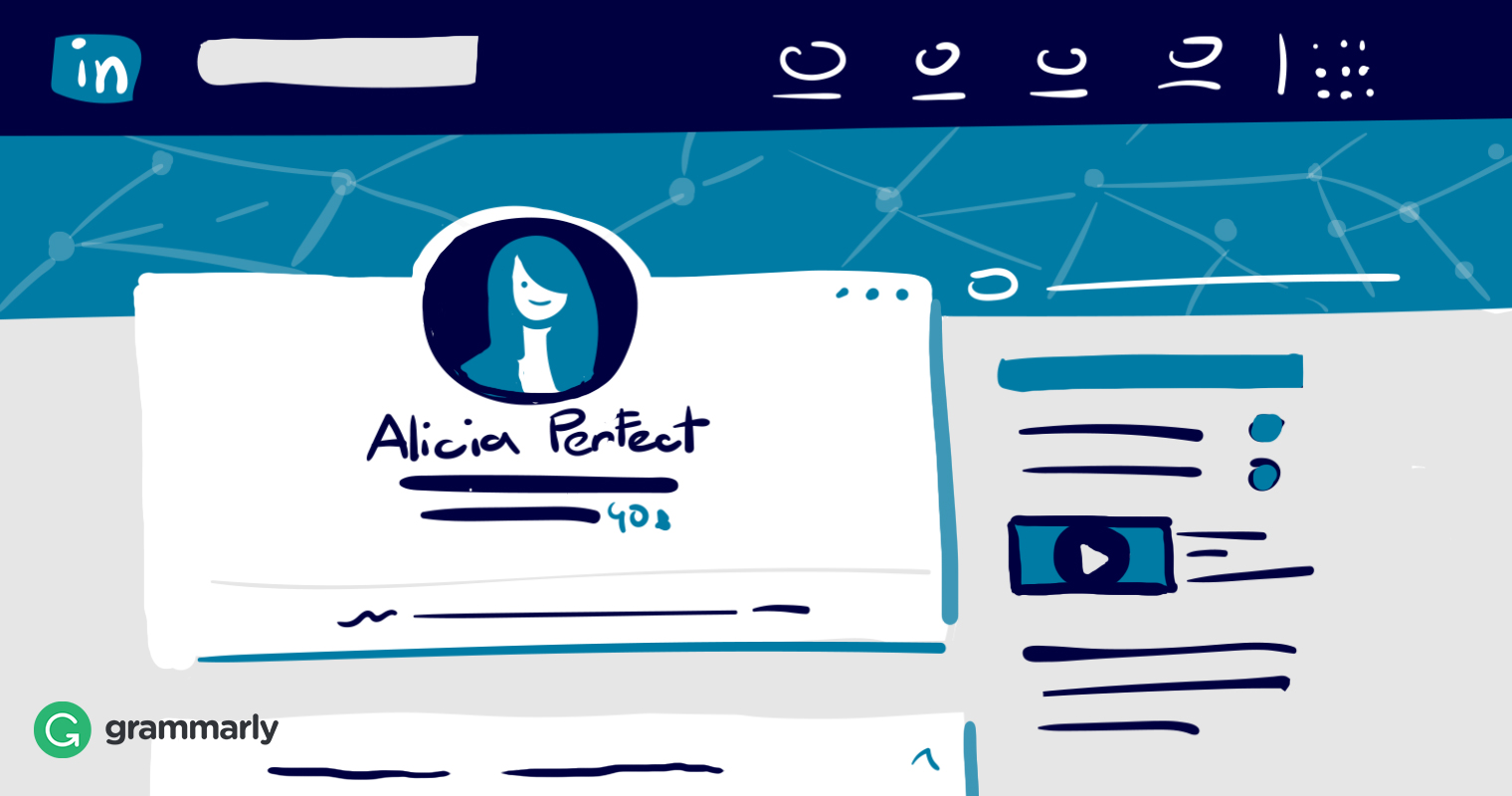 Imagine you were trying to get a job fifty years ago. You would find a job listing in a newspaper, set up an in-person interview, and walk in with your résumé to introduce yourself to the company.
Today, LinkedIn has taken the place of the newspaper, your résumé, and even that first meeting. Your presence on LinkedIn matters. In fact, 87 percent of recruiters will vet your candidacy by visiting your LinkedIn profile, according to data from Jobvite. So with this in mind, a great LinkedIn profile starts with a fantastic summary.
Here's a tip: Want to make sure your writing always looks great? Grammarly can save you from misspellings, grammatical and punctuation mistakes, and other writing issues on all your favorite websites.
How to Write a Killer LinkedIn Summary (on a Live Example)
When setting out to write your summary, remember how LinkedIn users will interact with it on your profile. When someone goes to your profile, they'll scan your title and location, see your photo, and notice if you have under 500 connections. After that, they'll likely turn to your summary to get to know you. It's the equivalent of a public cover letter: it gives your contacts a sense of who you are before they read what you've done.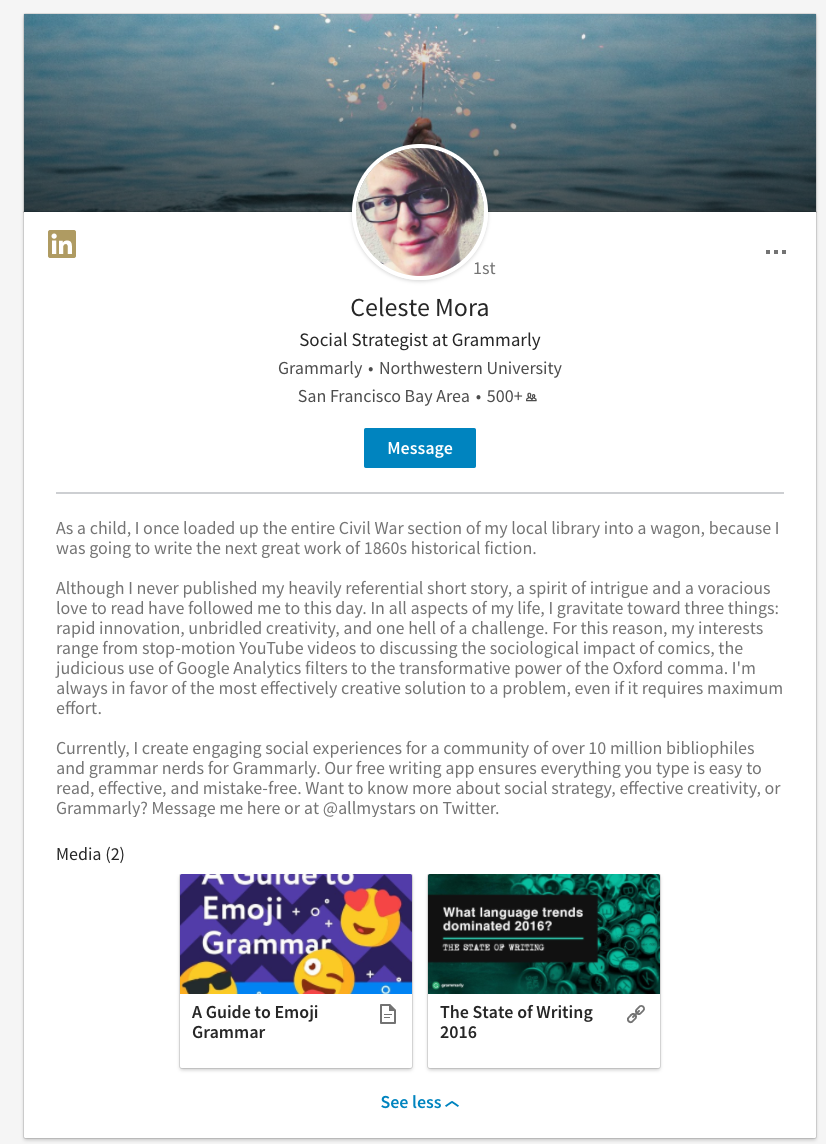 Here's a screenshot of my LinkedIn profile, for those of you following along at home.
Because it's so visible (and often public), your summary is the best place to capture your potential new contacts' attention and give them a glimpse of your personality. Therefore, the most important rule of writing a LinkedIn summary is to make it original. You are a unique, talented professional, and your summary should capture the things that make you the greatest social media manager, writer, banker, underwater basket-weaver, etc.
Before you start writing your LinkedIn summary, you should do two things. First, search for leaders in your field, and check out the key terms they use to describe themselves. These keywords will help your profile appear in LinkedIn's search results. Then, ask yourself these questions, and jot down any surprising things you discover:
Who am I at work?
What are the core features and values of my personality?
What unique perspectives and experience do I bring to my field?
What original ideas have I brought to the place where I work now?
Here's a tip: Don't know which keywords to include? Try googling your job title and see which words are used in job postings, descriptions of your position, and other top search results.
After you've generated a few ideas, it's time to draft. Check out these tips for structuring your summary.
3 Tips for Writing the Best LinkedIn Summary
Summaries don't need to be long, but you might want to take a moment to plan and write yours. Here are a few tips to make your summary shine:
1 Write your summary in the first person. Unless you're a celebrity or public figure, we all know you wrote it yourself.
2 Keep it short. Don't say something in five words that could be said in two. Also, shoot for four to five paragraphs of no more than a sentence or two each.
3 Proofread everything multiple times. Read your LinkedIn summary out loud to make sure it sounds natural and eliminate mistakes.
Here's a tip: Want a second set of eyes on your LinkedIn summary? Try Grammarly to keep your profile clear and mistake-free.
The Structure of a Good LinkedIn Summary
Authenticity and creativity are the hallmarks of a great summary, which is why most LinkedIn summaries feature distinct sections. Make sure you nail these to make your summary perfect.
The Opening Line
Writing an engaging opening line is key to drawing in potential employers, clients, partners, and contacts. To find your opener, just think: what is the first thing someone should know about me?
If you're still stumped, try these tips for great first lines, and experiment! If you set a timer for ten minutes, you can probably write fifteen different opening lines. Then it's just a matter of choosing the one that suits you.
The Pitch
After your first line (or first few lines), you'll want to explain in the best way possible why you're a rising star in your field. Remember those keywords we collected above? Now is the time to use them. Tell your readers what you're passionate about, what you're good at, and why these things matter.
If you need more help pitching yourself, check out these tips for writing a great pitch.
The Call to Action
After you've written three or four concise paragraphs, wrap it up. As you're closing out your profile, consider the action you want your profile-viewer to take. Do you want them to email you if they're interested in becoming a client? Do you want them to message you with job opportunities? Do you want them to tweet funny cat memes at you?
Whatever action you want people to take when reading your LinkedIn, list it at the end of your profile. In most cases, a simple "Message me with" or "Email me if" will suffice.
The Proof
Thought you were done with this whole LinkedIn thing? Wrong! Put your work samples where your mouth is.
Many LinkedIn gurus will suggest a "skills" or "strategies" list in your summary, both to pack in keywords and to show your skills at the top of your profile. If you have lots of relevant skills, certifications, or knowledge, feel free to include a list of your abilities. If that's not your style, never fear! Attach samples of your work below your summary. Show off that video, slide deck, report, or publication that you finished recently. These embeds are very helpful in proving that you know what you're talking about.
More Excellent LinkedIn Summary Examples
Need inspiration? Here are some real, live LinkedIn summaries you can use to guide your writing. Check them out, then leave your thoughts in the comments below. What similarities do you see between these summaries? Do you see any differences?
The Gold Standard: An Influencer's LinkedIn Summary
Marianne Griebler is a two-time member of the LinkedIn Top Voices club, and with good reason. Her LinkedIn profile is polished yet original, and she produces high-quality articles on LinkedIn Publisher. Like everything else she writes, Marianne's LinkedIn summary is top-notch.
What you say about yourself is almost as important as what you actually do.
So what words do you wish you could use? About your business? Your nonprofit? Your career? Your dreams?
If words are failing you, I'm here to help with clear, compelling messages targeted to the audience you want to reach. Maybe you'd like to do the writing yourself, with my coaching; maybe you'd like me to craft the content for you. You decide what makes the most sense for you.
I'm an award-winning marketing communicators strategist, writer and coach with deep experience on both for nonprofit and for-profit sides of the business world. A commitment to research will help us figure out the messages that will have the greatest impact on your audience … and on the goals you hope to achieve.
Contact me to set up a 20-minute call to talk about how I can help you with your messaging:
EMAIL: ______ PHONE: _______ Learn more about me on my website at _____; be sure to look at my testimonials to see what people say about working with me.
Specialties: Marketing communications | Content development | Coaching | Strategy | Branding | Brand management | Message development | LinkedIn | Digital marketing | Social media| Strategic thinking | Public relations | Job search | Project management
Surprising Celebrity: Shaq's LinkedIn Summary
Shaquille O'Neal may not be the first person who'd come to mind when you think "great LinkedIn profile," but his LinkedIn is a slam dunk. His summary is engaging, to-the-point, and explains his career transitions well. It's definitely worth checking out.
During 19 seasons in the National Basketball League, I drove success on and off the court. I developed partnerships with global brands, pursued my academic interests in business and leadership and became the only current or former NBA player to hold three degrees: a bachelor's, a
master's
and a doctorate.
Basketball remains a big part of my life, whether it is providing NBA analysis on TV, serving as part-owner of the Sacramento Kings or appearing as a featured character in the latest video games. Since 1985, every NBA championship team has included a current or former teammate. I guess that makes me the Kevin Bacon of basketball.
Since retiring from the basketball court, I've expanded my brand relationships into one of the most diverse portfolios in the business world. As an early adopter of technology, I've identified innovative organizations as a serial tech investor. I work with brands that are household names such as Turner Networks, Reebok, IcyHot, AT&T and many other great companies. I also bring my business acumen to like-minded companies as a featured speaker at conferences and events nationwide.
Though I'm best known for basketball and business, my interests have always varied. I've released four studio albums and served as a sworn reserve officer in several law enforcement agencies across the country. I've collaborated on everything from fashion lines and jewelry to best-selling beverages and foods; from the latest technology products and games to children's books.
Bonus: My Summary!
Want to see an average, everyday LinkedIn summary? Here's the text of my summary, which was included above. Let me know what you think in the comments.
As a child, I once loaded up the entire Civil War section of my local library into a wagon, because I was going to write the next great work of 1860s historical fiction.
Although I never published my heavily referential short story, a spirit of intrigue and a voracious love to read have followed me to this day. In all aspects of my life, I gravitate toward three things: rapid innovation, unbridled creativity, and one hell of a challenge. For this reason, my interests range from stop-motion YouTube videos to discussing the sociological impact of comics, the judicious use of Google Analytics filters to the transformative power of the Oxford comma. I'm always in favor of the most effectively creative solution to a problem, even if it requires maximum effort.
Currently, I create engaging social experiences for a community of over 10 million bibliophiles and grammar nerds for Grammarly. Our free writing app ensures everything you type is easy to read, effective, and mistake-free. Want to know more about social strategy, effective creativity, or Grammarly? Message me here or at @allmystars on Twitter.