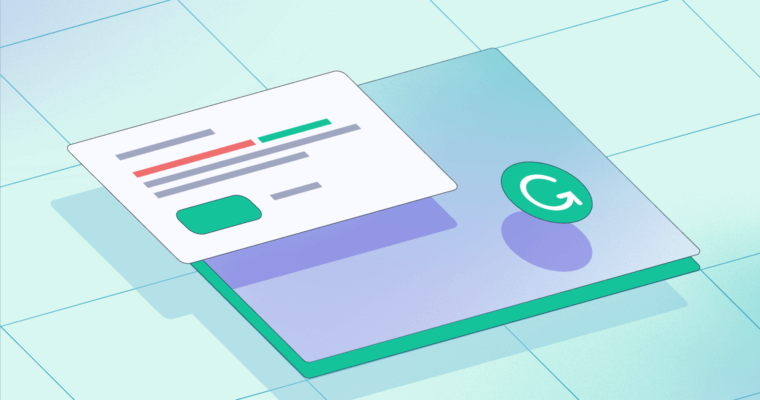 Today, Grammarly took a new step in our mission to improve lives by improving communication. We are proud to share that access to the Grammarly Text Editor SDK is generally available to the public. 
Add Grammarly to your app
Writing assistance for your users
The next step in our journey
A year ago, we announced our developer platform, Grammarly for Developers, and beta availability of our first developer product, the Grammarly Text Editor SDK. We were immediately amazed at the response from the community. Since then, thousands of developers, product managers, and founders have requested access to the SDK beta, and beta participants have added Grammarly's assistance into a huge range of applications. The Text Editor SDK has already helped over 2.9 million unique users check over 8 billion words—more than double the size of the complete English language Wikipedia.
We heard hundreds of stories from developers about the opportunities they saw to help their users communicate and connect with one another using Grammarly's AI-powered communication assistance. It's feedback like this that motivated us to build the Text Editor SDK:
"We want to help our users with the writing process, to help them tell their best stories." 

"Our publishing deadlines are tight, and our writers and editors need help getting high-quality content published quickly." 

"Our authors just need a boost of confidence to submit their projects." 
We believe that all people should be empowered to communicate at their best, so we built an easy solution to these complicated problems facing developers and product teams. 
Everything a developer needs to help their users communicate effectively
Through the beta, we found that the Text Editor SDK helped solve a wide range of problems facing developers, including those working on the writing experience in crowdfunding platforms, content management systems in major media newsrooms, customer support ticketing systems, cutting-edge AI-powered marketing tools, recruiting platforms, and curriculum writing tools. We're excited to share just a few examples of applications that are benefiting from a Grammarly integration powered by the Text Editor SDK: 
G2: One of the first companies to integrate Grammarly into their app was the world's largest and most trusted software marketplace, G2. "With over 1.8 million peer reviews in our marketplace, we recognize the importance of the quality of those reviews to be a trusted resource for buyers who rely on authentic feedback from their peers," said Rachel Bentley, Senior Director of Product Management at G2. "Many factors impact review quality, from length, relevance, and reviewer credibility to the way it's written—and this is where Grammarly's SDK plays a key role. Following a quick integration, our customers are seeing immediate improvement in the quality of reviews—with 50% of approved reviews per month including at least one Grammarly suggestion."
Front: Leading customer communication hub Front integrated the SDK into its composer to support customers with more accurate and efficient communication. "Front's mission is to enable better relationships at scale. We help businesses communicate efficiently and effectively with customers, especially in high-stakes communications where custom replies are the norm and being well-formatted is a requirement," said Nate Abbott, Head of Product at Front. "Integrating Grammarly and its Text Editor SDK directly into Front provides Front users with enhanced behind-the-scenes automation that allows them to write the highest-quality communication as fast as possible."
GoFundMe: GoFundMe, the most trusted online fundraising platform that supports individuals and their communities, is leveraging the Grammarly Text Editor SDK to empower fundraiser organizers to tell their stories with greater ease. "Creating a GoFundMe fundraiser can be deeply personal. We believe that help is powerful, but recognize that asking for it can be hard," said Lili Strasser, Partnerships Manager at GoFundMe. "By integrating Grammarly's suggestions, we're giving our users additional support and confidence to write their fundraisers in the most compelling way and raise funds for causes they care about."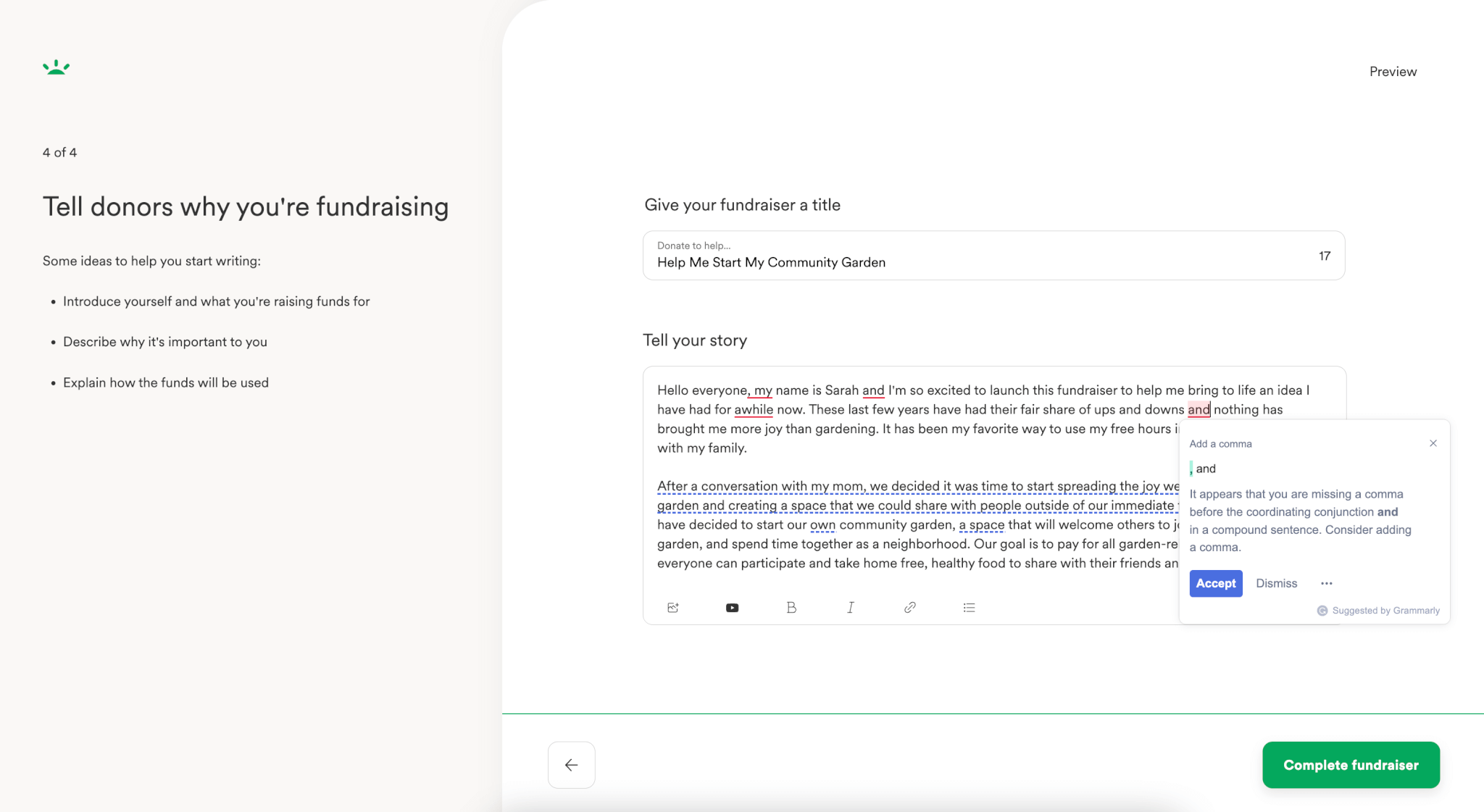 Hootsuite: Hootsuite is a leading social media management platform that helps customers harness the power of social media to ignite their brand and business. "As social media continues to evolve at a rapid pace, marketers are discovering tools to help them curate content efficiently across many different social platforms," said Brad Wochomurka, VP of Global Partners, Hootsuite. "With Grammarly integrated into Hootsuite Composer, our content drafting tool, social media marketers can rest assured that they are creating quality copy for every post."
Hi Marley: Hi Marley is the SMS-powered communications and collaboration platform purpose-built for insurance. "Over the past few years, we've seen increased demand from insurance carriers to help transform how they engage with policyholders. Hi Marley is investing in AI capabilities to drive this transformation," said Sean Stevens, Senior Product Manager at Hi Marley. "By integrating Grammarly's Text Editor SDK into our web communication platform, we're providing our customers with AI-powered writing assistance, helping them communicate faster and more clearly, without needing to install another software. Grammarly is a valuable addition to the coaching capabilities we offer our customers." 
Upwork: Upwork, a global marketplace connecting businesses with freelancers, integrated the Grammarly Text Editor SDK to help users write clearly and efficiently. "On Upwork, freelancers can create ready-to-purchase projects and the written details have the potential to impact whether they're hired or not. It's critical for these descriptions to be clear and concise so our talent community can make a great first impression on prospective hirers," said Dave Bottoms, VP of Product Expansion and Innovation. "The Grammarly Text Editor SDK integration helps our freelancers do just that. As an added bonus, it also saves our internal team that reviews project content a ton of time since more errors are caught up front."
Neighbor.com: The self-storage marketplace that allows people to earn passive income from their unused space by renting it to people looking for affordable storage, Neighbor.com integrated the Grammarly Text Editor SDK into their listing creation tool to help hosts effectively advertise their storage space. By bringing Grammarly into their platform, Neighbor.com is able to free up time for their content moderation team, who are intervening less because of the high-quality listing descriptions.

REVIEWS.io: As a platform-agnostic, Google Certified Review, and user-generated content (UGC) platform, REVIEWS.io knows that engaging, authentic, well-written review and UGC content creates greater value for merchants, reflects key brand values, and reinforces trust. With the Grammarly Text Editor SDK, their merchants' customers get the help they need to create high-quality pieces of content, and the merchant gets clear insight into what customers like and don't like.
Jasper: Jasper is an AI content platform that enables individuals and teams to leverage AI to simplify and automate content creation. Jasper enables anyone, from individual freelancers to major content-forward companies, to create content two to ten times faster than they could do otherwise. Jasper integrated the Grammarly Text Editor SDK to help users formalize their copy before publishing.
Mailbird: Mailbird is a desktop email client where writing is core to the user experience. Mailbird integrated the Grammarly Text Editor SDK to give users more writing support and enable existing Grammarly users to log in with their Grammarly account to access advanced writing assistance features, all within Mailbird.
Letterdrop: Letterdrop is a content operations platform that helps companies create 30% more content faster with fewer headaches. "Letterdrop is building thoughtful workflows to help B2B marketers collaborate on long-form content quickly," said Parthi Loganathan, CEO of Letterdrop. "Our team integrated the Text Editor SDK in twenty minutes, providing our largest customers with grammar corrections and writing suggestions, powered by Grammarly, all without having to leave Letterdrop. Writers, editors, and marketers get a shared view of Grammarly suggestions without fiddling with Chrome extensions. It just works!"
Jellysmack: Jellysmack is the global creator company that provides creators with tech-powered growth solutions, including multi-platform distribution, financial backing, and original content production. "At Jellysmack, we have a post-production platform called JellyStudio, where editors, copywriters, and community managers create video content for our creators," said Vardan Avagov, VP of Product. "Since integrating the Text Editor SDK, copy quality has increased, the number of review cycles has decreased, and we just learned that over 75% of Grammarly suggestions in the JellyStudio integration are being accepted. The SDK is a huge value add for our copywriters and our business."
Join.com: Join.com is a recruiting platform that helps companies hire faster. Join.com integrated the Grammarly Text Editor SDK to help companies create high-quality job descriptions.
Users weigh in on the SDK
More than 34,000 unique users in a wide range of apps have rated the value of Grammarly's writing assistance at an average of 4.6 stars out of 5 in in-product surveys, leaving comments like the following: 
"It catches all of my minor mistakes that I would probably overlook because I'm seeing the text the way I want to read it instead of what is on the page." 

"I think Grammarly helps me think more positive." 

​​"I have a hard time expressing myself, so Grammarly helped me a lot. Thank you."

And even, "I adore you." 
Thanks, writers—we adore you, too. 
Get started and help the world communicate better
Starting today, every developer, product manager, or entrepreneur can use the Grammarly Text Editor SDK and the Grammarly for Developers platform to assist their own users. 
With a quick and easy integration, the Text Editor SDK brings Grammarly's most sought-after features—like spelling and grammatical error correction, fluency support, tone detection, and sentence rewrites for clarity—directly into any web or desktop app. You can experience these suggestions yourself with our interactive demo of the Text Editor SDK.
The SDK is available through three flexible options designed to meet your business needs. Start free or contact Sales to request access to paid plans with advanced functionality.
We are thrilled to work with developers worldwide to help their users communicate with confidence. If you're a developer, join our mission and get started with Grammarly for Developers today.
Add Grammarly to your app
Writing assistance for your users