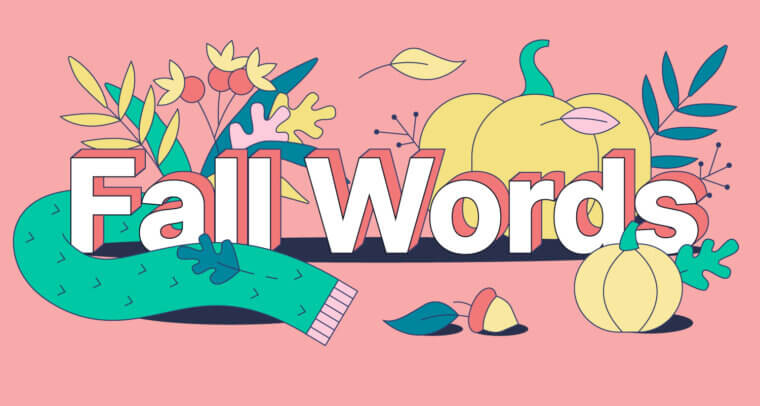 Now that fall is here and the summer is in the rearview, you may feel inspired to sit by a bonfire and sip a pumpkin spice–flavored drink. Fall conjures many things: cardigans, apple cider, hayrides. It's a moody season that offers a feast for the senses—so it's no wonder people look to it for inspiration. In places where fall occurs during September, October, and November (namely, the Northern Hemisphere), the crisp air and multicolored burnt hues arguably create a romantic vibe.
The leaves begin to drop from the trees and the earth inches toward its winter dormant period at this time of year, a transitional slowdown that's felt in the cool, blustery weather and the call to get cozy. Still, the season bursts with color, abundance, flavor, and festive moments. 
Strike the right tone
Grammarly helps you write the way you intend
Below are the fall words and phrases to instantly put you in a cozy yet festive mindset.
Autumnal
While the word "fall" seems to capture one of the essences of the season—in that leaves literally fall from trees—the original word for the season was "autumn." Autumnal refers to things relating to autumn. The word evolved from the Latin autumnus, but etymologists aren't certain where the Latin usage evolved from. Before "autumn" became adopted in English in the 1300s, the word for the season was "harvest" due to the timely reaping of the crops. However, the confusion between the harvest as a season and as an action (to harvest is a verb, after all) led to "autumn" coming into favor. "Fall" came into colloquial use in English in the 1600s.
Crunchy
Nothing quite says fall like jumping into a pile of crunchy leaves. But what's even more lovely to behold is the changing palette of fall, due in no small part to the transformation of the leaves' colors before they even tumble to the ground. Although the leaves are actually in stages of decay, they make for some Insta-worthy photos given their varied hues: crimson, gold, ochre, burgundy, russet, garnet, orange, burnt umber . . . we could go on. "Crunchy" also evokes that first firm, juicy bite of first-harvest apples, a seasonal favorite (but more on that later). 
Hygge
In recent years, "hygge" has become synonymous with the concept of coziness. The Danish word translates to "​​creating a warm atmosphere and enjoying the good things in life with good people." In other words, hygge is a lifestyle and a state of mind, and it can be embodied in warming drinks, chunky knits, fuzzy blankets, glowing candles, and the like. Just look at social media feeds at the onset of fall and you'll see the trend in full swing.  
>>Read More: 5 Writing Activities to Keep You Going Through the Cold Season
Equinox
The autumnal equinox (or fall equinox) marks the first day of the season in the Northern
Hemisphere, typically falling on September 22 or 23; it takes place in the Southern Hemisphere in March. It's one of the two days of the year (the vernal, or spring, equinox being the other) on which the sun is directly above the equator—therefore making daylight and nighttime hours equal. 
Golden
Everything is a bit more golden in autumn, including (but not limited to) the leaves: fields of wheat awaiting harvest; rolling hills fading from summer green to fall's golden brown; dried maize and certain varieties of gourds brightening people's doors; the sun setting earlier and earlier as the calendar inches toward daylight saving time and even winter.
Crisp
Crisp is a fall word commonly used to connote the quality of the air, what with the season's chillier, windier weather in many parts of the Northern Hemisphere. The period in between summer heat and the colder winter months makes autumn a favorite season for many: It's cool enough to trade in shorts and sandals for cozy flannels and boots, but not yet time to fully bundle up in your warmest gear.  
>>Read More: 10 Ways to Write About Nature That Aren't Cliché
Cider
Quite possibly the drink of fall (sorry, PSL stans), cider is a marker of the season. One of the true delights of fall is visiting an apple orchard to take advantage of U-pick fruit and enjoying fresh-pressed cider. But to put the drink into true hygge territory, there's nothing better than adding a cinnamon stick and warming it up for a cozy, family-friendly sip by the fireplace. 
Gourd 
Fall is decorative gourd season! And edible gourd season, too. Gourds come in many shapes, sizes, and colors, but perhaps the most iconically fall is the rounded orange pumpkin. Heading to the pumpkin patch to carefully select treasures is a classic fall activity, but gourds can be found at your grocer in a pinch. Group a medley on your front porch, hearth, or dining table for seasonal decor, or source varieties such as kabocha, butternut, acorn, delicata, or sugar pie pumpkins to roast and enjoy in a variety of fall dishes (don't forget pie). We'd be remiss to not also mention one of the most popular use cases for pumpkins: carving them into jack-o'-lanterns for Halloween.
Spice
Strongly associated with chillier months, warming spices are on the multisensory menu this season as people add this to their lattes, pies, and other dishes, or light up spice-scented candles. Cinnamon, nutmeg, clove, and cardamom are some of the varieties that make up the seasonal bouquet.
Maize
Synonymous with corn, maize is a cereal grain indigenous to Mexico but also grown in other parts of North and South America. As fresh corn is harvested in summer into autumn, the dried grains can be ground into meal and flour. Dried husks of maize are also often used decoratively in fall and come in different varieties and hues, from golden to blue to multicolored. Corn mazes (or maize mazes) are also a common fall attraction in rural areas, sometimes held at pumpkin patches or tricked out as haunted mazes for that extra touch of Halloween festiveness.
Scarecrow
The humble scarecrow is a harvest season icon. Traditionally set up by farmers as a human-like decoy to literally scare away crows from pecking at their crops, a scarecrow was assembled on stakes draped with clothing and stuffed with hay to fill it out. The figure now also strikes a decorative pose at pumpkin patches, apple orchards, corn mazes, or even merchandising displays. 
Acorn
The fruit, or nut, of oak trees is commonly seen strewn on woodsy grounds in fall as the arboreal means of scattering seeds for future tree growth. Acorns are also gathered by enterprising squirrels to amp up their winter food stash—essentially, saving reserves to endure the dormant season before the renewal of spring, a theme humans, too, can relate to.
Harvest
Fall is the reaping time, when the last bountiful crops come in before winter. Harvest connotes abundance, when a veritable cornucopia of the garden or farm's gifts are gathered and, much like a squirrel's acorns, stored to nourish us through the colder, darker, less arable winter. The notion of autumn harvest is iconically used in music references too, like in Neil Young's "Harvest Moon," a romantic tune referencing the full moon that happens close to the autumnal equinox.
Jessica Focht contributed to this article.