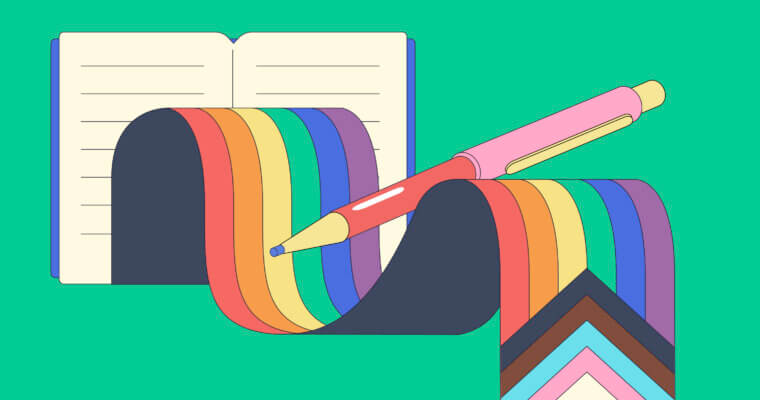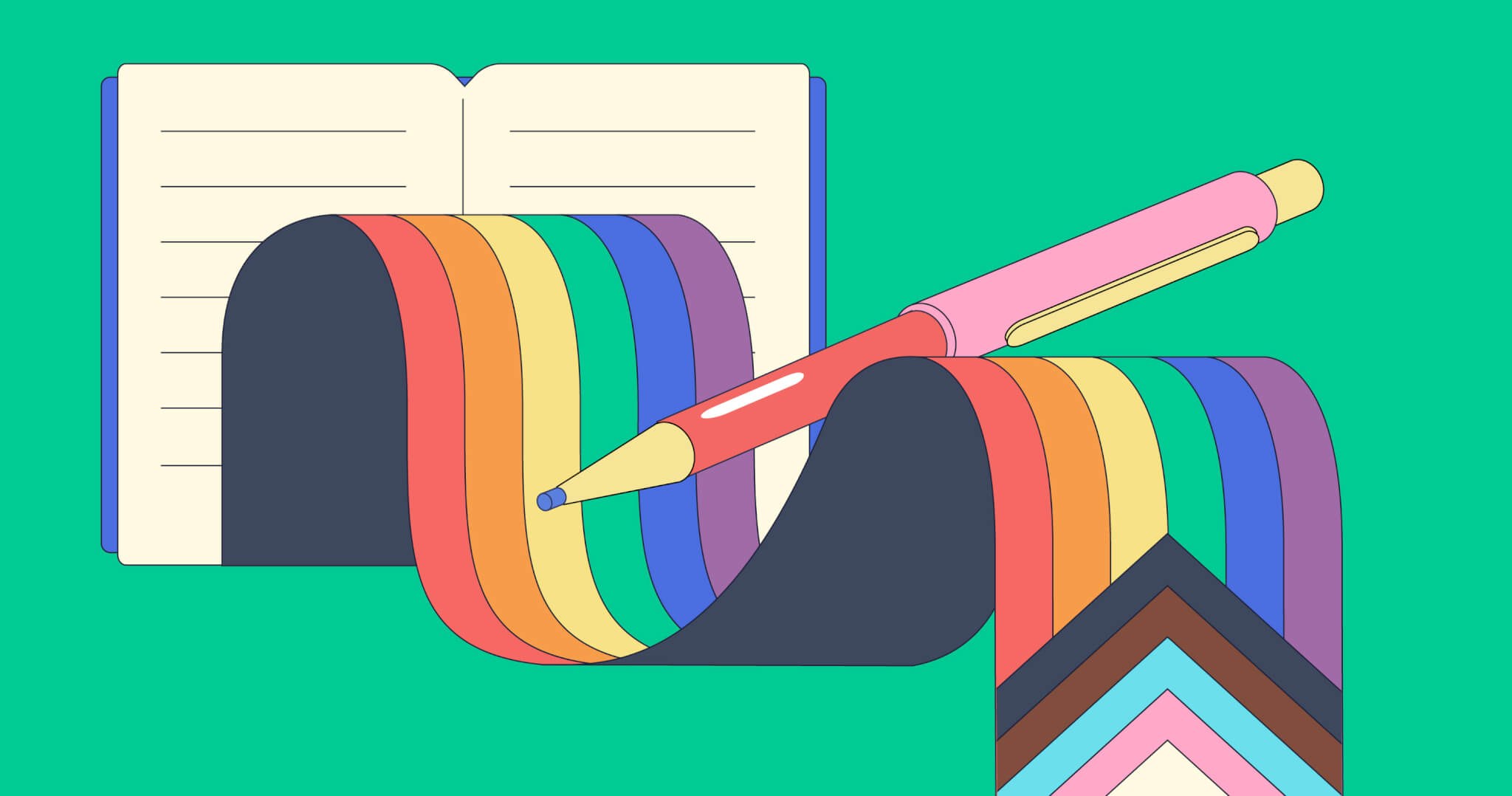 LGBTQIA+ representation in writing is crucial for readers who are looking for community, connection, and reflections of themselves and their relationships in the stories they consume. Over the past several decades, we've seen the work of LGBTQIA+ writers flourish in the form of poignant memoirs, poetry, and genre-bending fiction—all ruminating on what it means to fully and proudly be one's authentic self. 
These seventeen authors cross genres to tell stories that reflect a variety of LGBTQIA+ experiences and identities, in works including a nonfiction travelogue, a coming-of-age graphic novel, and a sprawling fictional saga. 
Janet Mock (1983–)
Janet Mock is a New York Times–bestselling author; a contributing editor at Marie Claire; and a writer, director, and producer on FX's award-winning television show Pose. Her memoir, Redefining Realness, begins with Mock telling her boyfriend she is transgender, then jumps backward in time to recount her life from her childhood in Hawaii, California, and Texas to adulthood. Her second memoir, Surpassing Certainty: What My Twenties Taught Me, focuses on that decade of her life.
Pose depicts Black and Latinx ball and drag culture in late '80s/early '90s New York City, and made Mock the first out transgender woman of color to be a staff writer on a TV show and to direct a TV show. In 2019, she became the first transgender woman of color to sign a deal with a major TV studio after taking a three-year deal with Netflix that gives the streaming platform exclusive rights to her TV projects and first looks at her film projects. She was named one of Time's "100 Most Influential People" in 2018. Mock has also written for The New Yorker and The New York Times and was an editor of People magazine's website.
Alexander Chee (1967–)
Alexander Chee is an author, poet, contributing editor at The New Republic, and editor-at-large at literary journal VQR. His 2001 debut novel, Edinburgh, follows a Korean American boy who is molested by the director of a choir camp and what happens when the abuse comes to light. Though it is not a memoir, it is semi-autobiographical.
Chee is also known for the 2016 historical fiction work The Queen of the Night, about a nineteenth-century Paris opera singer's mysterious past, and the 2018 essay collection How to Write an Autobiographical Novel. In the latter, he talks about the first time he performed in drag, his work as an HIV/AIDS activist, and the many odd jobs he's held. Chee lives in New York City and is an associate professor of English and creative writing at Dartmouth College. 
Carmen Maria Machado (1986–)
Carmen Maria Machado's Her Body and Other Parties—a Shirley Jackson Award winner and a finalist for the National Book Award for Fiction—is a unique short story collection of genre fiction. It explores the old fairytale about a woman whose head falls off if she removes her velvet choker, a queer woman's last lovers after a devastating apocalypse, and the aftermath of one woman's gastric bypass surgery. In the strangest tale, "Especially Heinous," Machado writes an alternative version of every single Law & Order: SVU episode, pitting the series' detectives against ghosts and doppelgӓngers as she examines the popularity of such shows.
Her other works include the graphic horror novel Low, Low Woods for DC's Hill House imprint, and her critically acclaimed 2019 memoir, In the Dream House, which details an abusive relationship with another woman while completing her MFA at the Iowa Writers' Workshop. Machado currently lives in Philadelphia, where she is the Abrams Artist-in-Residence at the University of Pennsylvania.
Gabby Rivera (1982–)
Rivera's graphic novel Juliet Takes a Breath follows a young Puerto Rican lesbian as she comes out to her mother, struggles with her first failed relationship, and moves from the Bronx to Portland, Oregon to complete an internship with the white feminist author she idolizes. Her journey ends up being both less and far more than she hoped, and ultimately becomes one of self-discovery. There are many reasons why acclaimed writer Roxane Gay calls this book "outstanding."
Like protagonist Juliet, Rivera is a queer Puerto Rican author from the Bronx. She's also the creator of b.b. free, a BOOM! Studios comic series about an underground radio DJ in a post-apocalyptic setting, and the founder of the joy revolution podcast. She's also the first Latina to write for Marvel Comics, in writing the series America. 
Jacqueline Woodson (1963–)
Jacqueline Woodson has written over thirty books, spanning poetry, picture books, young adult fiction, and adult literature. Her best-known works include her novel-in-verse, Brown Girl Dreaming—in which she uses poetry to recount growing up in 1960s and '70s New York and South Carolina—and Miracle's Boys, an award-winning YA novel. Miracle's Boys tells the story of three Black Puerto Rican brothers growing up in Harlem following the death of their parents and the middle boy's stint in a juvenile detention center for armed robbery. Her adult fiction includes Another Brooklyn, the tragic yet beautiful story of four teen girls growing up in 1970s Bushwick, and Red at the Bone, which follows a Black family through three generations and the traumas of the Tulsa Race Massacre and 9/11.
Woodson was named a MacArthur Fellow in 2020 and has served as both the Library of Congress's National Ambassador for Young People's Literature (2018–2019) and the Young People's Poet Laureate (2015–2017). She lives in Brooklyn with her partner, Dr. Juliet Widoff. They have two children
>Related: 20 Women Who Paved the Way in Writing
Samantha Allen
Dr. Samantha Allen is a GLAAD Award-winning journalist and the author of the 2019 book Real Queer America: LGBT Stories from Red States, a road trip memoir about meeting queer individuals and communities in traditionally conservative areas of the US during the Trump administration. Throughout her travels, Allen visits with people trying to make a difference by founding community centers, parades, and inclusive nightclubs, and she portrays the young people who benefit from those welcoming spaces.
Allen's other works include M to W(TF): Twenty-Six of the Funniest Moments from My Transgender Journey, an audiobook about her transition, and the animated ebook Love & Estrogen, a real-life meet-cute story about first encountering her future wife in an elevator at the Kinsey Institute. Allen is currently a columnist at Crosscut, has contributed to The New York Times, Rolling Stone, and Out, and was previously on staff with Fusion and The Daily Beast. 
Zaina Arafat (1983–)
Zaina Arafat's much-anticipated debut novel, You Exist Too Much, was published in 2020. It follows a bisexual Palestinian American woman as she struggles with love addiction and coming out to her cold, often cruel mother. Though the novel is not a memoir, Arafat, like her protagonist, is also a queer Palestinian American woman who grew up in the United States and the Middle East. She frequently writes both fiction and nonfiction works about the experiences of Muslim and Arab Americans, including a Q&A series with Muslim writers for the magazine The Margins. Readers can also find her work in such publications as The New York Times, The Atlantic, The Believer, and The Washington Post. Arafat currently lives in New York, where she's working on a collection of essays.  
Chani Nicholas (1976–)
Chani Nicholas is a Canadian author and astrologer. She became interested in astrology at a young age and in 2011 developed a weekly astrology newsletter that soon spun off into a popular blog and classes. Nicholas takes a modern approach to the practice, incorporating inclusivity, social justice, and current events into her writing.
In 2020, she published the New York Times bestseller You Were Born For This: Astrology for Radical Acceptance, which teaches readers to explore their birth charts, what strengths and challenges come with it, and how to best embrace themselves and achieve goals. She also released an app, CHANI, which offers personalized information for users' horoscopes and birth charts, meditations, workshops, and more. Nicholas currently lives with her wife in Los Angeles.
SJ Sindu (1987–)
SJ Sindu released her first novel, Marriage of a Thousand Lies, in 2017. It tells the story of a South Asian couple who are not what they appear. Lucky is a Sri Lankan American woman who has married Kris, an Indian man. What neither of their families knows is that they're both gay and that their domestic lifestyle is a ruse to prevent others from prying while they date other people. Things get complicated when Lucky returns home to find her first love, Nisha, who is about to enter into an arranged marriage. 
Lucky's story draws from Sindu's own experiences growing up in Sri Lanka for seven years before her family relocated to Massachusetts and then South Dakota, and coming out as queer to her own parents. Her second novel, Blue-Skinned Gods, follows an Indian boy born with blue skin who is believed to be in the tenth reincarnation of the Hindu god Vishnu. She is also the author of two chapbooks, I Once Met You But You Were Dead and Dominant Genes. 
Sindu currently lives in Canada with her partner, poet Geoff Bouvier, where she teaches at the University of Toronto Scarborough. 
Saeed Jones (1985–)
Saeed Jones is a Pushcart Prize-winning author, poet, and journalist. His 2019 memoir How We Fight For Our Lives, which took home the Kirkus Prize for Nonfiction that year, describes Jones's life as a Black, gay man growing up in the South in the 1990s and the risks that come with those identities when confronted with racism and homophobia. To drive that home, Jones once wrote, "Being black can get you killed. Being gay can get you killed. Being a black gay boy is a death wish."
Jones is also the author of the poetry collection Prelude to Bruise, winner of the 2015 PEN/Joyce Osterweil Award for Poetry and the 2015 Stonewall Book Award/Barbara Gittings Literature Award. Formerly, Jones served as Buzzfeed's LGBT and Culture founding editor, and was a host on Twitter's live morning show, @AM2DM. He now lives in Columbus, Ohio.
Jewelle Gomez (1948–)
Jewelle Gomez is an author, poet, and activist. She is best known for her Lambda Book Award–winning novel, The Gilda Stories, about a bisexual, Black vampire. Readers meet the heroine on the precipice of the Civil War when she escapes slavery, kills a bounty hunter in self-defense, and finds a home with Gilda and Bird, a lesbian couple who are both vampires. The protagonist adopts Gilda's name when she too becomes a vampire, and the novel follows the next two centuries of her life. Gomez adapted the novel into the play Bones & Ash: A Gilda Story, which performed in thirteen cities in the mid-'90s, and filmmaker Cheryl Dunye is planning to adapt the series for TV. 
Gomez's other work includes the short-fiction collection Don't Explain, book of essays Forty-Three Septembers, and Oral Tradition: Selected Poems Old and New, a collection of poems that draws from Gomez's African American, Ioway, and Wampanoag heritage.
Samantha Irby (1980–)
Samantha Irby is a comedian, writer, and former host of The Sunday Night Sex Show.
She is the author of four books: We Are Never Meeting in Real Life; Meaty; New Year, Same Trash, and Wow, No Thank You. Through essays that are often both heartwrenching and hilarious, Irby details intimate moments of her life, including how she met her wife, dealing with chronic illness, her sex life, and acting as her mother's caretaker when she was a teen. Irby's work can also be read on her blog. She also wrote the popular "Pool" episode of Hulu's Shrill, in which protagonist Annie attends a body-positive pool party. 
Irby grew up in Evanston, Illinois, and now lives in Kalamazoo, Michigan. 
Torrey Peters (1982–)
Torrey Peters's 2021 debut novel Detransition, Baby was published by One World/Random House, making it among the first written by a transgender woman to be published by one of the big five publishing houses. Upon the book's nomination for the Women's Prize for Fiction, Peters became the first out transgender woman to be considered for the prestigious award. 
The novel centers around three people and an unexpected baby. Reese is a transgender woman whose relationship with her girlfriend, Amy, falls apart when Amy detransitions and becomes Ames. Ames's lover Katrina soon reveals she's pregnant with his baby, which leads the trio to wonder if they could form a family. 
Peters's two novellas—Infect Your Friends and Loved Ones and The Masker—are both available for free on her website, where she also reveals she rides a pink motorcycle and splits her time between Brooklyn and a cabin in Vermont. 
Jennifer Finney Boylan (1958–)
Jennifer Finney Boylan is the author of sixteen books, a columnist with the New York Times's opinion section, and an English professor and the Anna Quindlen Writer in Residence at Barnard College. 
Her 2003 memoir She's Not There: A Life in Two Genders discusses her transition, including coming out to her wife, whom she married when still presenting as male, and preparing for gender-reassignment surgery. It was the first book published by an American out transgender woman to become a bestseller. Boylan's other works include the thriller Long Black Veil and Stuck in the Middle with You: A Memoir of Parenting in Three Genders.
Her most recent book is the memoir Good Boy: My Life in 7 Dogs, and she plans to release a novel coauthored with Jodi Picoult in 2022. She currently splits her time between New York City and Belgrade Lakes, Maine with her wife and two children.
Malinda Lo (1974–)
Malinda Lo is a three-time Lambda Literary Awards finalist and the author of several queer YA novels. They include Ash, a lesbian reimagining of Cinderella, and Last Night at the Telegraph Club—a historical romance between characters Lily, who is Chinese American, and Kathleen, who is white—who sneak out together to the eponymous lesbian bar in 1950s San Francisco. 
Readers can also find Lo's short fiction and nonfiction in The New York Times, Autostraddle, on NPR, in multiple anthologies, and through her biweekly newsletter on culture and writing, Lo & Behold. Lo lives with her partner and their dog in Massachusetts.
T Kira Madden (1988–)
T Kira Madden is an author and the founding editor-in-chief of No Tokens, a magazine of fiction, nonfiction, poetry, and art run by women and queer, trans, and nonbinary people.
Madden's 2019 memoir, Long Live the Tribe of Fatherless Girls, describes growing up in an affluent community in Boca Raton, Florida as a queer and multiracial girl of Jewish, Chinese, and Hawaiian ancestry. She also unflinchingly discusses her parents' drug and alcohol addictions, what it was like being the niece of well-known shoe designer Steve Madden, and finding community in a group of girls growing up without dads. The memoir was a New York Times Editors' Choice selection.
She currently lives in Hudson Valley, New York and teaches in Sarah Lawrence College's MFA program. She is also a photographer and a self-described amateur magician.
Michelle Tea (1971–)
Michelle Tea is an author and poet known for several autobiographical works and novels, including Valencia, the 2001 Lambda Literary Award for Lesbian Fiction winner. Valencia is a memoir that chronicles the romances between "Michelle," a young San Francisco poet, and several women. Tea's writing often broaches topics including queer culture, feminism, sex work, and tarot reading, which she's practiced for thirty years. 
Tea grew up in New England but moved to San Francisco in the 1990s. There, she co-founded the queer feminist collective known as Sister Spit, which hosted open mics and a touring spoken word show. She is also the founder of Radar Production, an incubator for queer artists, and Drag Queen Story Hour. 
Tea lives in San Francisco with her wife and son, and hosts the Spotify podcast Your Magic, "the cosmic spot where misfits, dreamers, and disruptors are celebrated in their spiritual beliefs." She's written for Grammarly's blog, too.