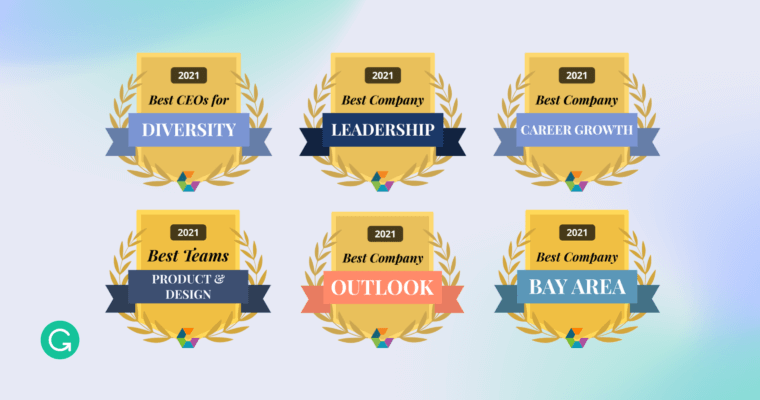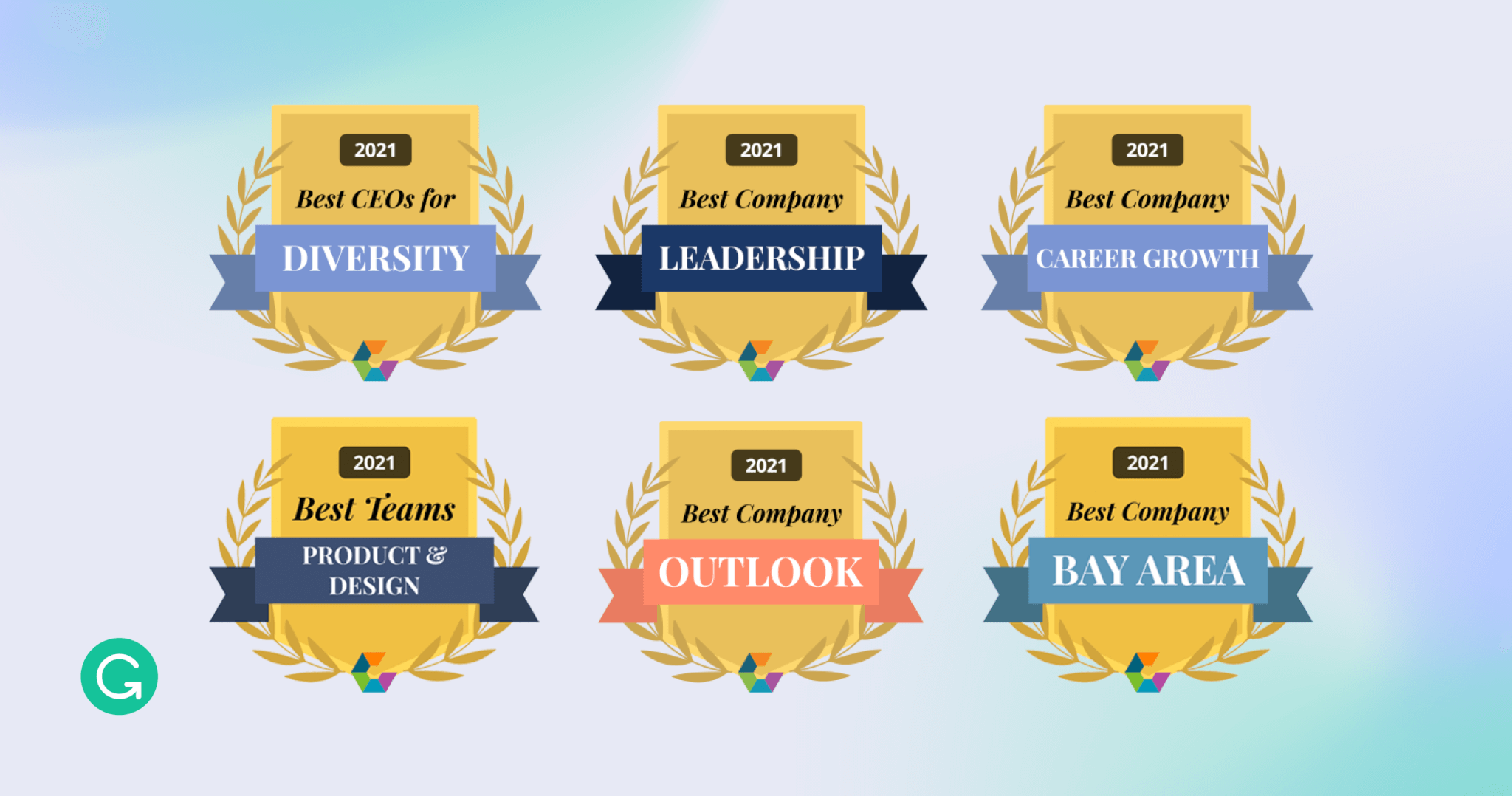 At Grammarly, we believe being part of a company that aligns with your values and professional goals is something worth celebrating! That's why we're excited to announce that Grammarly has won three more 2021 workplace awards from Comparably: Best CEOs for Diversity, Best Company Leadership, and Best Company for Career Growth! 
The new awards come on the heels of winning Best Company Outlook, Best Product & Design Teams, and Best Places To Work in the Bay Area. 
Join us!
Shape the way millions of people communicate
These awards from Comparably, a site dedicated to workplace transparency, are especially meaningful to us because they're determined by an essential audience: our current team members. Grammarly could not fulfill its mission to improve lives by improving communication without the hard work, creativity, and investment of its more than 500 employees. 
Regarding Comparably's award for Best CEOs for Diversity, Grammarly CEO Brad Hoover said, "I'm humbled by this recognition from our team. Grammarly's focus on diversity and inclusion is rooted in our ethical, empathetic, and remarkable values: We commit to doing the right thing, actively listen to understand, treat others as they want to be treated, and continually seek opportunities to learn."
These are our 2021 Comparably awards:
Best CEOs for Diversity:

This award signifies how employees of color regard Grammarly's CEO. Grammarly strives to cultivate an environment that acknowledges and respects diversity, where team members feel valued and welcomed to be their authentic selves and share their points of view.

Best Company Leadership:

Our leadership team makes decisions and takes action based on the best interest of Grammarly and its team members—whether it's keeping our users' words and data

safe and secure

, or re-envisioning

the future of work

.

Best Company for Career Growth:

Grammarly empowers and encourages its team members to think big and take ownership of their work—while learning from experienced peers and growing professionally in an environment that sets them up for success. 

Best Company Outlook:

As we go after

big goals

, we think the future looks bright, and this award speaks to our team members' confidence that we're on the right track. 

Best Product & Design Teams:

Our teams care deeply about driving effective writing outcomes for our users, and their expertise helps guide our growth as they make our writing assistant more responsive to peoples' communications needs.

Best Places To Work in the Bay Area:

Our

EAGER values

—ethical, adaptable, gritty, empathetic, and remarkable—are at the center of how we operate and why we're one of the best places to work. They keep us connected to one another, allow us to collaborate effectively, and inform how we build and grow our product.
These accolades place Grammarly among the top small and midsize companies for employee development and optimism, inspiring leadership, product and design talent, and outstanding work culture. 
We're pushing the limits of AI-powered writing assistance today so that people can communicate clearly and effectively with each other tomorrow. And it's working—every day, we're helping 30 million people and 30,000 professional teams better understand one another. We continue to innovate and improve our product offerings and features, from our mobile tone detector to company style guides. 
We're thrilled that these Comparably awards recognize what we've known all along: that helping people communicate effectively is exciting, challenging, and rewarding work. 
Comparably determines its awards by gathering employees' ratings of their companies. To qualify, small to midsize businesses must have at least 25 employees participate in the survey. You can learn more about the awards here.
We're growing! If you want to learn more about life at Grammarly and how you can join us on our mission, check out our job openings.