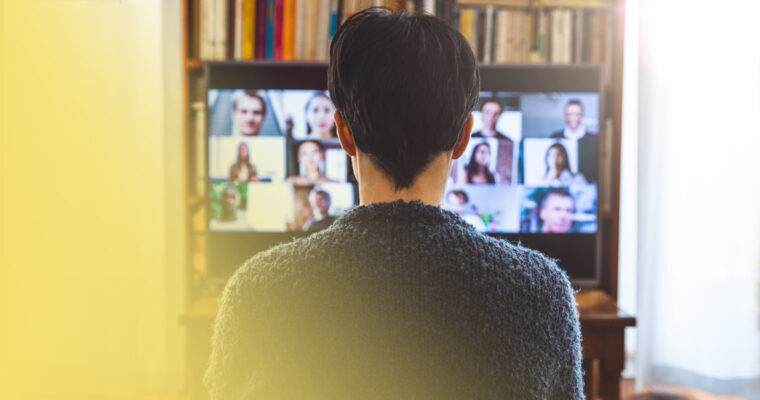 All over the world, people are seeking out new ways to feel connected and maintain a sense of belonging at a distance. The changes we've faced this year, where staying six feet apart is standard practice, have put a halt to the social norms we're used to. 
Connect with others through words
Grammarly helps you write what you mean
Without experiencing those daily moments of human connection face-to-face, it's difficult to find and build community. Because we need to make sure that literal distance is between us and everyone we meet in public, doing things like chatting at length to the person next to you in line at the grocery store isn't really appropriate anymore. 
In the current situation, the question becomes: How do we stop social distancing from becoming social isolation? 
Thanks to the many virtual platforms available to us, it is wholly possible to build community among friends, coworkers, classmates, extended family, and even strangers—it just might take a little extra intentionality.
Now that several months have passed, we've gotten better at finding ways to reach across the digital divide and connect. Here are 3 creative ways people are building community from afar. 
1

Live Music Performances on Twitch
With concerts and live shows canceled, musicians and DJs have turned to the live streaming service, Twitch, to create communities, stream performances, and connect with fans. Lauded as the go-to streaming service for gamers, Twitch allows users to pre-record or live broadcast their gameplay—which, during the pandemic, musicians have been utilizing for song sharing and even hosting concerts. For artists like Diplo, Zedd, The Jonas Brothers, and Noah Cyrus, Twitch has become a fantastic way for artists to keep in touch with the music community until concerts can résumé. Moreover, fans watching live-streamed events on Twitch have used chats to connect with one another.
2

Letter-Writing with Penpalooza
What began with a tweet by New Yorker writer Rachel Syme has grown into a community of pen pals in over 50 countries. Penpalooza is a pen-pal exchange that was sparked by the pandemic, forging connections between thousands of people looking to connect with someone new through the art of letter writing. Penpalooza is still accepting new requests, so if you're looking for a new friend to correspond with, this lovely initiative is the perfect way to establish a new bond via pen and paper. (Plus, the Penpalooza community is pretty great, sending twice-monthly newsletters with fun updates and stationery deals.)
>>READ MORE: 5 Phrases to Make Your Communication More Optimistic
3

Spontaneous Conversation with QuarantineChat
To combat the loneliness many of us have felt while quarantining, two artists with a love of phone calls and a mind for computer programming decided to create an app for spontaneous conversation among strangers. The app, QuarantineChat, has gained 15,000 users since March of this year in 183 countries, most of whom are from the US, Britain, India, Canada, Japan, the Netherlands, and Italy. After signing up, the app connects users for a one-on-one phone call, offering prompts to kick off the conversation. When we're all missing those random conversations with our neighborhood barista, postman, or baker, QuarantineChat provides those special kinds of connections (unhurried, unvarnished, short-lived) that we're craving. 
It can be challenging to fight against social isolation—but it certainly doesn't have to be impossible. With digital forms of communication like Twitch and QuarantineChat, along with traditional ways of creating connections like letter writing, we can make sure we're forging supportive communities even from a distance.