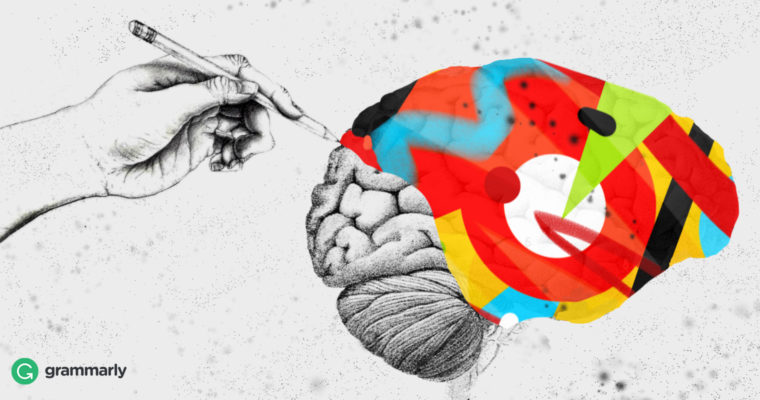 Whether you write novels, blogs, marketing content, news articles, movies, social media posts, transcripts for podcasts, or something that we don't even know about yet, you probably sometimes feel the need for inspiration. Maybe you could use some tips on reaching a wider audience. If you work freelance, maybe you're in search of some ideas for expanding your business. Or perhaps you're in the market for a new set of skills—web design, marketing strategy, new media, you name it.
Lucky for you, this list has it all. Grammarly hunted down all the best blogs about writing inspiration, writing as a job, writing fiction, and working with social media, content marketing, journalism, and design—plus a few bonuses about creativity in general. So put on your thinking cap, get ready to get creative, and browse away.
All Writers
Whatever type of writing you do, here's a place to get started. These blogs offer general inspiration, advice for being a content writer full-time, and tips for getting started on whatever you're working on.
This Pinterest About Inspiration Quotations, writing prompts, synonyms for blah words like "very" and "nice," and tips on character, structure, plot, and much more. It's Pinterest: if you want to know something, you'll find it.
Freelance Writers Online This well-organized blog by a full-time freelance writer has tips on how to make the gig work as a career, plus ideas for marketing yourself, creating a portfolio, and the art of writing. Bonus: here's a collection of 5 TED talks on storytelling, creativity, and writing in general.
Write to Done This site is organized by advice about fiction (character arcs, target audiences, and exercises to boost your creativity), nonfiction (blogging, boosting traffic, making money), marketing for writers, and tips that could be useful for pretty much everyone.
Live Write Thrive A copyeditor's guide to getting your writing going. A low-key WordPress-type affair, the site includes resources for writers and inspiring to-dos. For example, look at something green or blue—colors that apparently help boost creativity.
ProBlogger This is a blog about blogging full-time. Meta, isn't it? It has advice and ideas organized into eight areas, including getting started, creating content, finding readers and community, making the big bucks, productivity, and getting clients. Those categories are sorted in a handy side tab, and you can find more resources up top.
Fiction Writers
If you're an aspiring fiction writer, check out these blogs for writing prompts, refining your plots and characters, polishing your style, and getting published.
Now Novel Characters, plots, settings, beginnings, endings, the very principles of storytelling—Now Novel delivers all the dirt on writing big books of fiction, and does it in bite-sized bloggy chunks. It's pretty bare bones as a site, but it has great stuff for helping you get started, and the categories on the right go deeper into specific interests.
The Writer Creative name, we know. For professional writers and wannabe professional writers, The Writer magazine has guidance for improving your writing and getting through problems with the craft, advice for finding audiences and agents, and tips from working authors. The website has resources for getting published and prompts for when you get stuck, too.
DIY Author Take it from the blog authors themselves: "DIY Author exists to educate and empower authors with the knowledge and tools they need to do the work, find an audience, and build a career." This blog is well organized and chock-full of tips, tools, and techniques you can put into practice, from developing your writing habits to getting published. Plus, there's a podcast.
Advanced Fiction Writing With the tagline "Successful fiction writing = organizing + creating + marketing," this blog does not mess around. Be warned: some of the content is behind a paywall. But even the free content can be super useful, whether you're figuring out how to structure a scene, writing a dog, or creating a whiny character who's just whiny enough. It could be a bit easier to navigate, but since the focus is on selling a writing technique—one that clearly comes in handy for a lot of people—it's still worth checking out.
Pictures to Inspire Words Are you the visual type? This is a Pinterest Board of strange and intriguing images that should help get your imagination churning.
Content marketers
Calling all content marketers, bloggers, social media specialists, advertisers, and strategists—this is the place for you. These are the top nine blogs with tips for successful content marketing as well as examples of who does it best. Ranging from the more technical, data-oriented side of marketing to the perfect social media post, these blogs will give you plenty of food for thought, whether you're building a blog, a business, an audience, or your own portfolio.
Autopilot With case studies, marketing automation expertise, and examples of A/B testing and other forms of marketing research, Autopilot will satisfy your need for data and in-depth analysis. Its sparse layout and focus on case studies and research give Autopilot a sophisticated feel, but it's still easy to dive into.
ContentWriters This blog's specialty is general marketing info and how-tos for content strategy, but it also has articles focused on specific industries (medicine, real estate), companies (Airbnb), and tools (Google Analytics). With descriptive titles, previews of articles before you click, and tons of content, this is a great spot for ideas and getting started.
Content Marketing Institute Advice and how-tos for marketing, content, and innovations in creating and executing ideas. There's a lot of content, but also a lot of organization (tabs at the top, tabs on the side, tabs on tabs on tabs). It's also very orange.
Copyblogger This blog about copy has info about building an online presence, expanding your business, engaging audiences, and the ins and outs of content marketing. Rather than a more compact list of multiple articles, which is the norm for many content marketing sites, Copyblogger shows the first chunk of an article, with popular articles listed on the right. It can feel a bit clunky if you prefer the dashboard look, but if you like knowing what you're getting into before you click, this is the format—and the content—for you.
Hootsuite Hootsuite focuses on social media and brand-building, with tips on how to maneuver the gamut of social media platforms. There's also a section on innovations in tech and the social web. Its Pinterest-like dashboard makes for easy clicking.
Hubspot Hubspot has one of the most granular breakdowns of topics related to sales and marketing (spanning blogging, productivity, office life, sales closing, you name it), plus analysis of trending business strategies and tips for duplicating them. With its scrollable lists of recent posts and comprehensive categorization, Hubspot is indeed the hub for inbound marketing.
Inbound Marketing Blog With sections on inbound marketing, social media, SEO, design, and lead generation, this blog by Inbound Marketing Agents is chock-full of tips, tools, rules, and need-to-knows of online marketing. The thumbnail-arranged articles are digestible and implementable.
Kissmetrics It sounds like it counts how many smooches are given on a daily basis, but this is a marketing blog about analytics and optimization. Because Kissmetrics is an analytics company, it's got a lot of heavy-duty detail on the numbers end of things, but its blog has useful tips on content creation, too.
Mention Mention has a focus on digital marketing and media monitoring, with articles about strategy, reputation management, writing, and editing. The dashboard layout is neat and easy to navigate, though there are only twelve articles on the homepage. Still, plenty of food for thought.
Journalists
If you want to be a journalist, pick your favorite news source and read it religiously: there's your model for how to write. If you're interested in the state of journalism, different reporting styles, and new forms of media, dive into the blogs below.
Advanced Media Institute With its focus on new media, this blog, which is run through the U.C. Berkeley Graduate School of Journalism, has articles (and of course, other forms of media) about video, podcasts, social media, film, mobile and digital media, and visualizing data, stories, and more. With tips, how-tos, and examples, it's a great portal for exploring non-traditional methods for communicating your ideas.
MediaShift This PBS blog has info about social media, business, education (especially digital education), and articles and tips about digital media in general. And don't forget the Idea Lab, which is all about the changing face of journalism.
Nieman Lab Covering media analysis, journalism ideas, and examples of reporting in different categories, the Nieman Lab is a useful resource for journalists looking for inspiration or aiming to get into the rights and wrongs of contemporary news.
Old Media, New Tricks Started by a former journalist/news strategist and social media editor/teacher, this blog was built with enough expertise to have plenty of tricks up its sleeve. Categories include blogging, social media sites, and the future of media in general. The design isn't anything to write home about, but hey, maybe that's the next trick. Until then, there's plenty of media to read about.
Society of Professional Journalists Blog This site boasts blogs by professional journalists and writers on issues in contemporary journalism, the changing media, and how information is presented, shared, consumed, and understood. Sounds serious, but it's a must-read for aspiring journalists.
Designers
Whether you design web tools, user interfaces, buildings, or online content, there's something for you in these blogs. Most of them focus on UX and web design, but other creative types are sure to find something to chew on here, too.
Canva Canva's Design School has info ranging from the very general (social media engagement) to the super specific (web banner ads and real estate flyers). The site features articles about design, interactive tutorials, and tips, plus an easily browsable category list if you scroll down. Bonus for nice colors and navigability.
Codrops With its many columns, cards, and categories, Codrops truly looks like a design blog. It's a great resource for tutorials and tips about trends and methods in web design and development.
The Dsgn Blog Inspiring tidbits, featured designers, quotes of the week, and plenty of material about design for websites, apps, graphics, music, architecture and interior decor (like this weird chair), and more. The sparse but thorough blog also provides a list of other design blogs at the right.
nuSchool The nuSchool blog has tips for gaining clients and making it as a freelance designer. With its emphasis on education, helping you expand your design toolbox, and tips on running a business, this is a key site for freelancers.
Treehouse Treehouse focuses on coding, but it's also got useful content about the aesthetics of web design. The goal: launching a career that bridges technical knowledge with creativity.
Creatives In General
Any of the above categories—or anyone, really—can find something below. Whether you're a freelancer, want to inject more creativity into your normal job, or would rather take a break from your desk and read about a cool art thing, these blogs have got you covered.
Creative Boom An online magazine for, by, and about creative types, Creative Boom is excellently designed and overflowing with inspiration. Even if you're not a visual artist, their content on visual art can help get your creative juices flowing. If you're not in the mood for a muse, they've also got tips and resources for professional freelancers, marketers, and anyone who's interested.
Hyperallergic This site's name may make you think of sneezing uncontrollably or possibly breaking out in hives, but its really cool content is basically the opposite of that. A contemporary blog about all things arty, Hyperallergic has posts about artists from around the world (like Bhutanese painters), artistic interpretations of world events (protest photography), and weird artsy things from world history (creepy Victorian-era Christmas cards).
Format Magazine Format Magazine is all about creativity. The online publication features profiles of artists, discussion and education posts, videos, and generally interesting stuff about art, design, music, and creativity. Get ready to get inspired.
Flavorwire This site has you covered on art, books, music, movies, and TV. It has interesting takes on pop culture and quick reads to inspire or distract you—whatever you're in the mood for.
The Inspiration Room This online "room" is a collaboratively created library of innovations in advertising, photography, print, TV, design, and anywhere else you can think of. Most of the content is from advertising, but the creativity is constant.
There's plenty more where these blogs come from, but we did our homework, and we think these are the best and the brightest blogs for writers, freelancers, content marketers, journalists, designers, and creatives. Oh, and as far as inspiring blogs go, Grammarly is a pretty great one, too.