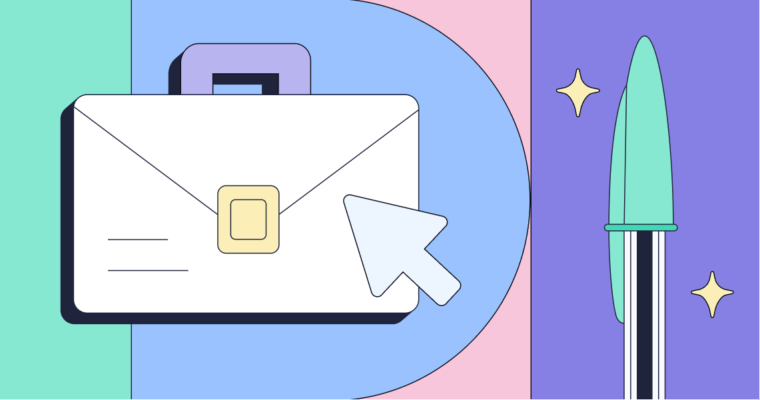 Writing a formal business letter may feel like an intimidating task, it doesn't have to be difficult. There are established rules for layout and tone that you can easily follow to create polished correspondence.
While most business letters are sent as digital documents these days, you'll still find them being printed out the old-fashioned way. Business letters can be used to inform stakeholders, provide a reference letter, confirm employment, or share a job offer, among other important business correspondence.
Give your writing extra polish
Grammarly helps you communicate confidently
In this guide, we'll be discussing how to format a letter for business purposes using the block form. (Other options for formatting include the modified block, semi-block, and indented forms.)
Let's get down to business.
Formatting a business letter
A business letter is a formally written document that serves an official purpose. It's usually sent from one company to another, or to clients, stakeholders, or employees. Properly formatted letters display structure, uniformity, and organization.
Here's what you need to pay attention to when you format your business letter.
margins
spacing
font size
address
letterhead
justification
How to format a business letter
Formatting a business letter doesn't need to feel daunting. There's a simple six-step process that originated in the 12th century. That was nine centuries ago! Follow this tried-and-true method to efficiently and effectively structure formal correspondence.
1

Document settings

Before you start writing your business letter, set your font to Times New Roman or Arial, font size 12. Align your text to the left and make sure your writing is single-spaced, with a blank line between paragraphs. There should be a two-inch margin at the top and bottom of the document and a one-inch margin on both sides.
2

Contact information and date

At the very top of your letter, add your letterhead, which includes an individual or company's name and contact details. The letterhead is often centered, or aligned left at the top of the document with the name and a company logo (if relevant) on the top line, and other pertinent information, like location and contact details on the lines below, though that information is optional.

Beneath the letterhead, add the contact information for both you and the recipient. Below is the information you should list at the top of your letter, in the order that it should appear.
your name
your job title
your company
your business address
your business phone number
your business email address
Skip a line at the end of your information and insert the date you're writing the letter. Then skip another line before adding your recipient's information.
your recipient's name
your recipient's title
your recipient's company
your recipient's company's address
Once again, skip a line and, in bold, add the subject of your letter.
3

Salutation

A business letter should be a formal document. The salutation should match the professional nature of the letter.

Here are some salutations you might use for a business letter.
Dear Mr. / Ms. / Mx. / Dr. [Last Name]
Dear [First Name] (if you have an informal relationship with the recipient)
4

Body

Now it's time to write. Using single-spaced lines with an extra space between each paragraph, draft the body of your business letter. The body of most business letters unfolds in three parts. Aim to keep the letter to a single page, which is preferred.
Introduction: Showcase the purpose of your letter. Explain why you're writing it, what you hope to achieve, and a quick overview of the important information you'll cover.
Main text: Provide details about the important information you outlined in the introductory paragraph. This can be anywhere from one to five paragraphs.
Conclusion: Summarize everything you've discussed. Include, if relevant, a call to action or next steps.
5

Closing and signature

It can feel awkward to end a letter. An overused, cliché closing can actually be the perfect fit for a professional letter, though. Whether you choose a formal or informal closing, keep it professional. These are some possibilities.
Sincerely
Respectfully
Cordially
Best
Regards
Below the closing, leave four to six lines blank so that you can sign the document either after you've printed it or via an e-sign application. After those four lines, type your full name and your title on the line below your name.
6

Enclosures (optional)

If you have documents you want to include with your letter, such as a form or résumé, you can note it by writing "Enclosure(s):" followed by a list of the other documents, a few lines below your closing.
7

Review

Before you send out your letter, take the time to proofread it. A professional letter isn't just formatted correctly, its grammar, punctuation, and spelling should also be mistake-free. Run a grammar check, and consider your tone to ensure you sound professional.
Business letter format examples
1

Block form business letter example
Whoville, Inc.
Cindy Lou Who Whoville, Inc. 12 Who St. Whoville, Wyoming 83002 307-555-9466 c.l.who@whoville.io
November 1, 2023
Mr. Ethan Grinch Stealing Christmas, LLC 61 Mt. Crumpit Lane Snowflake, Wyoming 83014 307-555-8484
Subject: Christmas Celebration Logistics
Dear Mr. Grinch,
I'm writing to ask you for your help with making our Christmas celebration bigger and brighter than ever before. Since you've assisted us in the past with facilitating the celebration, we hope you'll be willing to pitch in again this year.
I'm imagining an 84-foot-tall white fir for our Christmas tree this year, one from Auburn, Pennsylvania. It will require some transportation logistics. Additionally, we're hoping to conduct sleigh rides with real reindeer. Like last year, we will have the town sign along. Additionally, we'd like to set up a mobile amphitheater in the center of town with lights, sparklers, and a fog machine to begin the show.
This year, we're seeking funding for the Christmas tree and its transport to Whoville. However, we are happy to accept any other assistance you can provide. Kindly let me know what you'd like to help with, and I'll be in touch with more information.
Best,
[signature]
Cindy Lou Who Chief Christmas Organizer Whoville, Inc.
Enclosures: Christmas tree cost sheet, list of volunteer opportunities
2. Block form business letter example
BIG BEAR PROPERTIES 🐾

A LIMITED LIABILITY COMPANY
Joanne Scott Big Bear Properties, LLC 12 Bear St. Los Angeles, CA 90001 310-555-2788 j.scott@bigbearproperties.com
March 17, 2023
Amanda Wellington Burger Haus 100 Aquarium Way Santa Monica, CA 90401 310-555-3474 amanda@aquariumbay.org
Subject: Proof of Employment
Dear Amanda,
An employee of yours, Hayley McPhee, has applied for an apartment in one of our apartment complexes. I'm reaching out to you for proof of employment.
In order for her housing application to be approved, I need proof of employment and salary information. Please send this to the address listed at the top of this letter at your earliest convenience. I can also accept this information via email if you can attach it as a PDF.
Here is a quick summary of the information I'm seeking for this application.
A letter attesting to her employment
Salary summary
Best,
[signature]
Joanne Scott Big Bear Properties, LLC