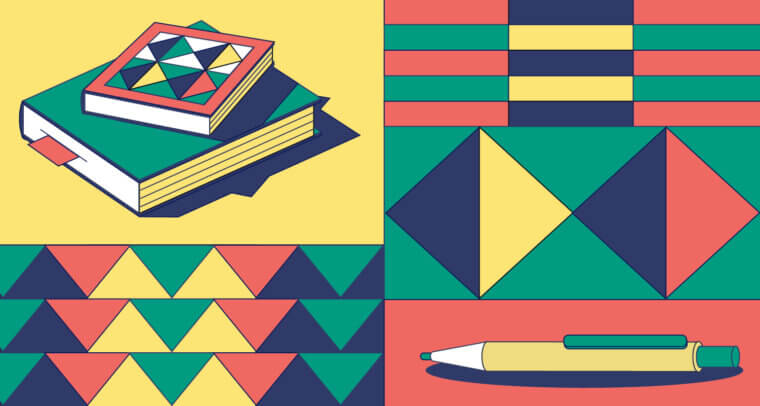 In honor of Black History Month, Grammarly celebrates contemporary Black authors and a rich legacy of storytellers and writers. This list is diverse but by no means exhaustive in its attempt to capture present-day authors who are creating notable works in a range of genres including fiction, nonfiction, poetry, playwriting, and screenwriting.
1

Jacqueline Woodson (1963–)
Jacqueline Woodson is a prolific writer of dozens of books and the author of Brown Girl Dreaming, a highly acclaimed autobiography written in verse that retells her childhood encounters with Jim Crow laws and the civil rights movement. It was published in 2014 and earned the National Book Award for Young People's Literature, the Coretta Scott King Book Award, and an NAACP Image Award for outstanding literary work.
Woodson has said that she's sought to write about the things she felt were missing in the books she read as a child. Her titles span three decades, often addressing themes like friendship, race, coming of age, and the Great Migration. Woodson was the Young People's Poet Laureate from 2015–2017 and the National Ambassador for Young People's Literature at the Library of Congress from 2018–2019. 
2
Colson Whitehead (1969–)
Colson Whitehead is the much lauded and multifaceted author, essayist, and teacher behind such titles as The Intuitionist, Zone One, The Underground Railroad, The Nickel Boys, and Harlem Shuffle. He began his career penning reviews for the Village Voice, and he has written ten books, including a number of historical fiction novels that offer commentary on the current state of race through the lens of a fictive past. In 2016 and 2017 respectively, he won the National Book Award and Pulitzer Prize for The Underground Railroad, which reimagines the secret routes as an actual rail system used by the book's protagonist to seek freedom from her enslavers. Whitehead won his second Pulitzer in 2020 for his novel The Nickel Boys.
In 2021 he published The Harlem Shuffle, a novel set against a 1960s heist that delves into the racism and urban neglect that destroys the dreams of those trying to get ahead.
3
Roxane Gay (1974–)
Roxane Gay has published more than a dozen books, with Bad Feminist, released in 2014, as foundational to her platform as a writer, activist, and cultural critic. The collection of essays delves into politics, feminism, and her personal story. She followed up the bestseller with Difficult Women and Hunger. Both books were New York Times bestsellers. Her commentary can be found in numerous publications, and she's currently a contributing opinion writer for The New York Times. 
Gay's podcasts have also served as a powerful medium for her work: She co-created Hear to Slay with Tressie McMillan Cottom, sociologist and author of Thick: And Other Essays, and currently hosts The Roxane Gay Agenda. 
Gay is also the author of World of Wakanda for Marvel. In 2020 she published the graphic novel The Sacrifice of Darkness and The Selected Works of Audre Lorde, a compendium that introduces a new generation to Lorde's poetry and prose.
4
Jericho Brown (1976–)
Jericho Brown is a poet, professor, and director of the Creative Writing Program at Emory University. His 2020 Pulitzer Prize–winning poetry collection, The Tradition, speaks to how we've become acclimated to terror, whether in our private lives or public spaces, and draws connections between the physical body and our cultural crisis. He tells the Kenyon Review that he took a different approach to the poetry in this collection: "Saying the knowns early put me in a position to investigate the unknowns more fully and with greater vulnerability. A poem is an emotional thing."
His first book, Please, won the American Book Award. His second poetry collection, The New Testament, won the Anisfield-Wolf Book Award. Brown's poems have appeared in such publications as The New Republic, The New York Times, The New Yorker, and The Paris Review, plus a number of volumes of The Best American Poetry.
5
Sonya Renee Taylor (1976–)
Sonya Renee Taylor is an activist, educator, spoken word artist, and poet who helped propel a body-positive, radical self-love movement that recognizes personal empowerment as foundational to social justice. She has won numerous slam poetry competitions and has performed for international audiences. 
In 2018 she published Celebrate Your Body (And Its Changes, Too!) for a middle school audience, addressing the growth that comes with puberty and relationships. That same year, she published The Body Is Not an Apology: The Power of Radical Self-Love, which speaks to systems of body-based oppression and seeks to connect readers with radical self-love. "The Body Is Not an Apology" is also now the name of her organization, a digital media platform and education company that aims to educate a global audience on the movement.
6
Ta-Nehisi Coates (1975–)
Ta-Nehisi Coates is a prominent journalist, essayist, author, and Howard University professor who gained a national following as a writer for The Atlantic, namely with his 2014 article "A Case for Reparations." The piece underscores the connection between systemic racism practices like redlining and housing discrimination to the lack of opportunities for wealth building in Black communities. 
He followed up the article with his book Between the World and Me, an extended letter addressed to his son explaining the United States' historical and current struggles with and of racism and oppression. The book won the National Book Award for nonfiction. Coates continues his critique with his collection of essays We Were Eight Years in Power: An American Tragedy, which juxtaposes the Reconstruction era and Jim Crow with political and social backlash following the election and two terms of President Barack Obama.
Coates is also known for writing Marvel's Black Panther series and Captain America series. He delved into fiction with his 2019 novel The Water Dancer. He has also received a MacArthur Fellowship.
7
Tarrell Alvin McCraney (1980–)
Tarrell Alvin McCraney is an Academy Award–winning playwright and screenwriter who chairs the Yale School of Drama, where he teaches and resides as a Playwright-in-Residence for the Yale Repertory Theatre. McCraney has also collaborated with Miami's Teo Castellanos D-Projects Theater Company and directed with the Royal Shakespeare Company; he is also a member of the Steppenwolf Theatre Ensemble.
McCraney co-wrote the Academy Award–winning film Moonlight, based on his play In Moonlight Black Boys Look Blue. Moonlight follows the life of a boy navigating his sexual identity, abuse, poverty, and community as he grows up in Miami. 
8
Kacen Callender (1989–)
Kacen Callender was born and raised—and currently resides—in Saint Thomas, US Virgin Islands. Callender has published stories for children, YA readers, and adults. Their book King and the Dragonflies, published in 2020, won the National Book Award, Coretta Scott King Honor, and Lamdba Literary Award. Previously, in 2018, their book Hurricane Child received the Lambda Literary Award and was a Stonewall Book Award winner. Both stories feature children who face great loss and forge strong peer relationships while on a path to healing and self-awareness.
Callender's most recent novel, Felix Ever After, is a YA story exploring formative years, race, and burgeoning sexuality. The author has spoken candidly about coming out as queer and about societial and cultural pressure to be open about gender identity, despite a lack of protections for trans and nonbinary people. 
9
Yaa Gyasi (1989–)
Ghanaian American writer Yaa Gyasi's debut novel, Homegoing, tells the story of multiple generations of an African family separated through the slave trade, with its descendants reuniting in Ghana after being apart from the homeland for two centuries. The 2016 novel won the American Book Award, the PEN/Hemingway Award, and the National Book Critics Circle's John Leonard Award.
In 2020 Gyasi published Transcendent Kingdom, which follows a young woman who is compelled to measure her faith against science as she searches for meaning in the wake of family tragedy. 
10
Brandon Taylor (1989–)
Brandon Taylor, a writer whose education was steeped in science before he turned his attention to writing, has been published across the literary landscape, covering everything from the importance of science heroes to broken relationships to the importance of slow reading. 
In 2020 he published his first novel, Real Life, which was shortlisted for the Booker Prize. In it, Taylor addresses the complicated and varied intersection of race, gender, and sexuality. His protagonist is shaped by some of Taylor's own experiences at a Midwest graduate school and the Iowa Writers Workshop. 
He is the editor-at-large of Electric Literature's Recommended Reading and a staff writer at Literary Hub.
11
Brit Bennett (1990–)
Brit Bennett compels readers to see the intricacies and incongruities that undergird race, gender, and identity. Bennett's novels The Mothers and the much-lauded 2020 work The Vanishing Half explore these themes, moving back and forth through time as the characters revisit familial connections. 
Bennet first came to prominence in 2014 when her essay "I Don't Know What to Do With Good White People" captured people's attention in the wake of the police killings of Michael Brown and Eric Garner. 
12
Amanda Gorman (1998–)
Amanda Gorman achieved international fame in January 2021 as the youngest inaugural poet in US history. Her poem The Hill We Climb, written for President Joe Biden's inauguration, referenced the January 6, 2021 insurrection at the US Capitol and conversely exalted the nation's resolve and capacity to work toward a common good.
In 2015 Gorman self-published her first book of poetry The One for Whom Food Is Not Enough, and in 2017 Gorman was the first person to be named the National Youth Poet Laureate. In 2021 she published three books of poetry, including the collection The Hill We Climb, containing the poem of the same name. Her writing and activism centers on racism, oppression, feminism, and the African diaspora.