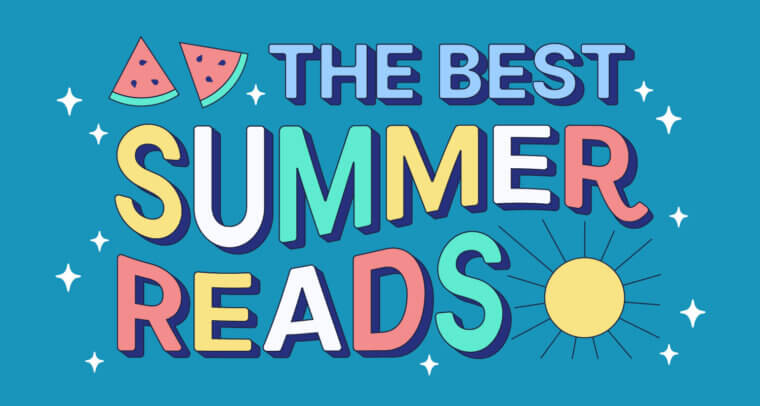 Ah, summer. Long days and time spent gloriously outdoors. Summer holds special meaning as many people are eager to head out on vacation, perhaps for the first time in a while. The perfect travel companion is a summer read, the kind of book with pages that seem to turn themselves in a light, balmy breeze as you chill on the beach, at the park, or in a backyard hammock.
From travel memoir to rock star autobiography, graphic novel to literary fiction, here are some great titles to read during your leisure days.
Strike the right tone
Grammarly helps you communicate the way you intend
High seas adventure
438 Days: An Extraordinary True Story of Survival at Sea by Jonathan Franklin
Salvador Alvarenga set sail off the coast of Mexico for a fishing trip and because of a storm drifted across 7,000 miles of the Pacific in a tiny boat for 14 months, or 438 days. Thus, the title of this survival story, which details how he lived in a small boat for more than a year, including fending off pernicious shark attacks, catching fish with an improvised fishnet, and using fish vertebrae as sewing needles for new clothes. 
Through interviews with Alvarenga, search-and-rescue officials, the medical team that nursed him back to health, and the couple who found him on the Marshall Islands, this remarkable true story demonstrates one man's resilience in the face of death and utter isolation.
Summer art salon
Kusama: The Graphic Novel by Elisa Macellari
Art lovers will revel in this visually engaging, easy-to-read graphic novel about the life of Yayoi Kusama. An international art star renowned for her polka dots and infinity rooms, Kusama has been hailed as the most successful female artist alive. This biography tells the tale of Kusama's coming up in the 1960s and 1970s art scenes, while also exploring her upbringing in Japan. 
In moving graphic illustrations emphasizing Kusama's artistic style, the book explores her struggle to live an artistic life intrinsically true to her vision despite her parents' disapproval, her mental health challenges, and society's punitive censorship of her very public feminist performance art. 
Serendipitous book club 
The Reading List by Sara Nisha Adams
This affecting story details the relationship between widower Mukesh and teen library worker Aleisha. Mukesh is mourning the death of his wife Naina, and he discovers a copy of The Time Traveler's Wife she has left behind. Looking to connect with his also-bookish granddaughter, he heads to the library. There he finds Aleisha, who is struggling with the weight of supporting her mother's mental health and isn't thrilled to be working at the library that her literary brother loves. 
After Aleisha finds a list of novels tucked into the back of a copy of To Kill a Mockingbird, she vows to read all the books. Eventually, she shares the books she loves with Mukesh. The connection between Aleisha and Mukesh strengthens as they find solace and joy in the shared list—and in the serendipity of life.
Workplace drama
The Other Black Girl by Zakiya Dalila Harris
While you might want to escape the trappings of office (or even remote work) etiquette while on vacation, this book will suck you in. Work struggles are part of everyone's life, but for twenty-six-year-old Nella Rogers, the only Black employee at a publishing house called Wagner Books, it's tough to deal with coworkers' daily microaggressions. With the hiring of new employee Hazel, who is Harlem-raised and also Black, Nella believes she's found a work comrade. 
But just as their friendship begins to cement, Hazel begins to ascend the social ladder at work. Then, Nella finds threatening notes on her desk that read "LEAVE WAGNER. NOW." She wonders if Hazel—or someone else—is behind them. Until the very end, the twists and turns in this book will keep you guessing.
The friend zone 
People We Meet on Vacation by Emily Henry
From the author of Beach Read comes another perfect summer romance. Every year, Poppy and Alex take a vacation together. In a When Harry Met Sally–esque turn, the pair met in college when they carpooled home to Linfield, Ohio. Despite the fact that Poppy is a free spirit who sometimes bewilders Alex, a staid, stay-at-home wallflower, they became the best of friends. Though Poppy moved to New York and Alex stayed in Linfield, they keep taking an annual vacation. 
But two years ago, Poppy and Alex had a falling out during their vacation to Croatia, and nothing has been the same since. As the lines between romance and friendship blur and change over the years, two people struggle to love one another and stay friends.
Rock 'n' roll forever
Let Love Rule by Lenny Kravitz
Lenny Kravitz's autobiography of his life up to the age of twenty-five is a wild ride. As the son of Roxy Roker, a famous actress who starred on The Jeffersons, and NBC TV producer Sy Kravitz, he led a fabled life from the start. With a natural inclination toward music from the time he was a child, he played the drums and guitar and immersed himself in his parents' records. With so much exposure to R&B, blues, classical, jazz, opera, and more, he added rock 'n' roll to the roster when he moved to Los Angeles for his mom's job. 
The influences of artists from The Jackson 5 to Led Zeppelin, along with his upbringing in both New York and LA, helped him find solace from his school and home struggles, leading him on the path that would bring him to rock stardom. 
Quick flight abroad
If I Had Your Face by Frances Cha
This much-lauded novel set in Korea tells the tales of four women struggling with feminine beauty standards. Kyuri is a gorgeous woman entertaining men at an exclusive bar, while her roommate Miho is an artist dating a billionaire heir to one of the "chaebols," or large Korean conglomerate companies. Their neighbor Ara is a hairstylist obsessed with K-pop and plastic surgery, and downstairs lives Wonna, who struggles to conceive a child she isn't sure she'll be able to educate in the "Hell Joseon," or competitive capitalist economy, that Korea has become. Each woman balances on the brink of a precipice, hoping against hope that friendship will help them see the way through.
>>Read More: 20 Women Who Paved the Way in Writing
Summer school
Highly Irregular: Why Tough, Through, and Dough Don't Rhyme and Other Oddities of the English Language by Arika Okrent
English just doesn't make sense sometimes—or does it? With so many irregular verb conjugations, inconsistent rules, and seemingly illogical pronunciation variations, English can be downright befuddling to new and primary speakers alike. For instance, why do we go slowly, but not fastly? Why does "of" have an "f" instead of a "v"? Why is it eleven and twelve instead of oneteen and twoteen? Why do we say 'How dare you,' but not 'How try you'? 
Linguist Arika Okrent presents an illustrated book with Sean O'Neill, and together they explain that these oddities of English are not illogical, but just irregular. There is a reason for the idiosyncrasies of English, and it includes barbarians, invading French armies, obstinate Flemish painters, and even just plain old snobs. 
Essay escapism
The Hard Crowd: Essays 2000-2020 by Rachel Kushner
Over two decades, novelist Kushner wrote essays when she wasn't writing novels, and those essays detail everything from San Francisco's indie music scene to Palestinian refugees. Nineteen of those short works are collected here in a volume that contains memoir, cultural criticism, and literary nonfiction. 
One stunning essay details Kushner's love for motorcycles and her shocking crash during an illegal race in Mexico, while another discusses her fascination with classic cars. Kushner rides hard and fast on most topics, with little flowery language or sentimentality for events of the past, choosing instead to inspect with hard-nosed reality how odd and difficult life can be in all quarters.