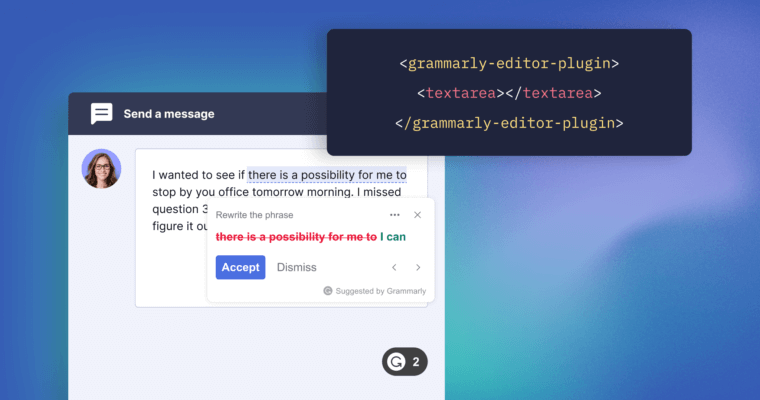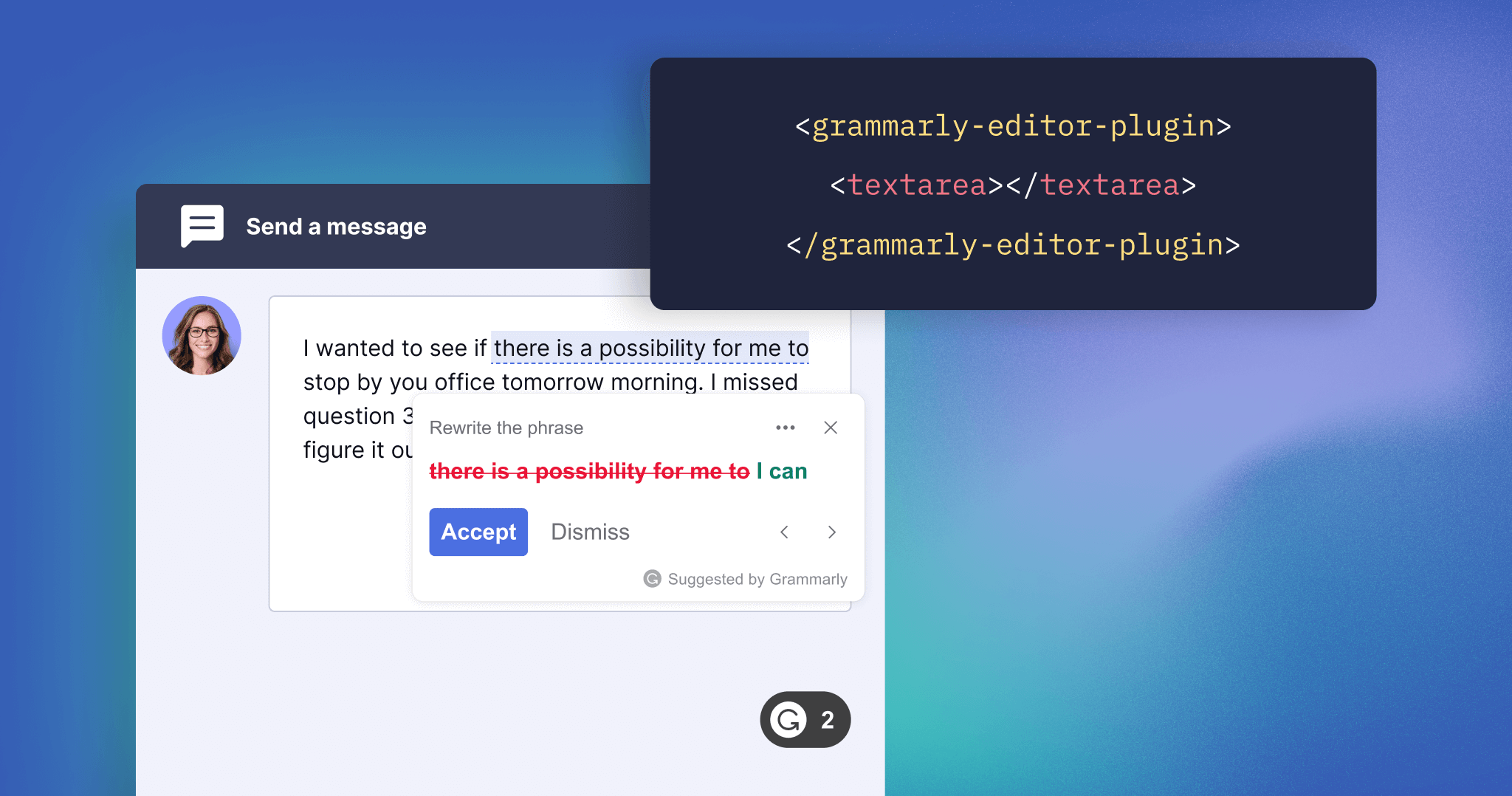 Our mission at Grammarly is to improve lives by improving communication, and that requires supporting our users across an incalculable number of digital platforms and channels. We're proud that every day 30 million people and 30,000 teams around the world trust our writing assistance to confidently express themselves and achieve their goals. 
Today we're excited to announce Grammarly for Developers to further our mission and reach more users where their most important writing happens. Leveraging Grammarly's Text Editor SDK, the first offering through Grammarly for Developers, builders can incorporate our best-in-class communication support by adding just a few lines of code. Developers are invited to apply for access to the Text Editor SDK in closed beta starting today. 
Written communication has never been more central to daily experience—it is a key user activity in most applications and platforms. By improving written communication with Grammarly, users succeed in many different situations: They increase transactions through effective marketplace listings and credible product reviews; improve customer satisfaction with empathetic customer support responses; generate greater revenue through compelling effective marketing content; and much more. And they do all this while spending less time and effort. Quality communication translates to improvements in engagement, retention, and other key metrics. And we're making it easier than ever for developers to enable improved outcomes for their end users.
Empowering developers to enhance their users' writing
For decades, developers have been building tools to help people communicate with greater efficiency and quality. Before, companies that sought to deliver better writing outcomes for users needed to spend hundreds of hours and tons of resources developing their own technologies, including natural language processing models using machine learning. 
That's where the Grammarly Text Editor SDK can help. With billions of writing suggestions accepted every month, we have a powerful and sophisticated approach to improving our communication assistant through direct user feedback and continual refinement of our technology. The SDK provides everything developers need to deliver easy-to-use, real-time writing assistance across four main categories: correctness (grammar and writing mechanics), clarity (conciseness and readability), engagement (vocabulary and variety), and delivery (formality, confidence, and tone). 
Grammarly's Text Editor SDK is perfect for applications seeking to deliver higher quality user-generated content that enhances the platform's credibility—or that want to increase the productivity of workplace teams such as customer support and marketing. Developers and their end users can create a stronger sense of community by enabling more inclusive discourse. And online destinations like marketplaces can even empower stronger profiles and listings to drive increased customer success and boost sales.
Through seamless integration, the SDK supports English-language writing assistance on any web-based application running on browsers or in Electron or Chromium-based desktop apps. It handles all communication between an application's text editor and Grammarly's cloud services. It also manages all the user interface components: rendering underlines and suggestion cards, applying text transformations, enabling personal dictionaries, and more. Also included are developer guides and API documentation, sample applications and source code, and a quick-start tutorial to get an app up and running in just a few minutes.
Bring a better writing experience to your users
Join Grammarly for Developers today
Grammarly is trusted to deliver technology that maintains user-first security and privacy practices. We do not and will not ever sell or rent user data to third parties to help them advertise to our users. And we provide transparency into our security practices, including our secure cloud-based system architecture, our robust suite of third-party attestations and certifications, and our high scalability, uptime, and availability. 
Taking a big step into the future of communication
Grammarly has always been driven by innovation to support our professional, academic, and personal users. From our Grammarly Business engineers to our product managers for Grammarly Premium, our team seeks to help users and customers address writing needs and overcome communication challenges.
Launching Grammarly for Developers connects us with like-minded stakeholders—developers building applications where users engage in important writing every day. By offering the ability to incorporate Grammarly's best-in-class writing assistance directly into their applications, we can grow with these developers as we further our company mission and continue to build the future of communication for decades to come.