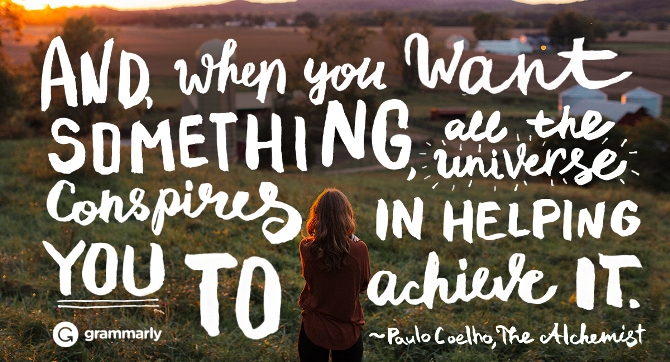 With 2017 beginning in earnest and resolutions being made, you may be looking for a way to make your leisure time a little more productive and guilt-free. To that end, there are some excellent pieces of fiction that provide more than just entertainment; they also inspire productivity. These are just a few titles that can motivate and energize you as you set new objectives for the year ahead.
The Alchemist by Paulo Coelho
This fantasy novel is often held up as a shining example of a motivational work of fiction. Written by Brazilian writer Paulo Coelho de Souza, this book tells the tale of a shepherd boy who embarks on a long pilgrimage from Spain to Egypt in search of treasure.
The boy's journey takes on the form of a simple, earnest fable and includes mysterious, symbolic characters who test the boy or provide him with insight. The tale explores themes of transformation, hope, and desire as the boy endlessly pursues his dreams. The actual nature of the treasure is unimportant compared with the journey and the wisdom gained along the way. This novel is ideal for those who seek the motivation to pursue their innermost desires, especially in creative endeavors.
Kane and Abel by Jeffrey Archer
This novel was written in 1979 by the somewhat infamous British author and peer, Jeffrey Howard Archer. The title is a play on the biblical Cain and Abel, but rather than following a theme of sibling rivalry, it compares two distinct but intertwined lives.
The themes of the novel are more historical than religious. The two men, William Kane and Abel Rosnovski, are born on the same day and share the same power of will and determination. Kane is a wealthy American socialite, while Abel is a destitute Pole. The novel follows the lives of the two men through disaster, heartache, and strenuous endeavor. Abel's tale, in particular, is very inspirational, as he takes a painful journey from Poland to America to make his name. Both characters undergo trials and tribulations in the worlds of industry and high society while exploring their world views and the strengths that make triumph possible.
Down and Out in Paris and London by George Orwell
This book is often overshadowed by George Orwell's later, iconic works, Animal Farm and 1984. In 1933, Orwell published Down and Out in Paris and London, a semi-autobiographical tale about his early difficulties.
This work touches on themes of social justice and personal strength. The story is set in the 1920s and later, initially following Orwell's younger self as he struggles with poverty in Paris. Down and Out is in many ways the novelization of a memoir, written in Orwell's strident narrative style. He tells a tale of strife but often balances the scales with hope and humor. The first half deals with his work in the hotels of Paris, detailing awful conditions reminiscent of a Dickensian tale of woe. The second half sees Orwell arrive in London and face a whole new set of obstacles. Down and Out gains much of its inspirational quality from the presence of real-life anecdotes and evidence, detailing a true story of success against the odds.
Siddhartha by Hermann Hesse
Siddhartha is a 1922 novel that follows a tale of personal discovery, enlightenment, and spiritual well-being. This novel is sure to inspire personal growth, if not productivity, though it does demonstrate the link between the two.
The name Siddhartha roughly means "he who has found meaning" or "he who has attained his goals." This simple and undemanding read follows a man who learns all there is to know about happiness and success as he faces various trials in his life. A novel of wisdom and fulfillment, Siddhartha is set during the time of Gautama Buddha (roughly between the sixth and fourth centuries BCE) and reads like a fable or gentle fantasy. With a pleasing historical aesthetic and powerful themes of spirituality and mysticism, this novel reminds readers to be thankful, to find out what truly matters, and to value introspection. Siddhartha is a tale about understanding goals, not just attaining them.
The Martian by Andy Weir
The Martian is a direct contrast to Siddhartha, dealing with opposite but parallel themes. This book, self-published in 2011 and later taken on by Crown Publishing, tells the tale of an astronaut stranded on Mars. The protagonist of this novel spends no time on introspection or existential matters but instead focuses purely on hard, realistic goals.
The Martian follows NASA astronaut Mark Watney, who becomes stranded on Mars after an accident. After the rest of the crew evacuates and leaves Watney behind, he must find ways to survive with very limited resources. The Martian environment is truly hostile and taxing, and Watney must rely on his ingenuity and the scraps of technology brought with him (and left behind by previous missions) to survive. The story has powerful themes of determination and resourcefulness, which are sure to inspire productivity in readers with practical minds. Watney does not assign blame or complain about his dire predicament but instead champions rational thinking and utilitarian decision-making. The Martian is a dry but powerful tale of grim fortitude.