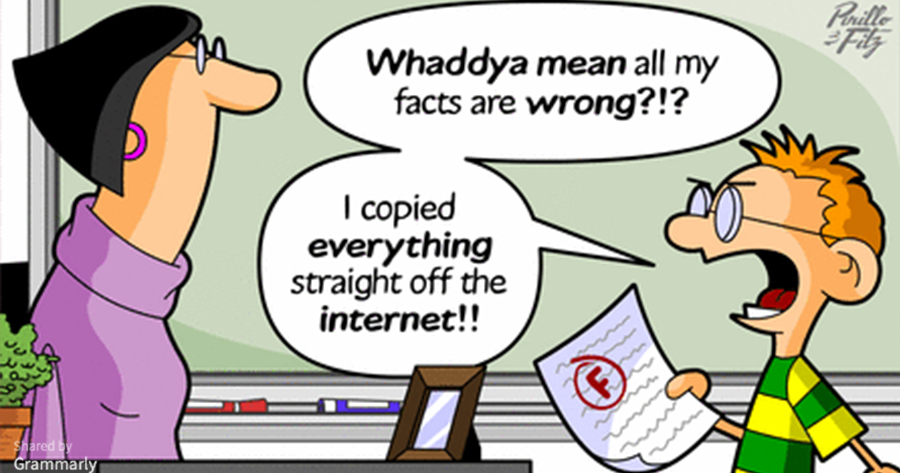 Cartoon by Pirillo & Fitz
Plagiarism. It's a concept that puts sour looks on teachers' faces and sends shudders down students' spines. When you sit down to write that essay, however, you don't have to be afraid of unintentionally committing plagiarism. Simply take the time to understand exactly what plagiarism is and the best methods for avoiding it. If you follow these easy tips, you can make sure that you create work that doesn't inadvertently steal ideas or words.
Here's a tip: Want to make sure your writing always looks great? Grammarly can save you from misspellings, grammatical and punctuation mistakes, and other writing issues on all your favorite websites.
Your writing, at its best.
Be the best writer in the office.
Get Acquainted with What Plagiarism Means
The Instrument of Student Judicial Governance for The University of North Carolina at Chapel Hill defines plagiarism as "deliberate or reckless representation of another's words, thoughts, or ideas as one's own without attribution." Notice the word "reckless" there. Even if you are not intentionally taking another person's work and using it as your own, you may end up doing it merely because of carelessness. Watch out for these forms of plagiarism:
Direct plagiarism – Taking another person's ideas word for word without giving proper citation.
Self-plagiarism – Submitting your own previous work as part of a current assignment without permission.
Mosaic plagiarism – Quoting another's work without quotation marks. This can also refer to replacing words in another's work with synonyms while maintaining the same overall structure and meaning.
Accidental plagiarism – Forgetting to cite sources, misquoting sources, or paraphrasing sources without giving credit where credit is due.
Create a Thorough Outline
An essay should not be just a collection of other people's research; it should include your own ideas as well. Carefully outline your paper before you start writing. Make it clear in your outline which ideas come from you and which come from outside sources. To make this easy, you can assign an abbreviated name to each of your sources and jot that down next to the ideas you pull from each one. This will save you from having to sort through all your information later.
Even before you start your outline, when you are still in the note-taking phase, diligently keep track of where your ideas come from. Plagiarism.org suggests that you color code your notes and number your note pages so your information doesn't become jumbled.
Cite Your Sources
Citing your sources might seem like a no-brainer, but properly citing your sources is another story altogether. Double-check your bibliography to make sure that you include all the needed information in the correct order. Some word processing programs will automatically generate a bibliography for you, but that still requires that you input the right information with a fastidious eye.
Keep in mind, too, that there are different types of citation. For example, MLA and APA citation styles are different.
Scrutinize Your Sources
What are your source's sources? To avoid plagiarism and keep your essay on the straight and narrow, rely only on reputable sources. Here are a few things to look for when you're deciding if a source is worth your time:
Is the author an authoritative voice in his or her field?
What organization is the author affiliated with?
Is the information up to date?
Do you notice a lot of technical errors in the writing?
If you have any qualms about the integrity of a source, take your research elsewhere.
Don't Write Blind
If you're in a hurry, you may start "writing blind" — that is, you may start typing out information using words or phrases that belong to someone else without even realizing what you are doing. Writing blind can also lead you to pen ambiguous statements. If you are melding your ideas with another person's ideas, make sure that it is clear where each idea comes from.
The best way to avoid writing blind is to let your essay rest for a while after you finish it. That way, you can take a look at it again later and compare it with your notes, helping you make sure that your paper is plagiarism-free.
Plagiarism is serious business. Do you have any tips or tricks that you use to ensure the integrity of your writing?
Cartoon by Pirillo & Fitz, found at http://www.edwize.org/to-catch-a-plagiarist