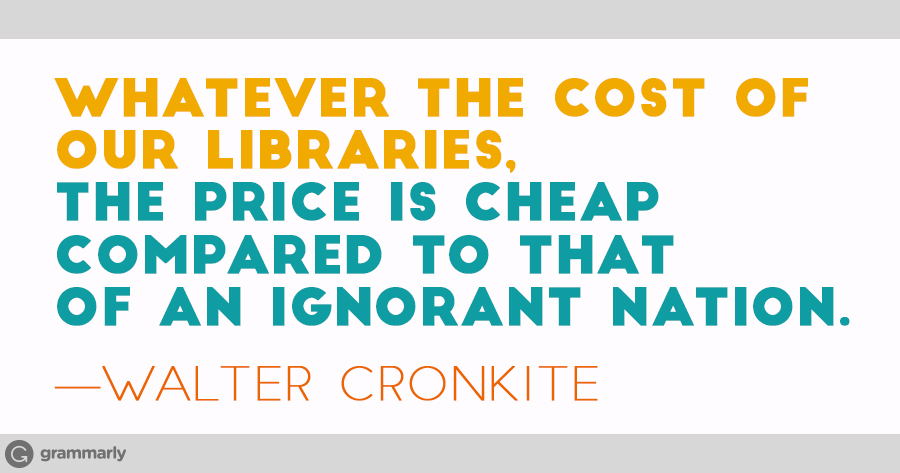 When was the last time you visited your local public library? You may have forgotten what an awesome place it is. Next time you're at your library, check out these ten great features:
Book Banquet
How many books can you check out at your local library? You might be surprised to learn that you can have several books at one time. You can read the entire Hunger Games series in one weekend!
Office, Anyone?
Besides books, some libraries offer the use of office equipment. Check with your librarian to see if you can use a copier, fax machine, or scanner.
Desirable Discards
When libraries acquire new books, they discard old ones to make room. This is great news for you! You can buy the discards at extremely discounted prices.
Irresistible Events
Story time hours for kids aren't the only events that libraries host. Local libraries have guest speakers, book discussions, and cool educational opportunities for patrons of all ages.
Free Internet
Many libraries are equipped with Wi-Fi. What if you don't have your own device? Often, you can connect to the Internet from one of the library's public computers.
Interlibrary Loan
Libraries are like personal book genies. Instead of rubbing a lamp to summon the genie, you submit a request for the book you want. The library will borrow the book from another library. Some libraries will purchase books that are not available at any other nearby library.
Other Stuff People Like
Books aren't the only thing bookworms enjoy. Does your library lend movies, games, and music CDs? Ask at the information desk!
Fine Fines
Unlike other kinds of fines, library charges for late materials usually accrue in small increments. Libraries often use the money from fines to fund events and purchase of new items. Think of your late fees as a donation to a great cause.
Online Resources
Most libraries have a webpage. Why not visit your library's website now? You can see which books your library possesses using the online catalog search. You may even discover that your library card gives you access to services offered by other websites such as Zinio.com, Tutor.com, and Ancestry.com.
Volunteer Opportunities
If you want to learn how a library works, volunteer to help. Library helpers gain valuable work experience and have the satisfaction of lending a helping hand. Do you have a couple of hours that you can spend supporting your local library?
Why wait? Go online now and see what is great about your local library. Then, thank a librarian for making libraries such amazing places!