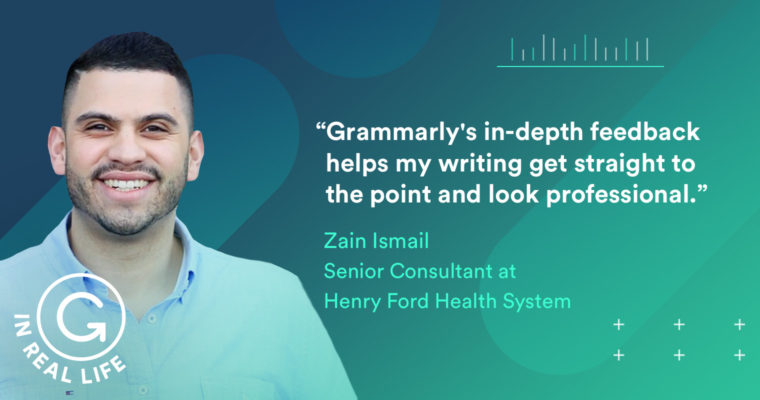 Zain Ismail is a healthcare influencer and a Senior Consultant for the Henry Ford Health System, a hospital network with five hospitals that serves 2 million people each year.
But Zain didn't land in healthcare right away. He originally wanted to be in hospitality and hotel management, but after a mentor switched to the healthcare industry, he was inspired to do so, too. He wanted to serve and help people, and felt that healthcare gave him the chance to do this more directly. He believes that "health systems can play a role in building communities where people can live long, happy, productive, meaningful, and healthy lives."
For Zain, communicating through the written word is a part of day-to-day life. Email is a daily challenge, but he's also built his brand through his website and presence on LinkedIn. Grammarly sat down to chat with him about his take on what's important to him about writing.
Discovering a Talent for Writing
Zain went to a French school in Canada, where he didn't start taking English classes until fourth grade. He struggled with writing in French, and English was more of the same. But as he read more books, he refined his writing style.
In college, he was a skilled essay writer. "I wrote a paper about a chronic disease program that I was passionate about," Ismail says. After that paper, "[my professor] told me I was a good writer. I was surprised, but that validation gave me the idea that I could really do this and feel more confident."
Becoming a Voice for Change
To Zain, writing matters at every level. Someone's personality can really come across through how they write in an email, he says, so it's important to make the right impression.
"Making sure my writing is clear, actionable, and has an ask has opened a lot of doors for me," Ismail says.
He's also ventured out into the world of writing for brand building and for fun. He writes blogs and shares them on LinkedIn to build his brand as a healthcare influencer. Now, writing has become more than just a straightforward email and networking tool — it's a way to make a change.
"Blogging has allowed me to get some recognition in my community," Zain says. "I didn't know [my readers], but they found me and found what I have done and written. It helps carry that conversation forward that I'm trying to develop in the community and eventually make the change in the industry that I see is necessary."
It's worked well for building his reputation as an authority, too. "I run into people at conferences who come up to me and say they like my ideas and posts."
"I try to write the way I speak, which is casual, witty, whimsical, and passionate," Ismail says. What makes this personal writing different for him from day-to-day writing? "Writing is more of a means of communication for what I had to say, and not just a task I had to do."
Refining His Style
As an influencer who wasn't trained in writing and as a Canadian living in the US, Ismail is humble about getting help for his writing. When asked about what sorts of things make him a more confident writer, he said, "Having tools like Grammarly — that extra set of eyes has been really helpful for improving my writing."
Zain also finds Grammarly's dialect-switching feature to be helpful for writing in American English. "Being Canadian and working in the US, there are a few things different. It's so helpful that Grammarly can catch those nuances."
But Zain uses Grammarly often for the same reason many Grammarly users do — to make day-to-day writing for emails and LinkedIn posts easier and more fun. "Grammarly's in-depth feedback helps my writing get straight to the point and look professional."
Continue Grammarly's "In Real Life" series:
How Jeanette Stock Empowers the LGBTQIA+ Tech Community
How Matt Halfhill Made Kicks Nice to Write About