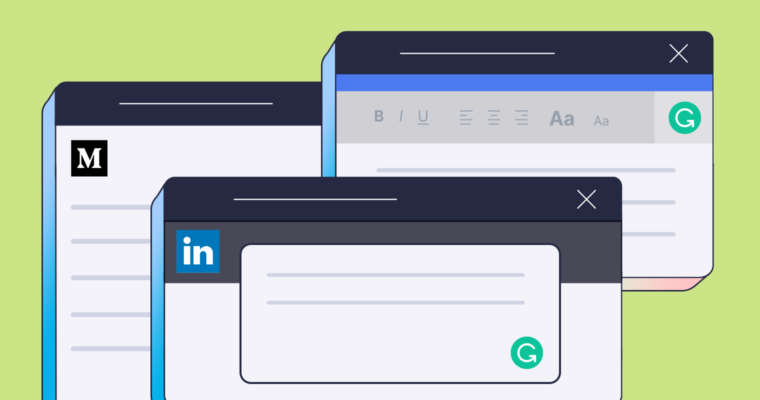 You're used to Grammarly helping you write your emails, your papers, and your tweets. But do you know all the places Grammarly works, and how it adjusts for your needs on each platform? Here are a few lesser-known ways you can use Grammarly to help you write your best.
Write your best, wherever you're writing.
Grammarly can help.
Grammarly for Microsoft Word
Previously, Grammarly users who work on Mac could take advantage of all of our capabilities except one: Grammarly for Microsoft Word. But now, Mac users can use Grammarly for Microsoft Word along with everyone else! No more copying and pasting between Word and the Grammarly Editor—just type in your word processor and watch your suggestions pop up in the right sidebar.
>>READ MORE: Grammarly Challenges You to Write Anywhere
Grammarly on LinkedIn
Did you know that Grammarly tailors its suggestions for a business audience when you're writing on LinkedIn? When you're composing your next great LinkedIn post, you can feel safe knowing Grammarly is checking your word use to make sure it's business-appropriate (it's more stringent on who vs. whom, for example), and confirming your grammar is befitting of an email to a CEO.
>>READ MORE: Where Does Grammarly for Google Chrome Work?
Grammarly on your phone
Our mobile keyboard has been around for a couple of years now, but it's gotten a refresh since we first announced it. You can now use the Grammarly Keyboard in dark mode on both iOS and Android, you can access our mobile synonyms feature with a tap of your finger, and you can use our nifty emoji search bar to find the perfect emoji for every occasion.
>>READ MORE: How Does Grammarly Work?
Grammarly on Medium
You're trying to put your latest blog post out into the world, but you're not sure if everything looks just right. Grammarly is here to help—our suggestions, including suggestions tailored to long-form text, work on Medium. That way you can feel confident that your writing is polished and professional before you hit publish.