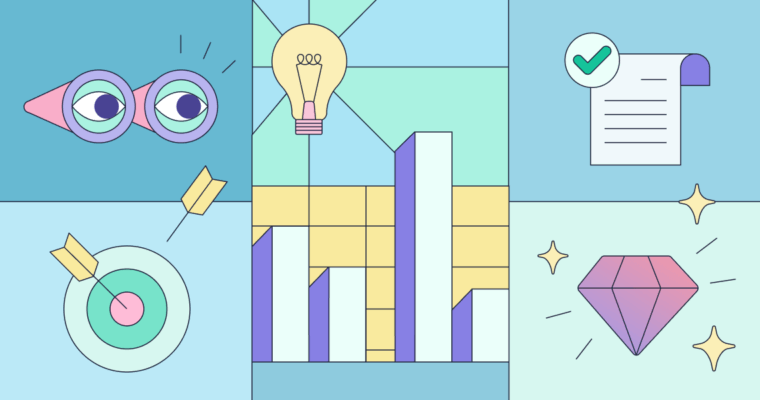 Every company or nonprofit has a reason for existing. You'll find that reason in its mission statement.
But how does it live up to that mission? You'll find that answer in its vision statement.
Give your writing extra polish
Grammarly helps you communicate confidently
What is a vision statement?
A vision statement is a concise statement a for-profit company or nonprofit organization makes about how it works to achieve its goals.
A company's vision statement serves a few purposes. It guides new developments and the strategies the company uses to pursue them. It also gives the company's leaders and employees a guideline to follow when making decisions and completing tasks. The vision statement is a big-picture view of what the company does. By providing this, it can engage prospective investors and strategic partners. Externally, an organization's vision statement can connect with consumers, helping them find brands that fit their values.
For professionals, knowing how to craft a vision statement can be a valuable writing skill. While every company's vision statement is unique, understanding how to write one is a relevant skill in just about every industry. And although vision statements are usually associated with companies and nonprofits, some individuals choose to write vision statements for themselves. This is often part of a personal code of conduct or a way to work toward a personal goal.
Vision statement vs. mission statement
An organization's vision statement is often correlated with its mission statement. In many ways, they complement each other. A mission statement outlines the organization's purpose. A vision statement explains how the organization lives up to this purpose.
Here is an example of Apple's mission and vision statements:
Mission: "To bring the best user experience to customers through innovative hardware, software, and services."
Vision: "To make the best products on earth and to leave the world better than we found it."
You'll probably notice a few similarities between a mission statement and a vision statement, like how both tend to use broad, nonspecific language. This is because they are guidelines, not strict instructions. They also need to give the organization room to live up to them in a variety of ways, as it will likely need to pivot, adapt, and rebrand as it grows.
How to write a vision statement
A vision statement should be authentically confident and highlight your business's strengths. As you generate ideas for your organization's vision statement, think back to the concepts that were explored when it developed its brand. Referring to your mission statement can be helpful as well. Your vision statement should reflect your organization's:
Culture
Mission
Core values
Strategy and goals
A vision statement needs to be short. It should be one to three sentences. You might notice that a lot of vision statements begin with the phrase "to be." This is by no means a requirement, but it is a straightforward way to frame your vision statement.
Write your vision statement in the active voice. After all, your company is actively taking action to pursue its mission. Using the passive voice can make your vision statement confusing or boring. Be ambitious, but realistic. Stick to language the average person will understand, rather than using jargon.
When you write a vision statement, write it with your organization's ultimate goals in mind. Rather than describing its day-to-day details, give the bigger picture of what your organization does. For example, if you're an independent publisher, your vision statement wouldn't be something along the lines of "To review and publish up-and-coming authors' work." Instead, it might be something like "To be a springboard for fresh literary works." Take a look at a few well-known companies' vision statements to find inspiration for your own.
10 vision statement examples
To help people and businesses throughout the world realize their full potential. —Microsoft
To be the most creative organization in the world. —BBC
Capture and share the world's moments. —Instagram
Create economic opportunity for every member of the global workforce. —LinkedIn
A just world without poverty. —Oxfam
We believe that buying glasses should be easy and fun. It should leave you happy and good-looking, with money in your pocket. We also believe that everyone has the right to see. —Warby Parker
Provides children from birth through age 12, living in homeless or low-income situations, with the essential items they need to thrive—at home, at school, and at play. —Cradles to Crayons
Spread Ideas. —TED
To put people at the center of enterprise software. —Workday
To reinvent how people share knowledge, tell stories, and inspire their audiences to act. —Prezi
Vision statement FAQs
What is a vision statement?
A vision statement is a concise statement a for-profit company or nonprofit organization makes about what it does to achieve its goals.
How do you write a vision statement?
To write a vision statement, first, identify the actions your organization takes to achieve the goals set out in its mission statement. Think in big-picture terms, rather than literal day-to-day operations. Then, summarize these actions in a concise statement, one to three sentences long, in the active voice.
What's the difference between a vision statement and a mission statement?
A vision statement explains how a company works toward its goals. A mission statement outlines those goals.