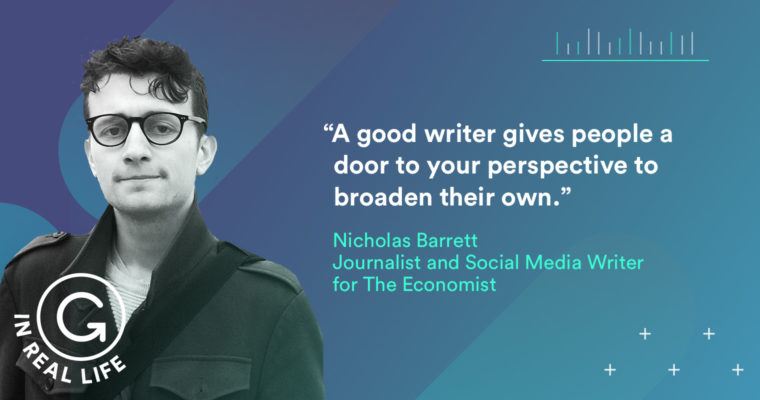 Nicholas Barrett is a United Kingdom-based journalist and social media writer. He currently writes for The Economist's social media accounts, which have over 35 million followers. While he was always interested in journalism and politics, his journey to becoming a professional writer wasn't a straight line.
Barrett has had to work with a uniquely difficult colleague—his dyslexia.  
Barrett found a way to express his voice because of new media, and for him, it's all about perspective. He understands that point of view doesn't just come from your opinions, but from the unchangeable things that make every person different.
Writing as perspective
Barrett got interested in political writing in university, but has always loved a good argument. He began writing on Tumblr and flexed his writing muscles further through the Huffington Post once it launched in the UK. Now that he writes for a living, he knows that writing is about more than just formulating a good argument.
"Being a journalist, you know a little about a lot," says Barrett. For him, good writing is about a point of view.
"A good writer gives people a door to your perspective to broaden their own. That's what I try to do," he says. "You still let the person have their own ideas about it, but invite them to consider this new perspective."
In 2016, Barrett experienced unexpected viral success with a comment on a Financial Times article about Brexit, which had over 28K retweets on Twitter.
"It was an accident, but in that moment I was a good writer," says Barrett. While his favorite writing addresses an argument, this comment was just to express a feeling. The point was empathy, not persuasion.
Writing as confidence
Writing his political opinions, for him, felt like a way to get rid of the cynicism he felt. But while Barrett has always found relief in writing, it's brought challenges, too. On top of the self-doubt that all writers experience, Barrett has dyslexia.
"[Dyslexia] adds a layer of anxiety to everything you write, whether you are submitting an article or a job application," says Barrett. "You want to make everything bulletproof and not feel like there are traps in your writing that you left by accident."
For Barrett, that's where Grammarly helps out.
"Having something like Grammarly gives me independence, peace of mind, and the confidence to focus on my ideas instead of the perception the presentation might get," says Barrett. "It deserves some credit on everything I've written in the past two to three years."
He encourages other writers with dyslexia to share their stories, too.
"You will never know how many people stopped writing who didn't write that book, share that idea, or tell that story because of dyslexia. The more people that know about Grammarly, the better the world will be."
Of course, self-doubt doesn't just go away. But seeing veteran colleagues experience their own feelings of impostor syndrome has helped him.
He finds it liberating to know that everyone has this doubt, no matter how experienced a writer they are. "If it's universal, it's something I should ignore."
Catch up on Grammarly's "In Real Life" series:
How Jeanette Stock Empowers the LGBTQIA+ Tech Community
How Matt Halfhill Made Kicks Nice to Write About
How Zain Ismail's Writing Helps Him Make a Difference