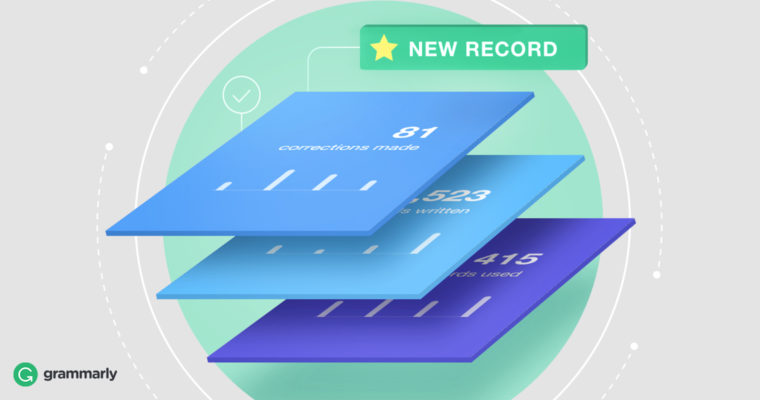 For a while now, we've been working on improvements for Grammarly Insights based on your feedback. But until recently, this was an undercover job.
So, it's with great jubilation that we reveal some big changes making their way to your inbox next week.
1 Monitor Your Trends
Until now, the weekly emails summarized your activity over the previous seven days. Moving forward, we will graph up to four weeks' worth of progress in the Productivity, Mastery, and Vocabulary sections.
2 Badges (Earn and Learn)
Oh no, a marketing gimmick! We hear you. That's why we've set out to create engaging badges that offer surprises, a lot of personality, and some real history along the way. You'll get a special link to view an archive of your achievements any time you'd like.
3 Personal Records
You'll now be alerted when you reach an all-time high for the Productivity and Vocabulary metrics. To be more specific, your total word count and unique word count for each week will be stored over time so that you'll know when you've achieved an all-time personal record.
These next updates are not a one-and-done. We have more ideas for future enhancements. That being said, we want to hear from you. What are some features you'd like to see in future updates to Grammarly Insights? Let us know in the comment section below.
Thank you!
Drew Price, Grammarly Product Marketing Manager
Grammarly Insights FAQs
I'd also like to take this opportunity to provide some answers to common questions and misconceptions about these emails.
How do I earn badges?
Badges are earned through consecutive weeks of writing with Grammarly. This means you'll have to use a Grammarly product (while logged in) at least once per week in order to keep your streak going. In order to give everyone a rich and rewarding experience, your counter will start fresh when we launch this new product, but we will not reset your streak count again unless you go an entire week without any activity.
Also, you will not have to re-earn badges. You'll have access to a trophy case page of all of your past achievements. And, each weekly email will let you know how many weeks away your next badge is.
How is Productivity calculated?
Productivity is the total number of words analyzed by a Grammarly product while you were logged in for the previous week. In most cases, this is equivalent to the total number of words you typed.
However, there are a few corner cases that can cause inflation. Here's the most common case: if you upload a document that you wrote before this week into the Grammarly Editor, Grammarly will check all of that text and add it to your total word count. It's also possible that the Grammarly browser extension may check an active text window where you were not the original author of some of the words written. In other words, Grammarly will not be able to differentiate the original author in these cases.
How is Mastery calculated?
Mastery is a proxy for how accurate your writing was when you originally typed it. It is calculated using the following formula: (Number of alerts) / (Number of total words analyzed)
How is Vocabulary calculated?
Vocabulary is calculated based on the number of unique words that were analyzed. For example, if you used the word 'Beautiful' five times in a week, then it will count as one unique word. However, all five uses of the word will be counted in the Productivity section. This is why Productivity number will almost always be higher than Vocabulary number. (It is possible for you to have a tie if you don't use any word more than once.)
Function words such as and and the are included in the Vocabulary calculation.
My numbers are different from what I expected!
Please see the above sections to make sure you are defining the metrics the same way we do. If you feel that there is a bug with the data, please report your concern to our Support team at support.grammarly.com.
Is my writing still private?
Yes! Grammarly cares immensely about the privacy and security of your data and personal information. We handle the Grammarly Insights emails with the same strict privacy standards as any other Grammarly feature or product.
You can see the specifics of our privacy policy here.
What is a "unique word"?
Please see the above explanation under "How is Vocabulary calculated?"
I'm too excited to wait for the next weekly email! How do I check my progress on the fly?
At this time, there are no other options for viewing your writing statistics. However, our product team is considering adding personal dashboards into the Grammarly Editor in the future.
Who can answer a question about my weekly stats?
Please send any casual thoughts or questions to @Grammarly on Twitter! If you have a bug to report, then please report your concern to our Support team.