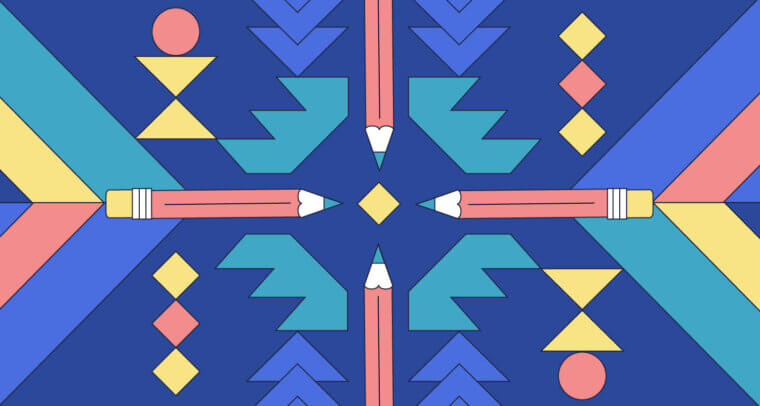 While November is Native American Heritage Month in the United States, in homage to the peoples who inhabited the land before the country's founding, we celebrate Indigenous writers throughout the year. This list of exceptional storytellers and creators is an invitation to explore Indigenous American poetry, plays, stories, essays, and screenwriting. Get to know these Native American writers as they represent Indigenous diversity and, through their works, challenge the narrow depictions that linger in the media and pop culture. 
See how some of them examine displacement and identity in their work, concepts that are closely tied to Indigenous origins. Examine how these writers use their compelling work to offer us broader perspectives that show the origins and development of the US and how we can learn and grow.
N. Scott Momaday (1934–)
Scott Momaday, considered an important contributor to what is called the Native American Renaissance, has written poetry, plays, and prose. Momaday's novel, House Made of Dawn, won a Pulitzer Prize and catapulted his subsequent literary successes, which account for eighteen or more fiction and nonfiction works that have graced both the page and the theater. He also received the National Medal of Arts, presented by former President George W. Bush.
If you have yet to experience Momaday's poetry, see one of his plays, or realize the part he's played in American literature, we recommend starting with the PBS documentary, N. Scott Momaday: Words from a Bear, in which the writer discusses his life, family, art, inspiration, and Kiowa roots.
Leslie Marmon Silko (1948–)
Leslie Marmon Silko is best known for her works of fiction and creative nonfiction, and she is also a poet and playwright. Like Momaday, she is important to the Native American Renaissance. Silko is well respected as an American author, having won a Discovery Grant from the National Endowment for the Arts and the MacArthur "genius" grant.
Silko is Laguna Pueblo, Cherokee, Mexican, and European, and very cognizant of a complicated past that informs her mixed heritage. Shades of this appear in her memoir, The Turquoise Ledge, which views the natural world, environmentalism, and the Indigenous family unit as sacrosanct. 
Joy Harjo (1951–)
Joy Harjo is a poet, author, playwright, and musician. Harjo has published two children's books, has contributed to several anthologies, and has a memoir on the way. She is serving a second term as the 23rd Poet Laureate of the United States, and she is also a key figure in the Native American Renaissance.
Harjo has authored nine poetry collections. One notable one, An American Sunrise, won an Oklahoma Book Award. Its major themes include returning to ancestral lands and opening up a dialogue with history. In some of the poems, Harjo, a proud member of the Muscogee (Creek) Nation, recounts her people's forced removal from lands east of the Mississippi. 
Her work has earned the American Library Association's Notable Book of the Year and the American Book Award, and the Delmore Schwartz Memorial Award.
>>Read More: 20 Women Who Paved the Way in Writing
Louise Erdrich (1954–)
Louise Erdrich, like the aforementioned writers, is associated with the Native American Renaissance. She supports Native American literature with her Minneapolis bookstore, Birchbark Books, and with the twenty-eight or more books she has authored. Some are novels, fiction, and nonfiction; some are poetry collections; some, children's and YA literature; and one is a memoir of her earliest impressions on motherhood. 
Erdrich is of mixed European and Turtle Mountain Chippewa descent. Themes of loss pertaining to persons, culture, and governance show up in her work, including the well-known Love Medicine and The Night Watchman, the latter of which earned her a Pulitzer Prize. The prize-winning novel is based on her grandfather's part in the Native American resistance, circa 1953, that was formed to save Indigenous lands. 
Erdrich earned a Lifetime Achievement Award, the National Book Award, the PEN/Saul Bellow Award for Achievement in American Fiction, and a Library of Congress Prize. She won a National Book Critics Circle Award (twice) and she's received numerous other honors.
Shonda Buchanan (1968–)
"I love language, literature, and storytelling. I love how stories can propel and take you to another world," says Shonda Buchanan, author of Who's Afraid of Black Indians and Equipoise: Poems from Goddess Country and anthology editor. 
Buchanan's work Black Indian: A Memoir demonstrates her skill with poetics and prose. She tells a foundationally womanist story that captures what it is to be an African American with Native American roots and how this dual inheritance can come with ostracization and some surprising consequences, welcome and not. Buchanan acknowledges this book is a prayer for her family—a balm meant to lessen her ancestors' pain and soothe generations to come.
Buchanan, who is based in Los Angeles, was once an educational administrator and taught at the university level. Now she writes, holds speaking engagements, and conducts creative writing workshops.
Stephen Graham Jones (1972–)
Stephen Graham Jones is a New York Times bestselling author who has a gift for writing horror. He has published more than thirty books, and of these, two in one year: Night of the Mannequins and The Only Good Indians. Both novels were nominated for the Bram Stoker Award. Jones won a Ray Bradbury Prize for Science Fiction, in Fantasy & Speculative Fiction for The Only Good Indians. Publishers Weekly remarked, "This novel works both as a terrifying chiller and as biting commentary on the existential crisis of Indigenous peoples adapting to a culture that is bent on eradicating theirs."
Jones's latest novel, My Heart Is a Chainsaw, criticizes American colonialism, Indigenous displacement, and gentrification. The story follows protagonist Jade Daniels, who wears a mask that on one hand coincides with her adolescent obsession with horror movies and on the other hides her tortured past. 
>>Read More: The 13 Spookiest English Words
Jesmyn Ward (1977–)
Jesmyn Ward is part of a new generation of writers whose work is informed by identity, place, and a deep understanding of the relationship between past, present, and future. Her oeuvre of fiction and nonfiction poignantly deals with those themes: Where the Line Bleeds (2008), Salvage the Bones (2011), Men We Reaped (2013), and The Fire This Time (2016). 
Her acclaimed novel Sing, Unburied, Sing won a National Book Award and an Anisfield-Wolf Book Award and was listed as one of the ten best books by the New York Times in 2017. True to its title, some of the novel's characters are ghosts, conjuring ideas often linked to Indigenous spirituality.
Ward's heritage is an amalgam of Indigenous peoples and formerly enslaved Africans. Her father, who was a Black Panther Party member, registered as a Slidell, Louisiana Choctaw when a 23andMe DNA test confirmed his Native American ancestry.
 Ward leans heavily upon her lived experiences as an author and creative writing professor at Tulane University. She waxes on innovations (like 23andMe) that use DNA to help people trace the roots of their ancestors' undocumented pasts.
Natalie Diaz (1978–)
Natalie Diaz is a Pulitzer Prize-winning poet with a rich heritage that encompasses her Latin American and Mojave roots. Her award-garnering Postcolonial Love Poem demands that the bodies carried in its pages—bodies of language, land, rivers, suffering brothers, enemies, and lovers—be treated well. 
Diaz was a 2018 MacArthur Foundation fellow. Her previously published collection, When My Brother Was an Aztec, won an American Book Award and was shortlisted for a PEN Open Book Award. Diaz is now the Director of the Center for Imagination in the Borderlands, as well as the Maxine and Jonathan Marshall Chair in Modern and Contemporary Poetry at Arizona State University.
Blackhorse Lowe (1978–)
Blackhorse Lowe is primarily a producer who writes, directs, and edits films. He has several works to his credit, including Fukry, Chasing the Light, and Shimásání, the latter of which was nominated for Best Narrative Short at the 2009 Tribeca Film Festival.
His work draws upon his lived experiences as a member of the Navajo Nation, exploring the dichotomies between tradition and new ways that have taken a detour from the past. This perspective has found its way into Lowe's work on the Hulu series Reservation Dogs, for which he directs and collaborates on writing.
Tommy Orange (1982–)
Tommy Orange channeled his Cheyenne roots to author There There, a critically acclaimed novel that follows a large cast of urban Indian characters moving toward Big Oakland Powwow, an event that also serves as an allegorical place of belonging. The novel, Orange's first, was a Pulitzer Prize finalist and won an American Book Award.
In an interview with KQED.org, Orange says he wrote There There to give urban Indians representation: "It's a totally different experience being an urban Indian than it is being a rez [reservation] Indian, and so much of representation is based on reservation Indians or historical Indians. . . if all you can refer to as self is historical, then you're basically already gone."