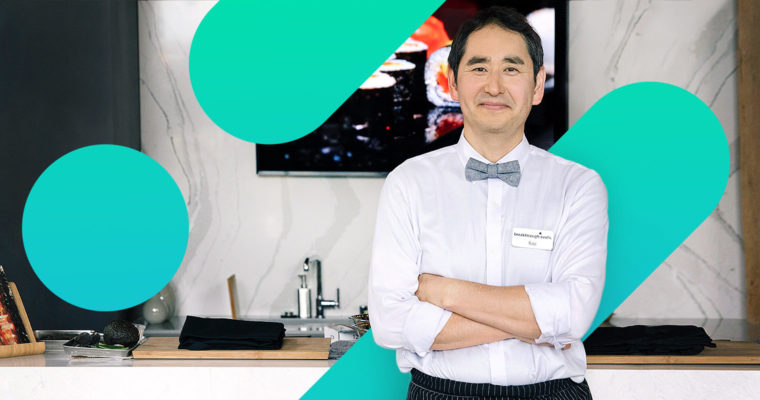 If you're a close follower of Grammarly, chances are good that you've seen the latest installment of our campaign, "Write the Future."
This time around we zoomed in on real Grammarly users, who represent the 15 million Grammarly users who write their futures with us every day. We showcased the story behind the likes of travel blogger Welmis, who helps inspire young folks everywhere to see more of the world; business owner Kaz, who uses sushi making to bridge two cultures he loves; fashion journalism professor Stephan, who raises up the design leaders of the future through words; and non-profit leader Nikole, who works hard to nurture young girls' interest in tech.
We also ran a user-centric contest to find out how our social media followers write their futures, where we fell in love with Mat, who uses Grammarly to inspire his children to follow in their father's footsteps. Get to know more about the stars of our commercials, as well as the product that helps them achieve their most passionate goals.
1

Words to Travel the World

In this spot, Welmis shares how Grammarly helps her share her love for the things she's experienced during her travels.
2

Sharing the Joy of Sushi

Kaz shares how Grammarly helped him connect with others through his business and turn his passion into a book.
3

Translating Fashion into Story

Learn about how Stephan uses Grammarly to help students in his classes gain confidence in their voices.
4

Engineering a Better Future for Girls

Nikole, CEO of Techbridge Girls, uses Grammarly to amplify voices that would otherwise go unheard.
What's Grammarly?
Grammarly has a product for just about every kind of writing you do. We have an online editor for drafting long documents, plus a desktop app and a Microsoft Office add-in if you prefer not to write in your browser. The Grammarly Keyboard for iOS and Android keeps you looking polished even when you're writing from your phone. And of course, there's the Grammarly browser extension, which checks your writing on all your favorite websites.
How does Grammarly check your writing?
Underlying all of Grammarly's products is a sophisticated artificial intelligence system built to analyze sentences written in English. Grammarly's team of computational linguists and engineers designs cutting-edge algorithms that learn the rules and hidden patterns of good writing by analyzing millions of sentences from research corpora. (A corpus is a large collection of text that has been organized and labeled for research and development purposes.) When you write with Grammarly, our AI analyzes each sentence and looks for ways to improve it, whether it's correcting a verb tense, suggesting a stronger synonym, or offering a clearer sentence structure.
As you can imagine, a complex AI system like this one requires a lot of computing power—much more than a personal computer or mobile device can provide. For that reason, it runs in the cloud, rather than locally on your device. All you need to check your writing with a Grammarly product is an Internet connection.
When you use Grammarly, you can help improve its suggestions. Anytime you hit "ignore" on an unhelpful suggestion, Grammarly gets a little bit smarter. Over time, our team can make adjustments to the suggestions with high ignore rates to make them more helpful.
More from Grammarly:
How To Add New Words to Your Personal Dictionary
How To Learn New Words While Writing
How Do Grammarly's Products Work?
Why Concise Writing Gets More Readers
Why Hedging Language Undermines Your Writing
How to Select Your English Dialect
Splitting Paragraphs for Easier Reading