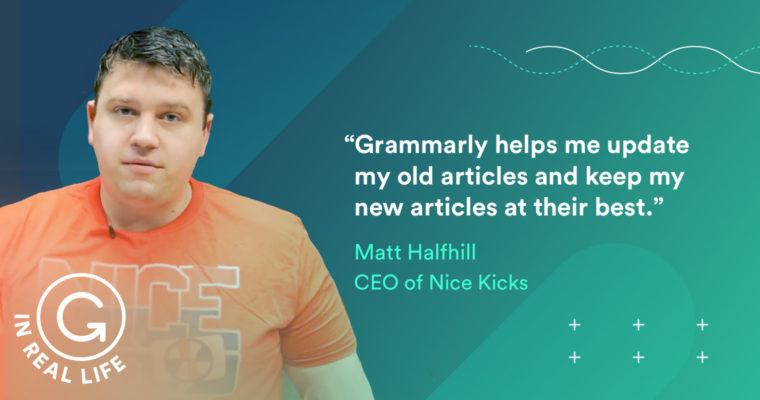 Matt Halfhill founded Nice Kicks in 2006 with the mission to provide shoe enthusiasts with high-quality news, information, and history about sneakers. Today, Nice Kicks is based out of Austin, Texas, supported by a 30-person team, and is one of the leading voices in the sneaker industry. On Instagram alone, Nice Kicks has over 3 million followers.
At age 16, Halfhill was working in an athletic shoe store in Canada when he was approached by his manager to help sell overstocked sneakers on eBay. In no time, Halfhill was making more money online than he did in one day working at the store. After a while, he wanted a personal brand focused on his knowledge of sneakers and separate from the anonymity of eBay, so he decided it was time to start his own venture. Halfhill gave his mom $8 in exchange for the use of her credit card, with which he bought the domain NiceKicks.com. Soon after, the Nice Kicks blog was launched.
Learning to Write
Halfhill had always hated writing, but his 12th-grade teacher, Mr. Stack, encouraged him to give it another shot. "[He] was a teacher who believed in me and made me think that I had something that I didn't know I had," Halfhill says. No one milestone turned him into a good writer after that — like most writers, it took practice. And as Matt wrote more for the Nice Kicks blog, he found encouragement through his community of readers. Followers would comment on how much they appreciated his posts and the depth of coverage he would give each sneaker.
Finding His Voice
Matt attributes his success to a combination of a strong work ethic, a creative mind, and luck. He started by writing about something he really enjoyed and wanted to share with others — sneakers. His persistence allowed him to find the voice that made his writing unique.
Matt has always been insecure about his range of vocabulary, but his straightforward language has become one of his writing strengths. "From the beginning, I wanted Nice Kicks to be approachable," Halfhill says.
"One of the reasons why I started Nice Kicks was that I got frustrated with forums and message boards. People weren't welcoming to newcomers. They would use overly fancy words to get a simple point across." This is what differentiated him as a writer from other sneaker influencers.
Writing the Nice Kicks Brand
The best writing captures your audience regardless of the platform. Though he lives on the outskirts of Austin, Halfhill's writing allows him to be seen in an industry centered in cities like Los Angeles and New York. Today, Nice Kicks is focused on developing its brand across multiple media platforms like Instagram, Twitter, and YouTube.
"Creativity with words has never been more important — especially in social media, where you're forced to use fewer words to capture your audience," says Halfhill.
That's where Grammarly comes in.
"I go back to my original articles when I didn't have Grammarly and I see writing suggestions everywhere. There were so many things I screwed up back in the day. Grammarly helps me update my old articles and keep my new articles at their best."
Sneaker Lingo
Want to write like you're in the sneaker biz? Check out these terms.
Catch the drop: This term is also used in the streetwear and music industries, but the sneaker industry popularized it. It refers to a new release or news about an upcoming product.
Deadstock: This refers to dead sneaker inventory, which are sneakers that have never been worn, sold, or sometimes even put on the shelves.
Colorways: If a pair of sneakers is black and gold and green and blue, these options are the sneakers' "colorways."
Sneaker nicknames: Hip sneakers like Jordans often have shorthand names, such as "Bred," "Northern Lights," and "Black Cat."
Alliterations and rhymes: Terms like "cop or drop," which refers to whether or not you should buy or skip a sneaker, or "Kicks on Court," a Nice Kicks feature that covers which shoes NBA players are wearing, are used frequently in sneaker coverage.
Continue Grammarly's "In Real Life" series:
Grammarly IRL: How Jeanette Stock Empowers the LGBTQIA+ Tech Community