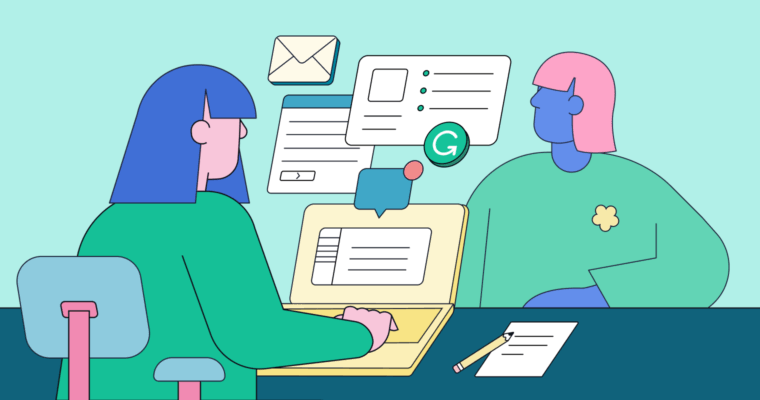 If you're reading this, you might be interested in working at Grammarly—we're thrilled! With 1,000 current Grammarlians (yes, that's what we call our team members!), we've done a lot of hiring over the years, and we've developed an approach to the interview process that helps us find incredible people passionate about our mission of improving lives by improving communication.
Our interviewing philosophy is centered on providing a valuable and educational candidate experience that helps you find the right role and helps us identify individuals with the necessary skills and mindset to help Grammarly grow. For you to determine whether Grammarly is the right fit for you, we believe that it's important for you to meet with a variety of Grammarlians to gain a solid understanding of the challenges, daily work requirements, team structure, and working culture.
Shape the way millions of people communicate!
"The candidate evaluates the company as much as the company interviews the candidate, if not more. Grammarly showed it cares about building this mutual relationship by investing significant time and effort into an intentional recruiting process, advising me every step of the way, actively listening to my questions and candidly answering them, and genuinely living their values."
—Ilinca Parlog, Product Manager, Berlin
To give you insight into our interview process, here are the most common interviewing steps for our roles, and what to expect for each of them. It's important to note that the steps may differ depending on the specific role you are applying for.
Recruiter Call
Your introduction to the Grammarly interviewing process will be a phone or video call with a recruiter who will share more about the role and life at Grammarly and ask you about your experience, qualifications, and interest in Grammarly. During this conversation, be sure to highlight your relevant skills and experience. If you continue along in the interview process, Grammarly recruiters will be with you every step of the way—setting you up for success by sharing interview guides and holding pre-interview prep sessions.
Hiring Manager Interview
After the recruiter screen, you may be invited to interview with the hiring manager. This call will dive more deeply into your experience, skills, past projects, work style, and the impact you've driven in your current role. The hiring manager will also give you more insight into the role, expectations, and team vision.
"I love getting to explore a candidate's experiences, hear their stories, and get to know them better. It makes me even more excited for the opportunity to work together!"
—Heidi Wiliams, Engineering Director, San Francisco
Technical and Behavioral Interviews
Following a successful hiring manager interview, you will be invited to participate in the next round of interviews. These interviews involve various team members and may take place over several hours or multiple days. During these interviews, you will be asked questions designed to assess your skills and experience. You may also be asked to complete a task, solve a problem, or present past work to demonstrate your abilities.
These interviews are divided into two types:
Technical/knowledge-based interviews
Behavioral interviews involving your work history
Technical/ Knowledge-Based Interviews
The purpose of a technical/knowledge-based interview is to determine whether you have the necessary expertise and technical skill set for the role and assess how you handle complex challenges in the field. Some common topics covered in technical interviews include programming languages, algorithms, data structures, or system design for technical roles. For business roles, you should be prepared to participate in a role-play or presentation interview showcasing skills relevant to the role.
To set you up for success, the recruiter will provide resources and insights to help you prepare for your interviews. With this in mind, be sure to refresh your knowledge and read relevant materials, so you're prepared and comfortable for the tasks to come.
Behavioral Interviews
During a behavioral interview, the interviewer will ask you to provide specific examples of how you've handled certain situations, such as dealing with difficult customers, handling conflicts with co-workers, or managing a challenging project. Through these questions, the interviewer will look to gain insight into past thought and behavior patterns, priorities, motivations, work style, and impact to determine whether your values align with our EAGER values—Ethical, Adaptable, Gritty, Empathetic, and Remarkable—which inform how we make decisions and build relationships at Grammarly.
In these interviews, there are no right or wrong answers—the best approach is to be honest, authentic, and concise with your responses. Take time to reflect on your professional history and accomplishments and think about examples that showcase your skills, experience, and aspirations. It's also helpful to practice your responses to common interview questions so that you can communicate in a structured and clear manner.
"Just be yourself. That's the beauty of this interview. Simply be ready to talk openly about your experience, successes, and learnings."
—Andrew Garkavyi, Engineering Manager, Berlin
Tips and Tricks
Are you getting ready to apply or prep for your upcoming interview at Grammarly? Here are tips to help you interview with confidence.
Check out our Jobs page, company blog, and social media accounts. We also recommend that you try out Grammarly's free offering to learn more about our product and understand how it works.
Make sure you understand the job you're applying for. At different companies, job titles can mean different things, so carefully review the job description and ask any clarifying questions during your recruiter call.
During the interview, ask insightful questions that show your interest in Grammarly. You can tailor your questions to your interviewers to demonstrate you value their expertise and are engaged in getting to know them. We will share your interviewers' names and LinkedIn profiles before your interviews, so take the time to learn about the person you'll be speaking with.
When discussing your past projects, use the STAR method to clearly explain your specific role and impact. Don't be shy about sharing your accomplishments, especially if they're outside your regular job duties.
At Grammarly, we are guided by our mission statement and set of core values. We believe in putting these values into practice every day. It's important to only apply for jobs that you are truly interested in. This will make you a stronger candidate and increase your chances. Good luck!
We're Still Hiring—Come Join Us!
"This is a company that lives its values and is on the precipice of exploding into generative AI, which is so hot right now but has grown thoughtfully and sensibly, and that is somewhere I wanted to work, with really smart and great people."
—Tracy Hawkins, Head of Workplace Experience and Connections, San Francisco
For over a decade, Grammarly has been using the latest technologies to improve lives by improving communication—all while maintaining steady growth and profitability. We're looking for team members excited to solve this tremendous challenge and move our vision forward. We hope you feel prepared and excited to join us! Check out our open roles on our Careers page to apply.