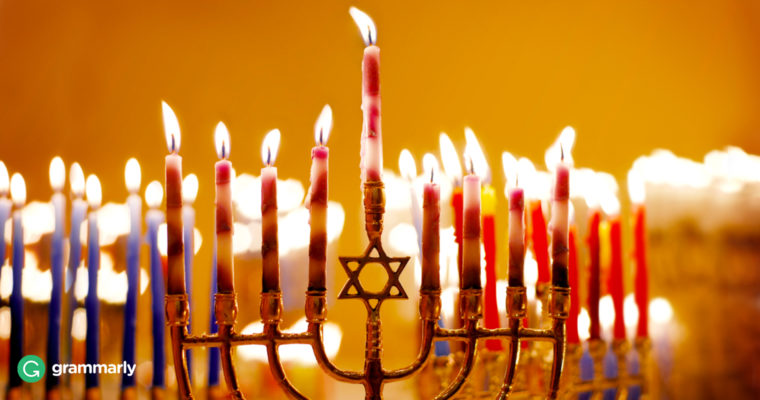 Hanukkah, if you didn't already know, is a Jewish holiday that begins on the twenty-fifth of the Jewish month Kislev and lasts for eight days. It's a winter holiday, and because Jewish months don't correspond perfectly to the Gregorian calendar months, Hanukkah can fall in November, December, or even stretch into January. This year, it begins at sunset on December 24 and lasts until nightfall on January 1.
Hanukkah (sometimes spelled Chanukah), is also called the Jewish festival of lights. On each night of the holiday, a candle is lit in the menorah, a candelabrum that holds nine candles. People observing Hanukkah will pray, eat fried food, play dreidel, and share Hanukkah stories. Those stories are often especially interesting to the children, so any good Hanukkah reading list would have to include children's books. But there's plenty to pique the interest of adults as well.
1 There's No Such Thing as a Chanukah Bush, Sandy Goldstein by Susan Sussman Susan Sussman's book There's No Such Thing as a Chanukah Bush, Sandy Goldstein might be a children's book, but it packs a powerful message about knowing how to respect and enjoy other people's ways and customs while preserving your own.
2 Hershel and the Hanukkah Goblins by Eric A. Kimmel, illustrated by Trina Schart Hyman If you can't celebrate Hanukkah because there are some nasty goblins messing around your village synagogue, this books and its main character will give you a good idea of how to outwit them. If, in a more realistic scenario, you're looking for a fun and witty Hanukkah story with great illustrations, Hershel and the Hanukkah Goblins should be on the very top of your list.
3 Dreidels on the Brain by Joel ben Izzy In Joel ben Izzy's book Dreidels on the Brain, we meet Joel, a twelve-year-old boy who wants one simple thing for Hanukkah—a miracle. It's a coming-of-age story set during the eight days of Hanukkah, written with plenty of humor and warmth. Plus, you get a miracle that involves a bus, and buses aren't usually too miraculous.
4 The Latke Who Couldn't Stop Screaming: A Christmas Story by Lemony Snicket A latke is a type of potato pancake that's usually eaten for Hanukkah. Latkes don't usually run around and explain what Hanukkah is about to candy canes and pine trees, but that's exactly what the latke from Lemony Snicket's The Latke Who Couldn't Stop Screaming: A Christmas Story does.
5 The Power of Light: Eight Stories for Hanukkah by Isaac Bashevis Singer Besides winning a Nobel Prize in Literature and being a very prominent figure in the Yiddish literary movement, Isaac Bashevis Singer also wrote stories for a young audience. The Hanukkah stories he wrote for The Power of Light: Eight Stories for Hanukkah, while aimed at younger readers, are the kind of stories that transcend age and religious barriers.
6 What Is Chanukah? by Sholem Aleichem From the pen of the Solomon Naumovich Rabinovich, a.k.a. Sholem Aleichem, the man who wrote the stories on which Fiddler on the Roof was based, comes a very recently translated short story, What Is Chanukah?. Written with the humor Aleichem is celebrated for, the story is set at a Hanukkah party where our narrator is doing his best to figure out whether anyone knows anything about the holiday they're celebrating.
7 While the Candles Burn: Eight Stories for Hanukkah by Barbara Diamond Goldin While the Candles Burn is a collection of stories, some written by Barbara Diamond Goldin, and some coming from sources as varied as Afghani Jews, Holocaust survivors, and kids from mixed Arab and Jewish schools in Israel. Another kids' book on the list that should be read by adults as well.
8 Seasons of Our Joy: A Modern Guide to the Jewish Holidays by Arthur Waskow
Arthur Waskow's Seasons of Our Joy isn't about Hanukkah alone—it's about all Jewish holidays and observances. It's not as much a book of stories as it is a handbook of Jewish holidays, their origins, and how they are celebrated, but it's a very good book to turn to if knowledge is what you're looking for.