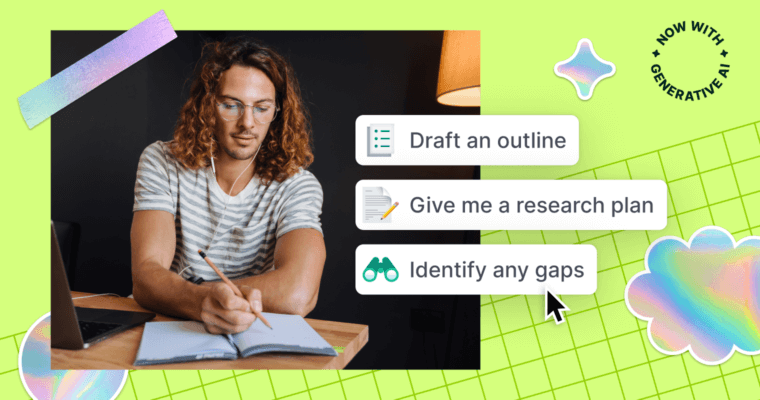 Grammarly is excited to launch new AI-powered features for students to kick off the new school year! Our goal is to empower students to harness AI—constructively and transparently—throughout your entire writing journey. Grammarly's features include AI assistance that you don't need to hide from your professors; instead, we're here to help you turn in your best work, with integrity.
Get Grammarly, It's Free
Compose, revise, and ideate with confidence
Key challenges with school writing assignments
Grammarly has heard from students that a big motivator in making the grade is to unlock opportunities when it's time to start pursuing a career. This means doing well in all of your assignments, big and small. But we also know that there are struggles along the way.
"What should I write about?" "What are the main points I should include?" Many questions may come to mind that slow you down before you even get started, and when you finally begin to write, you want to understand how to improve your draft and what you might be missing. You'd appreciate feedback on both the big picture—like the strength of your thesis—and the little things, like how to rewrite a sentence. That kind of feedback can dramatically improve the quality of your paper.
Another question you might have is "Should I or shouldn't I use generative AI?" and "Am I going to get into trouble?" You don't want to be left behind by not using it, but you don't want to break the rules either.
4 new ways Grammarly helps you ace your assignments
Grammarly now provides writing assistance even when you are staring at a blank page. We've thought through some of the most common types of help a student needs for writing assignments, and we offer pre-written prompts you can choose from as you work on your papers. Let's take a look at some new ways Grammarly's free version can help you.
1

Ideas to get started

Imagine you've been asked to write a paper on global medicine distribution. This a broad topic, and knowing what aspects to include and what to leave out can be daunting. Grammarly will show you a prompt, such as "Brainstorm topics for my assignment." After you click on the prompt, it will suggest a few different topic ideas for you to choose from so you can go down a more specific path. As you consider your topic and the details of your assignment, we'll suggest prompts to help you get started: "Build a research plan for my paper," "Draft an outline," or "How to write an introduction paragraph" are some examples.

Grammarly can serve as your brainstorming partner, right in your doc, exactly when you need the help, by using even the smallest amount of information you have to start, so the suggestions are less generic and more specific.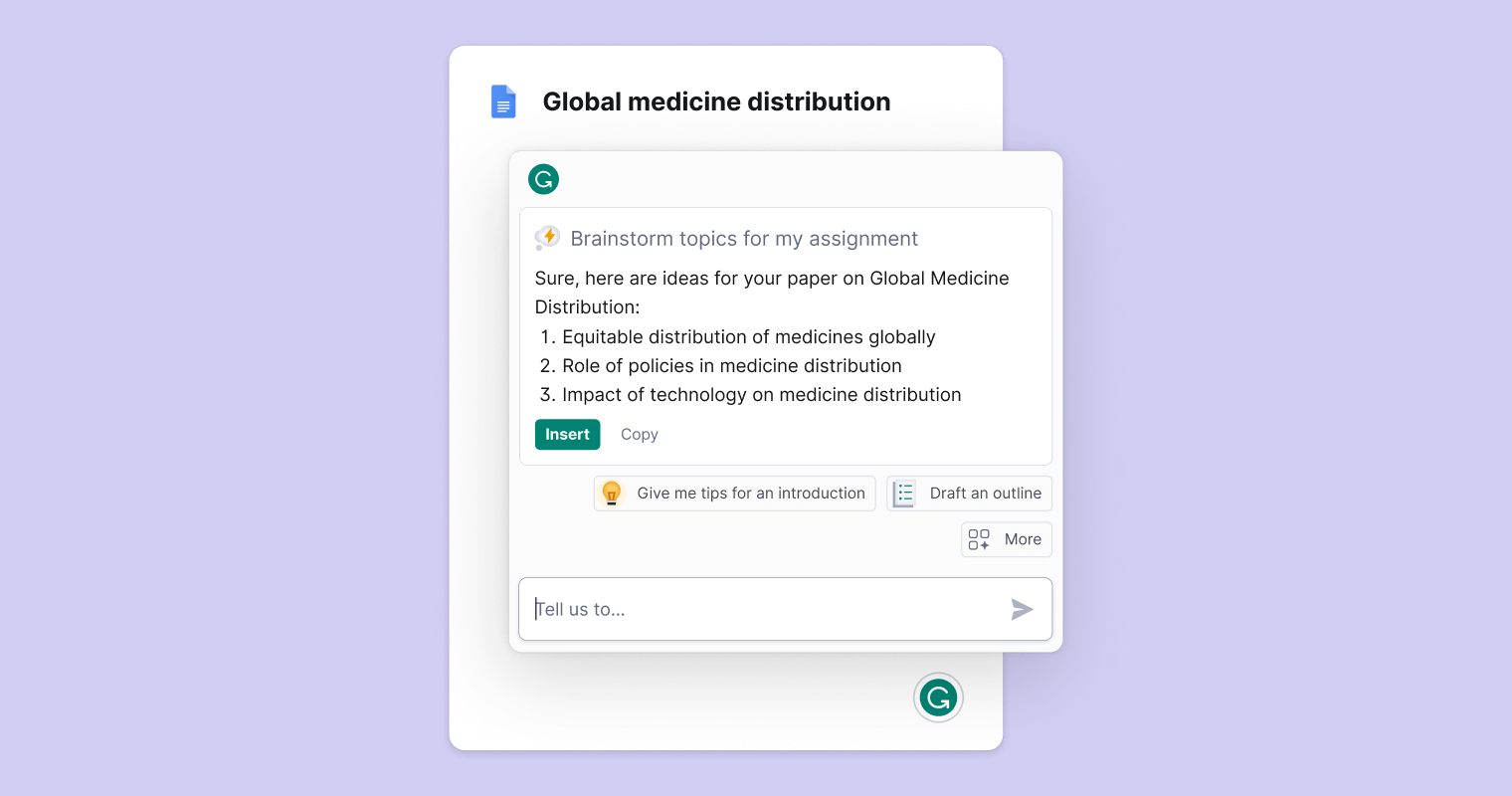 2

Feedback on your drafts

Once you've started your draft, we'll also provide feedback on the strength of your paper. We'll suggest prompts such as "Help me improve my paper," and with one click you'll get real-time feedback on what's working well in your paper and some ways to make it better. Grammarly can also help you explore counterarguments and identify gaps so you're pushed to critically examine and develop your point of view further. We believe this one step could take your paper from average to above average, and from good to great.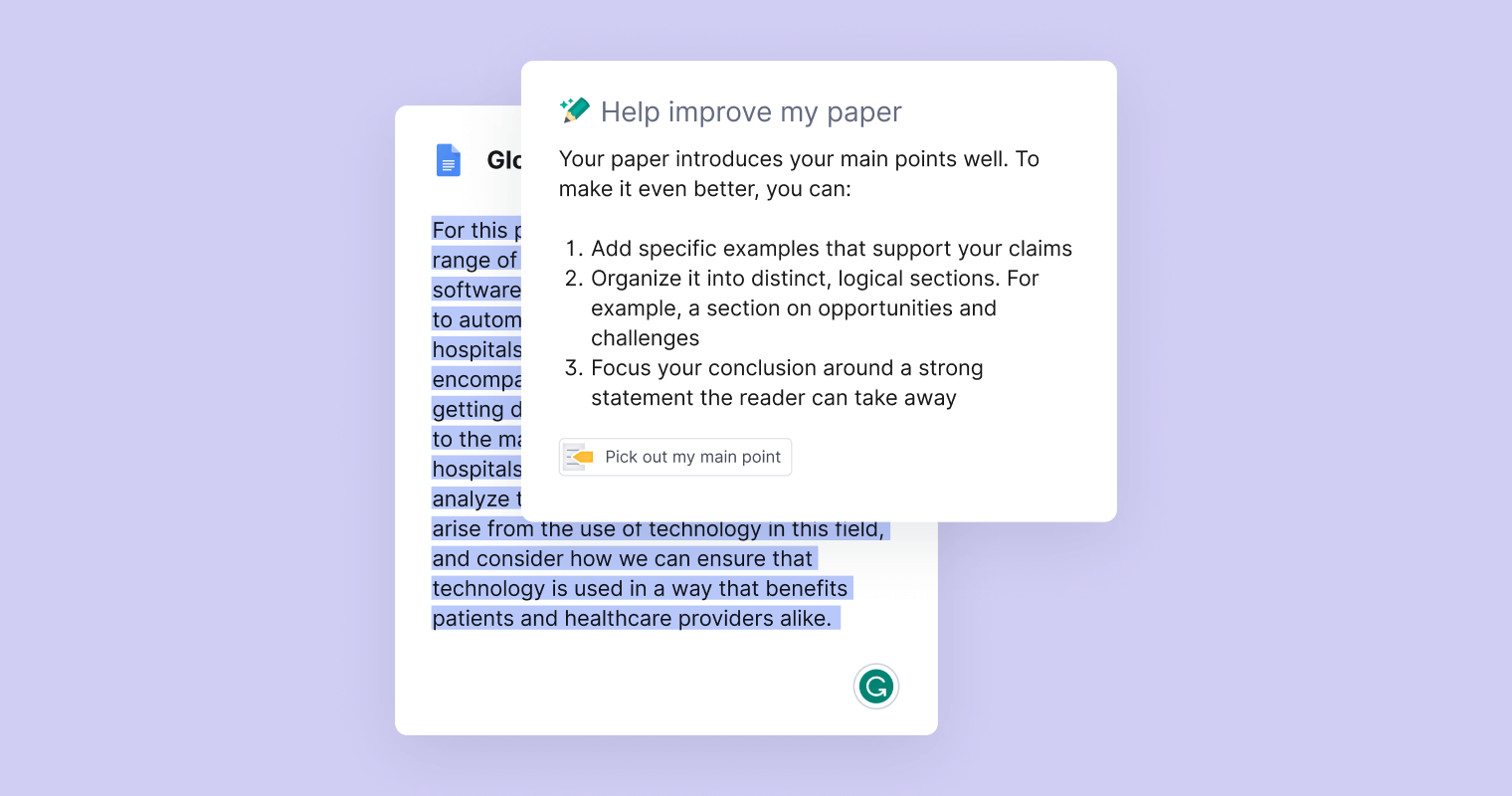 3

Revisions that polish your writing

You can now paraphrase with Grammarly. Each of us has writing habits that don't help us in many situations. For example, some of us write sentences that are too long or too many sentences to make our point, while others write subjectively and passionately use phrases such as "I believe" or "I think," which don't work well in academic writing. If you need help shortening your text or rewriting sentences so they sound more academic or more persuasive, we got you.

And, of course, we've been providing grammar, spelling, and punctuation help for over a decade, and we'll continue to make your words shine, for free!
4

Citations and generative AI

Citations are necessary when you use gen AI tools. Check out the APA, MLA, and Chicago guidelines for this. For example, MLA style says that if you've received some of the paraphrasing help as described above, you should cite it.

Now, with a click, you can generate citations for Grammarly's prompts and any of your own prompts. You'll see two types of prompts to help with this: 1) "Acknowledge Grammarly gen AI use"—this one will list out all the prompts you used for this paper, 2) "Get Grammarly gen AI citation," which offers a properly formatted citation based on the style guide you're using (coming September 2023).

If you use ChatGPT and have Grammarly's browser extension, you can even create a properly formatted citation for ChatGPT as we continue to expand the sites we support beyond Frontiers, PLOS One, ScienceDirect, SAGE Journals, and more.

All of the Grammarly features we've mentioned above are free; you simply download Grammarly. We'll highlight these prompts to be visible for all of our users who indicate they're using Grammarly for "school" when signing up.
Grammarly Premium features
You get 100 prompts per month when you use Grammarly Free, and 1,000 prompts per month with Grammarly Premium. And if you'd like additional peace of mind by using Grammarly's plagiarism detection, we'll check your writing across billions of web pages and ProQuest's academic databases and flag any areas that are missing citations.
Plagiarism detection is available with Grammarly Premium along with citation style formatting, which is useful for those who write their own citations or use other citation generators. We'll check the formatting across any in-text and full citations you write yourself or find elsewhere, flag issues, and provide suggestions that match the three main style guides: APA, MLA, and Chicago.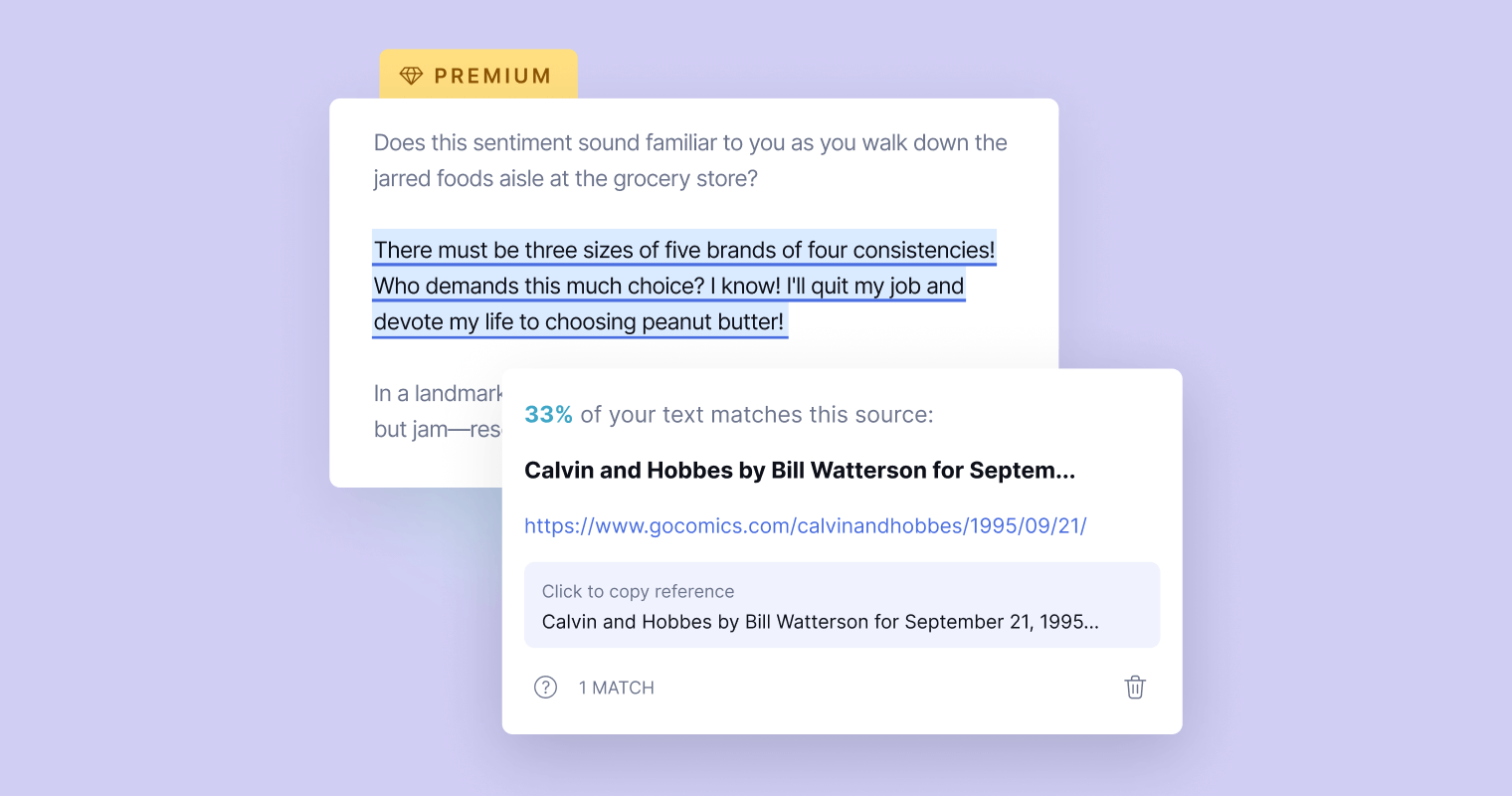 We've heard how frustrating it can be to lose points on your overall grade over incorrect citation formatting, especially when it's something most students don't want to spend time learning.
Your best work yet
Students say that Grammarly is helpful to them because they can get all of the support they need in one product, wherever they're writing—whether it's Google Docs, Microsoft Word, email, Overleaf, or Canvas. You're not breaking your flow; you're gaining momentum so you can think harder and more expansively, and keep revising until you have your best paper.
Imagine the possibilities in this kind of writing assistance for every assignment, big or small, and for every piece of communication. Join the more than 30 million other daily active users of Grammarly—we're here to help you do your best work yet!