This article was originally published on November 2, 2017.
You asked, and today it's here! The Grammarly Keyboard is now available on iOS. It's your personal editor for texts, emails, tweets, Tinder messages, and everything else you write on your phone. (At the time of this announcement's original publication in November 2017, Android was coming soon; it's now available here.)
For nearly a decade, Grammarly has helped people make their writing clear, effective, and mistake-free. Ten million users a day benefit from Grammarly's feedback on their messages and documents. Now, by popular demand, we're bringing Grammarly to your iPhone and iPad.
Here's a tip: Want to make sure your writing always looks great? Grammarly can save you from misspellings, grammatical and punctuation mistakes, and other writing issues on all your favorite websites.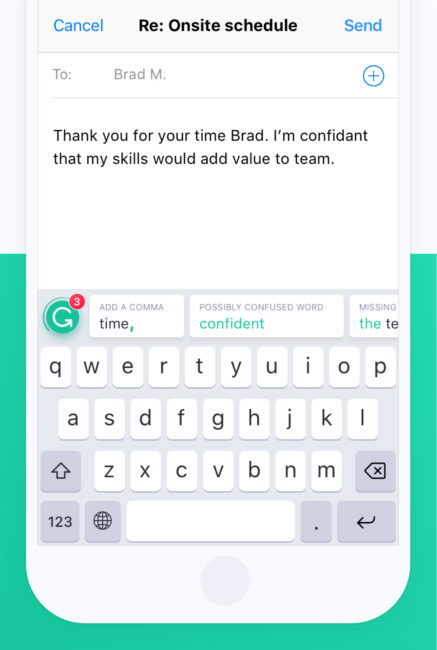 Communicate effectively on your phone
It wasn't too long ago that "mobile communication" just meant a phone call or maybe an email painstakingly typed on a tiny keyboard. For anything truly important, we'd still wait until we could sit down and compose on a computer. That's changed.
Our phones are now as powerful as those computers; Internet usage on smartphones has surpassed Internet usage on desktops; an entire generation has stopped using voicemail; and many of our most important interactions now happen on the go, from the palms of our hands. But you probably don't need us to tell you that.
Communicating effectively on your phone is more important than ever. By 2018, 50 percent of workplace team coordination and communication will occur over mobile collaboration apps. Whether you're emailing a potential customer, live-tweeting a conference, or texting your boss, what you write on your phone is a reflection of who you are.
Yet potential pitfalls are everywhere.
In the age of mobile devices and social media, communication tends to be imprecise, frantic, and, well, sloppy. The opportunities for (mis)communication are multiplying, and with them, so is the potential for misunderstanding, frustration, and missed opportunities.
Enter Grammarly's mobile keyboard—it makes you a more effective communicator no matter where you are.
The keyboard integrates seamlessly with all your mobile apps and your mobile browser, so you'll always look polished and professional, even on your phone.
Developed by some of the world's leading authorities on linguistic technology, Grammarly's algorithms not only catch context-specific grammar and spelling mistakes, but also the kind of confusing sentences that leave your colleagues (or worse, your boss) wondering what you're talking about. For Grammarly Premium users, the keyboard will also improve word choice and suggest style improvements so the need for "Sent from my iPhone" can become a relic of the past.
Thanks to Grammarly's mobile keyboard, gone are the days of fighting the minor anxiety attacks triggered upon tapping send.
Give it a try and tell us what you think in the comments below.
Just visit the App Store, download the Grammarly Keyboard, and add it to your keyboards in settings (for detailed instructions, we have you covered here.)
Happy typing!