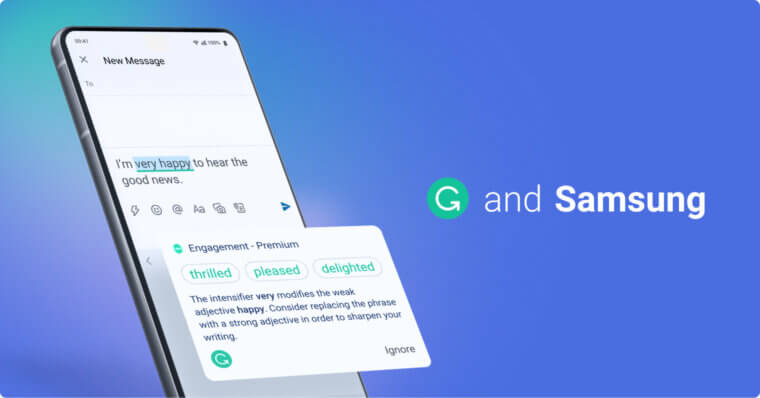 Today we're delighted to announce another milestone in Grammarly's mission to improve lives by improving communication: our new partnership with Samsung. Starting in November, Grammarly writing suggestions will be directly integrated within the Samsung native keyboard on Samsung devices with OneUI 4.0 software. Samsung users will be able to access grammar, punctuation, vocabulary, conciseness, and other Grammarly writing suggestions with no app installation required. Grammarly will be available on the Samsung S21 model to start, with more devices to be added in the coming months.
Try Grammarly Premium free for 90 days
Offer available to eligible Samsung users
Mobile communication comes with its own set of challenges—we've all felt the frustration of noticing a mistake in a message moments after hitting send. For Samsung users, it's now easier than ever to write confidently and professionally in any app. Grammarly for Samsung Keyboard can help ensure that every text, email, and post is clear, mistake-free, and professional. Grammarly's suggestions are displayed in the quick correction strip located above the keyboard, allowing you to stay within your writing flow and apply your changes easily. 
To celebrate our partnership, Grammarly is offering a free 90-day trial of Grammarly Premium to qualified Samsung users. Upon activating the trial through your eligible Samsung device, Grammarly Premium access is available on any device, including your phone, iPad, or desktop computer—just sign into your Grammarly account. Grammarly Premium includes a comprehensive range of suggestions that go beyond grammar to improve vocabulary, refine tone, and more. If you're writing to colleagues or customers, Premium suggestions can help you adjust your formality level to ensure you sound polite and professional. And for multilingual speakers writing in English, Grammarly Premium includes fluency suggestions specifically tailored for different language backgrounds.
Favorite included features from Grammarly Premium
Vocabulary: Find the most compelling words to express your ideas. Grammarly Premium flags bland or repeated words and offers stronger synonyms to help you say exactly what you mean.
Tone: Expressing tone, politeness, and formality in writing can be tricky. Grammarly Premium flags phrases that may not come across the way you intend and helps you rewrite them to sound more confident and professional.
Fluency: Grammarly Premium's fluency suggestions include specifically designed feedback to help multilingual speakers avoid grammatical mistakes and unnatural word choice.
Grammarly for Samsung Keyboard will be available via a OneUI 4.0 software update. To unlock your free trial of Grammarly Premium, open your Samsung Keyboard settings, tap "Suggest text corrections," and then tap "Powered by Grammarly" to redeem the offer. 
Every day, Grammarly helps 30 million people and 30,000 teams achieve their goals through effective communication. We're thrilled to bring the power of Grammarly's writing assistance to even more folks through our partnership with Samsung.