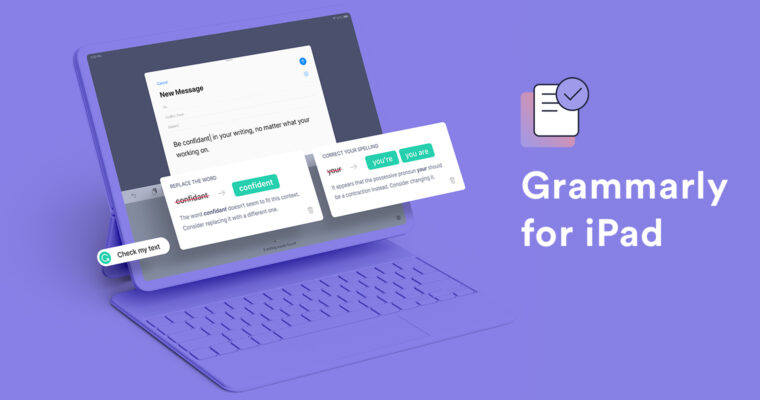 Have you been using Grammarly on your iPad? If not, now's a great time to start! Today we're excited to roll out a bundle of updates and improvements to make your experience with Grammarly for iPad better than ever—all available through one app.
Real-time writing suggestions, wherever you write.
Get Grammarly on your iPad now!
Access to the Grammarly Editor
When you need to buckle down and focus on writing a long-form piece of content, the Grammarly Editor is the place to go—but navigating to the Grammarly Editor from your iPad's browser used to be a bit of an ordeal. We're delighted to tell you that we've improved that experience significantly.
You can now access an iPad-optimized version of the Grammarly Editor just by opening the Grammarly app. Once you sign in to your account, you can create new documents, save them to the cloud, and manage other documents synced to your account. Oh, and lest we forget: Grammarly for iPad now supports hardware keyboards!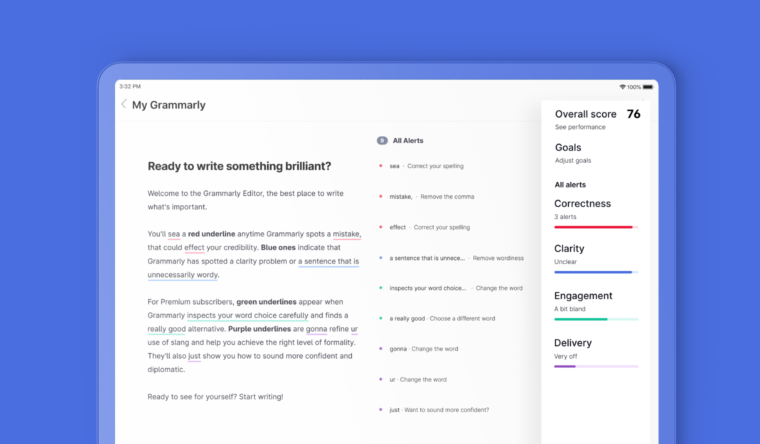 In the Grammarly Editor, writing suggestions are organized into four categories: correctness, clarity, engagement, and delivery. Whether you're working on a paper, a proposal, or even a personal project, you'll get the kind of in-depth writing feedback you need to make your work shine.
The Grammarly Keyboard
What about when you're not working on a long document on the iPad? That's the Grammarly Keyboard's time to shine. As part of this update, it now supports keyboard flicks and iPad-optimized layouts. The Grammarly Keyboard integrates with all your other apps, so there's no need to copy text you write in Gmail or Twitter and paste it into the Grammarly Editor to check it. The keyboard can do it in real-time, without getting in the way of what you're trying to do.
As you write, Grammarly's writing suggestions will appear along the top of the keyboard. To apply a suggestion to your text, just tap it and Grammarly will do the rest. You can manage your keyboard preferences and settings from the Grammarly app.
Weekly snapshots of your writing statistics
Ever wonder what all those emails, tweets, and messages add up to? You can now see a weekly snapshot of your writing stats by tapping the Insights tab in the iPad app. Check in each Monday to see how many words you wrote with Grammarly over the previous week, how accurate you were compared to other Grammarly users, and how your vocabulary stacked up.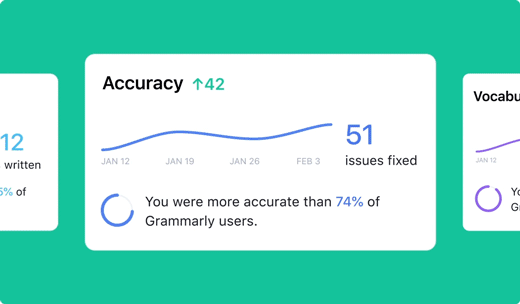 We hope you enjoy the new and improved Grammarly for iPad experience! If you have the Grammarly app on your iPad, you'll see these improvements automatically as long as you have automatic app updates enabled. If you don't have it yet, head to the iOS App Store and download today.