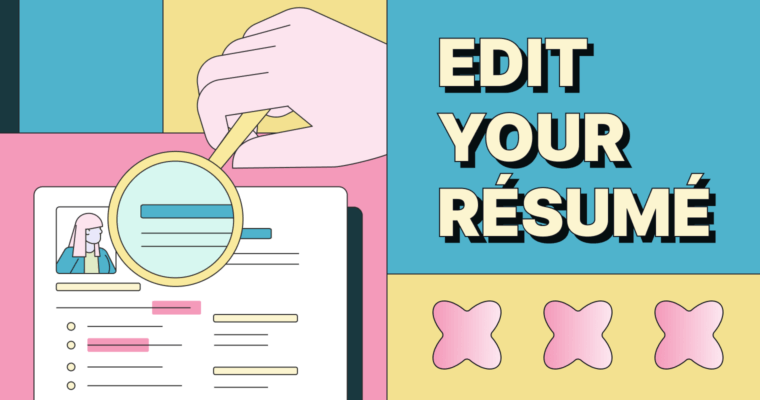 Before you start your next job hunt, take time to edit your résumé. Editing your résumé ensures that the information you share with prospective employers is accurate and that you're presenting yourself in the best possible light. 
Give your writing extra polish
Grammarly helps you communicate confidently
Why is editing your résumé important?
Editing your résumé is an important step to make sure your job application is mistake-free. A clean, correct résumé makes you a more attractive candidate for any position you seek because it does the following:
It communicates your skills and experience professionally.

It shows that you're serious about your job search.
This isn't true only when you're searching for a brand-new job—a polished résumé is also an asset when you're seeking a promotion. Although editing your résumé might seem like a simple, obvious step to take when you're applying for jobs, not everyone does it. Because of this, providing a mistake-free résumé can make you stand out among applicants. Mistakes can be distracting for recruiters and hiring managers, so fixing them gives your skills and relevant experience room to shine. 
How to edit your résumé in 7 steps
1

Proofread for spelling and punctuation mistakes
It's easy to miss spelling and punctuation mistakes in your résumé. It's also easy to correct them. Slowly and carefully read through your résumé word by word, sentence by sentence, focusing on each detail to find small mistakes—such as misused words (like affect for effect, their for there, and to for too), misplaced dashes, and errant commas. Tools such as Grammarly and its spell-checker can be helpful for this step. 
2

Edit for grammar
Editing is not the same as proofreading. Sure, you can catch grammatical mistakes when you proofread your work—and you likely will—but in many cases, when you edit your résumé for grammar, you end up adjusting entire sentences and sections. 
For example, you might change a section from the present tense to the past tense to communicate that you are no longer in that position. Or you might change your summary from the third-person point of view to the first-person. Although it's not the standard in most other kinds of writing, it's usually best to avoid using personal pronouns in a résumé. This means writing statements like "Coordinated meetings between the creative team and clients" rather than "I coordinated meetings between the creative team and clients." It can also mean revising sentences to be clear and grammatically correct without personal pronouns.
The reason you typically don't use personal pronouns in a résumé is that they're redundant. The recruiter and/or hiring manager knows your résumé is about you, so there's no need to specify whom you're talking about. Additionally, you don't have much room to work with in a résumé, and eliminating personal pronouns is a way to free up space for more impactful words. 
3

Check and improve formatting
Résumés can be notoriously challenging to format! As you edit your résumé, make sure your changes don't mess up your formatting—and if they do, because even something as simple as an additional space can push the text out of alignment, you should fix the formatting before sending your résumé to a prospective employer. 
If you aren't sure how to format a résumé, follow a template. Many word-processing programs include résumé templates that take all the guesswork out of formatting. 
Here's a tip: To keep your résumé formatted correctly even after you send it, save it as a PDF. With other file types, a document's formatting can unexpectedly change based on the program the recipient uses to open it (as well as their settings). A PDF retains its original formatting, no matter what. 
4

Remove unnecessary information
If it's been a few months or years since you last updated your résumé, pay close attention to the information you choose to include—especially if the position you're seeking is in a new industry or requires a different skill set than previous positions you've held. For example, an applicant exiting academia to pursue a role in marketing may remove information about specific courses they taught. This is because the courses simply aren't relevant to the role they're pursuing, and including information that's irrelevant to the role may make it difficult for the reader to assess whether the applicant is a strong candidate for the role. 
This is why it's a good idea to tailor your résumé to each position for which you're applying. Although most of the content should remain the same, you can make yourself a more attractive candidate by highlighting relevant skills and experiences in each version of your résumé. 
5

Update factual information
Make sure the information that remains is all up to date. Just as you changed information about your previous jobs from present to past tense, update information such as the dates you worked with each employer and your title in each role. If you were promoted during your time with an individual employer, list each position you held, the dates you held it, and a brief description of your duties in that role. 
6

Review your word choice
The last step in résumé editing is making sure you're using the best words to describe your career path. Use words that align with these labels:
accurate

concise

industry-appropriate
Include résumé keywords the employer is likely to look for, such as industry terms and the job title you're seeking. Remember, employers tend to scan résumés, not pore over them, so include words that will catch their eyes. 
7

 
Name your résumé file

Don't leave it to the recruiter or manager to sift through multiple files all with generic and indistinguishable names, such as "résumé_marketing manager" or "data analyst_résumé." Instead, name your file so it's easy to pick out from the crowd. It should include your name, the job title, and the type of document.

Katrina Platt_Marketing Manager_Résumé.pdf

KPlatt_Marketing Manager_Résumé.pdf

If you have a common first and last name, feel free to add your middle initial.

Robert M. Smith_Data Analyst_Résumé.pdf
3 examples of edited résumés
Example 1:
---
123 BAY STREET

ERIE, PA 12345 (123) 456-7890 NO_REPLY@EXAMPLE.COM
Tina Rodriguez                                                                                 
SKILLS
WordPress, HTML, Content Coordination, Scheduling, Social Media Analytics
EXPERIENCE
Solutionz Creative Agency, New York, NY
— Social Media Coordinator
July 2019 – PRESENT
Create, post, and monitor Instagram and TikTok content for clients.

Design and implement social media strategies for clients.

Provide clients with clear analytics in weekly reports.
Wolfson and Girard, LLP, Hackensack, NJ
— Receptionist
March 2017 – May 2019
Monitored phone lines and email inboxes. 

Responded to all inquiries in a timely manner and directed them to the correct partner. 

Trained and oversaw two additional receptionists. 
EDUCATION
Montclair State University, Montclair, NJ
— B.A. in Sociology
September 2013 – May 2017
Dean's list

Internship with Wolfson and Girard, LLP August 2015 to December 2015
Example 2:
---
Andres Simone

Programmer

Andres Simone

123 Beal Street

Memphis, TN 12345

123.456.7890

no_reply@example.com

Summary

ㅡ

Experienced programmer with 23 years in the industry—including working with large companies and startups and being self-employed. Extensive experience in software development and in client-side IT service. Proficient in Java, HTML, C++, Python, and Ruby.

Experience

ㅡ
AppLab /

Senior Developer

January 2020 – PRESENT, Los Angeles, CA

Manage the software development department. Oversee client app development. 

Self-Employed / IT Provider

March 2005 – December 2019, Los Angeles, CA

Provided IT support for small and medium businesses. 

Google / Junior Developer

May 2000 – October 2003, Mountain View, CA

Provided support for back-end development. 

Education

ㅡ
Massachusetts Institute of Technology /

B.S. in Computer Science

September 1997 – May 2000, Cambridge, MA

Awards

ㅡ

Best New App Designer, 2009
Example 3:
---
Michel Ascordo
1000 Redwood Road, Oakland, CA, 12345 123-456-7899 jobapplicant@notarealemail.edu
EDUCATION
Rutgers University
Newark, NJ
Bachelor of Science in Business, May 2024

Minor in Entrepreneurship 
EXPERIENCE 
Gray's Garden Center
, Monroe Township, New Jersey                   May 2021 – August 2022
Sales Associate
Managed customer transactions.

Answered customer questions and recommended specific plants and products based on their budgets and garden types.

Watered plants and monitored plants for sale daily.

Maintained a neat, clean sales patio.
McDonald's
, Newark, New Jersey                                                           May 2019 – Sept. 2020
Cashier
Took customers' orders.

Promoted new menu items. 

Packaged and arranged orders on trays and in to-go bags.

Recorded and balanced daily cash drawers.
SKILLS 
Google Workspace

Accounting and bookkeeping

Customer service, including product recommendation and troubleshooting