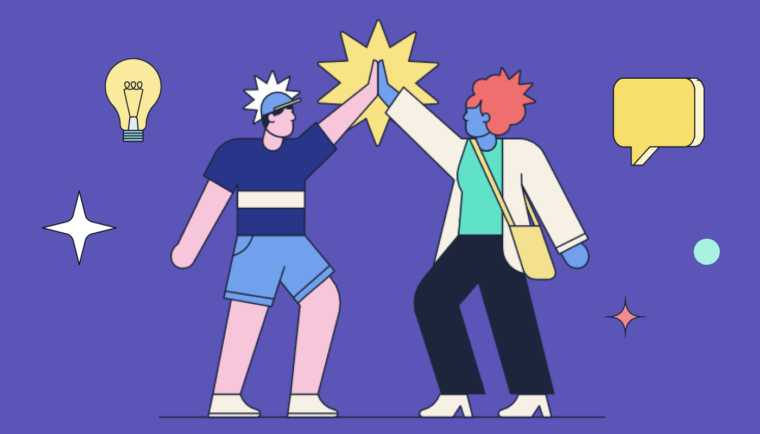 Higher-education leaders are seeking better representation and support for diverse student populations. A 2021 survey found that 84 percent of university presidents believe that issues surrounding diversity, equity, and inclusion should be addressed. Attracting a diverse group of students is only the beginning: Leaders must also consider how to create an equitable learning experience for all students through resources and curriculum.
With a wide range of student backgrounds, needs, and experiences to consider, educators have the opportunity—and responsibility—to level the playing field. Institutions need to strike a balance that empowers students to bring their diverse strengths to the table. 
Effective writing for everyone, anywhere
Drive academic success for students, faculty, and staff with Grammarly for Education
Communication skills—including the ability to express knowledge through writing and speaking—are core to setting up students for success. With the right resources and support, all students can communicate confidently and effectively to meet their academic goals. Let's consider how different aspects of diversity can impact students' communication abilities and what university leaders can do to offer support. 
Teach communication across the curriculum to support English-language learners and international students
Learning to navigate a new educational environment is only part of the challenge for English-language learners (ELL) and international students. Some may experience culture shock, and interactions that seem trivial to traditional students can create more anxiety for students who are far from their comfort zone. 
It's also essential to remember ELL students are not a monolith. Some students may have spent some or all of their K-12 years in the United States, whereas others may have learned a different form of English overseas. Some may not speak English at home. Others may have English speaking skills, but not to the extent college-level curriculums often demand. ELL students have a broad range of experiences and writing and speaking proficiency levels.
"For better or worse, so much of the actual value of what an individual can bring into the classroom or the workplace is filtered through their ability to communicate," says Dorian Stone, head of organizations revenue at Grammarly. For this reason, institutions striving for equitable student outcomes can't overlook communication support. 
To help these students express their knowledge and growth, institutions should make teaching language and communication skills a priority across the entire curriculum (not just in English class); this can accelerate learning and build familiarity. Educators must be attuned to the nuances of the English language and be able to model and explain aspects of language and communication to international and ELL students.
Experts recommend that educators model and teach good writing for ELL students with the same methods they use for primary speakers. It's less effective to try to simplify the material for these students. However, for ELLs, it can often help to complement written assignments with verbal discussions. Since speech is a more informal method of communication than writing, this can make it easier for students to express ideas or personal perspectives, even in their second language. 
Recognize the different experiences nontraditional students bring to the classroom
"Higher education is shifting toward 'nontraditional' learners. Students are increasingly likely to delay enrollment, attend part-time, balance work and school, and juggle family commitments," says Mary Rose Craycraft, head of education customer success at Grammarly. Studies show the magnitude of this shift: Approximately 40 percent of the undergraduate student population is composed of nontraditional students seeking degrees later in life. Soon, we might not consider these students "nontraditional" at all.
English may come naturally to many nontraditional students, but they can still struggle to communicate their thoughts and experiences in writing. Every student enters the higher-education environment with a unique background and an array of factors influencing their written communication ability. Those factors may dial up or dial down the level of their need for additional support but don't fundamentally change that need. 
When serving nontraditional learners, university leaders should keep students' competing responsibilities in mind. Many are parents, employees, and caregivers, on top of their student obligations. As a result, they often return to the academic setting after years of focusing elsewhere. This distance from learning requires them to adapt quickly to rigorous academic standards and expectations while meeting their other obligations. Nontraditional learners can benefit from a tool like Grammarly for Education, which provides 24/7 access to writing support, giving students the tools to submit their best work every time—on their time. 
Forgo simple "fixes" for historically marginalized and BIPOC students
In the United States, there are severe disparities in access to the K-12 to higher education track—data show that wealthier, majority-white schools and districts often receive more funding than low-income, majority-nonwhite schools and districts. Students with less access to resources and support during their K-12 education enter college with lower communication and writing skill levels, which can significantly impact academic success. Of white students, 64 percent graduate from four-year higher-education institutions within six years. That number falls to 54 percent among Hispanic students, 40 percent among Black students, and 39 percent among Indigenous students. 
This is a nuanced challenge and complex issue. Institutions should consider equity in resources from all angles, such as quality of instruction, the availability of facilities, and the distribution of digital learning tools and their analog counterparts. To drive equitable outcomes, higher-education institutions need to champion equal access to tech, tools, and support for all students, no matter their background. 
Help build student writing confidence with Grammarly for Education
On-demand, digital-first tools like Grammarly for Education help all students communicate effectively, regardless of their background or English fluency. Grammarly's AI-powered writing assistant helps students address grammatical and syntactical mistakes in their writing, allowing educators to focus on the quality of students' arguments and ideas rather than on mechanics.
Grammarly doesn't automatically correct student errors. Instead, it offers thoughtful suggestions to students and instructs them on how each suggestion improves their writing. Over time, students internalize those lessons, improving their ability to communicate effectively in the classroom and eventually in the workforce.
To learn more about advocating for equity in education, including perspectives from experts in the space, download our ebook. To discuss how Grammarly for Education can be a tool for more equitable learning and clearer communication, contact our team.